Lewis Hamilton had waited eight long years for his first victory at Suzuka, yet when that success finally came after a brilliant drive in which he beat Mercedes team-mate Nico Rosberg, it proved to be bittersweet, tainted by the accident which had befallen Marussia's Jules Bianchi.
The podium ceremony was subdued as Hamilton, Rosberg and third-place Sebastian Vettel refrained from spraying the Mumm champagne.
Hamilton's urgency was all too evident when, time and again as the field trailed the safety car after an initial attempt to start the race had to be abandoned after two laps, he urged race officials to press the green light when it was resumed behind the safety car nearly half an hour later.
"The track's as good as it's going to get, puddles aren't a problem," he reported. Later, referring to race director Charlie Whiting, he said with increasing impatience, "Charlie, the track is fine."
Finally the racing got underway on the 10th lap, but initially Hamilton had to follow Rosberg as they led the field, which had been obliged to start on Pirelli's full wet tyres. But once they had switched to the intermediates, Rosberg began to struggle with oversteer. Hamilton, on the same set-up, handled it better and closed in dramatically.
On the 27th lap going into turn one, where he had come unstuck on Saturday morning, he got into a wobble, but immediately he closed back up. "I went into turn one with the DRS open and there's so much less downforce when that wing is open," Hamilton admitted. "You've got to remember to close it again and then I started to turn and brake and it was still open, so the back end stepped out. It was very, very close but I kept hold of it and didn't really lose too much time."
The defining moment of his 30th grand prix success, and his eighth of 2014, came in spectacular style on the 29th lap. Rosberg faltered slightly exiting the final corner, enabling Hamilton to use his DRS to get a run on him. When the German hugged the inside line down to the first corner, Hamilton boldly moved for the outside line going into it and made it stick. It was the sort of move that wins championships, and Rosberg had no answer to it.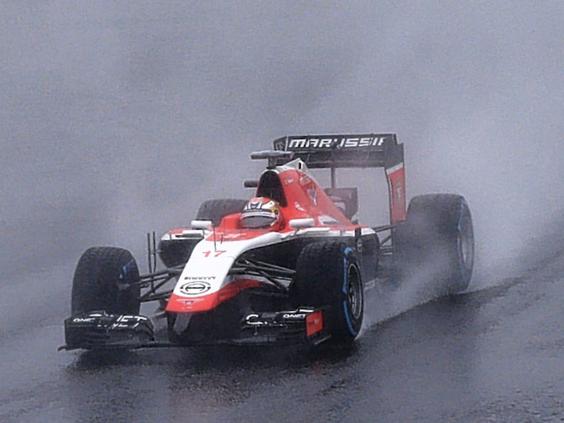 "It was fairly straightforward, really," Hamilton said. "I had a lot more pace than Nico. This is not a very easy circuit to follow on but fortunately I was able to get quite close, particularly in the last corner. I think perhaps he had a small oversteer moment out of that and I didn't. Obviously the DRS enabled me to get alongside. I was fairly confident with the balance of the car so I put it there and stuck it out."
Immediately he streaked away, building a lead of almost 10 seconds by the time the race was eventually neutralised again by the safety car because of Bianchi's accident. Rosberg easily hung on to second place, and conceded that on the day the better man won.
"I was definitely not happy with my car's balance but I think we had pretty much the same set-up, so Lewis must have had the same oversteer," he admitted. "I just tried to figure out a way to reduce that and found some improvements then with the pit stop, when we changed the angle a little on the front wing. That was a bit better but still not good.
"But all in all, Lewis just did a better job today and deserves to win. OK, second place is damage limitation. Taking everything into consideration, it was very, very difficult conditions out there so seven points lost to Lewis... there's worse than that."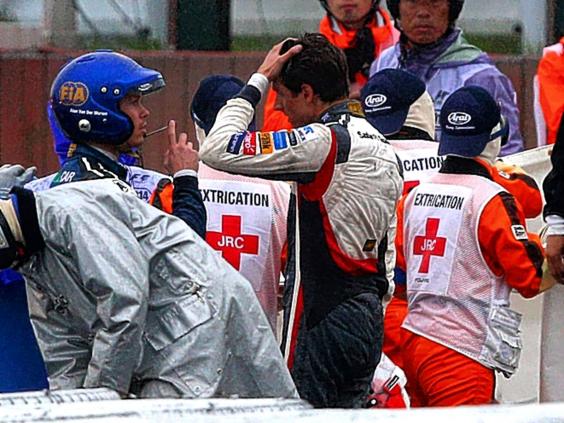 Fighting to save his career against possible threat from Fernando Alonso, Jenson Button's decision to switch to intermediate tyres on the lap that the safety car pitted after the start promoted him from seventh to third place. He might have kept that against serious attack from the Red Bull duo of Vettel and Daniel Ricciardo but for a delay in his second pit stop on the 31st lap, when an electronic problem necessitated a change of steering wheel.
Hamilton likened his success, and the enjoyment he derived from mastering horrible conditions, to his majestic wet-weather victory at Silverstone in 2008, but despite increasing his points lead to 10 his pleasure was muted.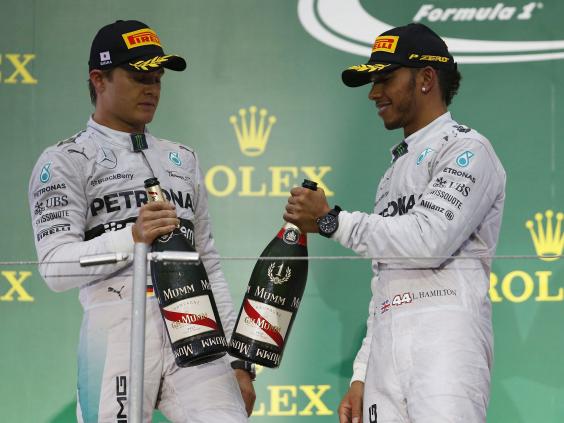 "Obviously a great result for the team," he said. "But I think we're all very concerned about our colleague, Bianchi. I don't really know what to say…"
That summarised  well enough a race that had been so spectacular, until it all went so horribly wrong.
Reuse content