Lewis Hamilton won a shortened Japanese Grand Prix to extend his championship lead over Mercedes team-mate Nico Rosberg, but the race ended in worrying circumstances as it was red flagged six laps early due to a crash involving Adrian Sutil and Jules Bianchi.
With fears over Typhoon Phanfone and the impact it would have on the race dominating the build-up, heavy rain forced the race to begin under safety car conditions, but after just a lap and a half race organisers decided to red flag proceedings as conditions were deemed far too dangerous.
After about 20 minutes, the cars resumed behind the safety car, not before Fernando Alonso had retired with a complete power failure. One the racing began, the two Mercedes quickly built a gap to the rest of the pack, but it was apparent that Rosberg was slowing down Hamilton as he struggled in the conditions.
Hamilton wasn't able to pass Rosberg before the first pit stops, but he was soon within a second of the German and when race organisers deemed conditions fit enough to activate DRS, he was able to swoop past Rosberg with a gutsy move in the outside of turn one.
The Red Bull pair of Sebastian Vettel and Daniel Ricciardo briefly threatened, but a second round of pit stops and the return of the rain saw conditions worsen and the cars begin to maintain position.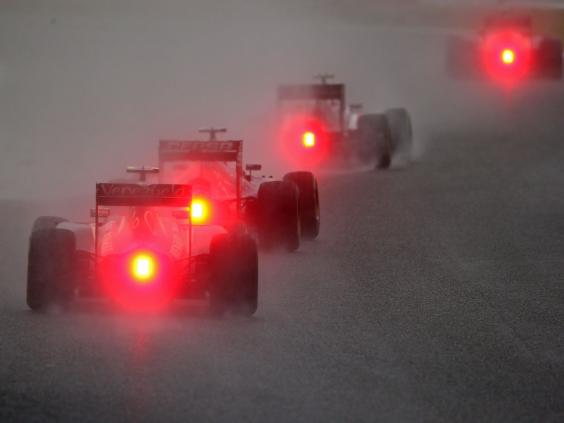 Yet when Sutil crashed at turn seven, another safety car period loomed, though the action did continue for a number of laps before it was indeed deployed. It quickly transpired, amid mass confusion, that something was not right at the scene of the accident, and that the Marussia of Bianchi had been involved at some point. The sight of a heavy goods digger on the track obscured Bianchi's Marussia, and the Frenchman was soon transported to the medical centre with no update on his condition.
The race was immediately red flagged and a message confirmed it would not restart.
Matteo Bonciani, the FIA media delegate, gave a brief update in which he confirmed that Bianchi was unconscious after the accident. He said that Bianchi had been transferred to a nearby hospital by car, given that the weather conditions were too bad for the helicopter to take off.
Sauber later confirmed that Sutil was unhurt from the accident, and the German was reported to have told media that Bianchi did hit the recovery vehicle that was retrieving the stranded Sauber.
Reuse content