F1 record-breaker Max Verstappen insists age is just a number after the 17-year-old revealed computer games helped him prepare for his Toro Rosso debut in Japan.
The teen has won eight races in this season's European Formula 3 Championship and has signed a deal for a race seat with Toro Rosso for next year.
He was given his first official running of a 2014-spec car in the first practice session at Suzuka, becoming the youngest man to compete in a grand prix weekend in the process, and clocked a time worthy of 12th place - despite a mechanical failure forcing him out with six minutes remaining.
His best lap of one minute 38.157 seconds, was just 0.443sec shy of future Toro Rosso team-mate Daniil Kvyat, himself only 20, before batting away any questions about his age being a factor moving forward.
F1 Japanese Grand Prix
F1 Japanese Grand Prix
1/9 Friday second practice

Daniel Ricciardo's damaged Red Bull is retrieved from the barrier after a heavy off

Getty Images

2/9 Friday second practice

Lewis Hamilton ended Friday as the fastest man of all once again

Getty Images

3/9 Friday second practice

Sebastian Vettel prepares to take to the track in second practice

Getty Images

4/9 Friday second practice

Fernando Alonso looks far from happy during Friday practice

Getty Images

5/9 Friday second practice

Lewis Hamilton passes under the tunnel at Suzuka

Getty Images

6/9 Friday first practice

Nico Rosberg topped first practice timesheets

Getty Images

7/9 Friday first practice

Jenson Button drives through the final chicane as the famous Suzuka ferris wheel spins in the background

Getty Images

8/9 Friday first practice

Max Verstappen made his debut in the first Friday practice session

Getty Images

9/9 Friday first practice

Max Verstappen looks on as he copes with his F1 debut

Getty Images
"I'm not focused on the age, it doesn't matter to me," he said.
"I think at the end, age doesn't make any difference - if you are ready for it and you have prepared well, age is just a number.
"Sebastian (Vettel) started when he was 19 and look at him now, some people can make it and some cannot."
Verstappen, son of former F1 driver Jos, went on to suggest people could race in the sport as young as 14 - but is not looking at early comparisons between himself and four-time world champion Vettel.
"I focus on what I have to do at the moment," he said.
"I have to prove myself in F1 but it is always nice to hear those things."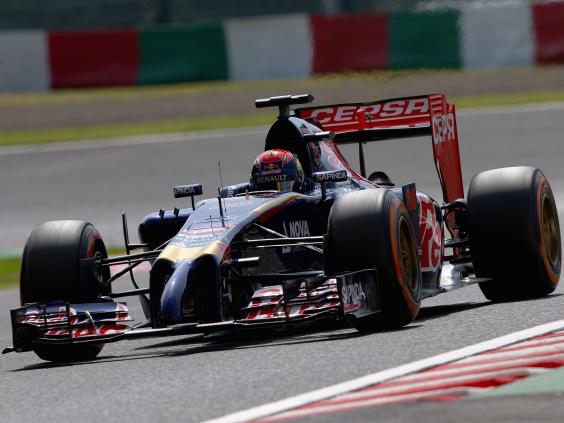 His session may have been cut short but the Dutchman was happy with his maiden outing at a bonafide race weekend.
"I can't complain really, I enjoyed it a lot and that was the main thing today - just to get experience and make a lot of laps," he added.
"I think in general it was more about learning the car, there is quite some difference compared to the 2012 car so I just build it up lap-by-lap and by the end you get used to it. It is always good to drive an F1 car.
"I just did what I had to do. I was not even close to the limit. I was just driving safely without doing any crazy stuff."
Verstappen believes the step up from F3 is a big one but is not fazed by the more enhanced technology having honed his skills on a games console.
"There are more people around you and people can control everything," he said.
"But you have to discuss a lot, you do that in F3 but now it is more calculated. "I think an F1 car is never easy to drive. At least it is not easy for me. Once you go on the limit it is never easy to drive a racing car."
"The younger generation grow up with it (complicated technology), you play it many times on the PlayStation and you can see that all the buttons are there so you already have a feel for it."
Toro Rosso team principal Franz Tost has confirmed Verstappen will compete in free practice at all of the remaining races, with the exception of the Russian Grand Prix next weekend.
"We want to run him in Austin as well as in Sao Paulo and Abu Dhabi - this is how we want to prepare him for next season," Tost told BBC2 during the session.
"We all know that this race track is quite difficult to learn so we gave him the opportunity to go out. He is doing a good job.
"We have changed it so he has a little less front downforce and I hope that he can do as many laps as possible. He has to learn the track so when he comes next year he can just go out and knows all the tricks you need to know here."
PA
Reuse content