The FIA is to consider a change in the decision- making process regarding safety car deployment after the accident in Sunday's Japanese Grand Prix at Suzuka which left Marussia driver Jules Bianchi fighting for his life.
The Frenchman sustained a severe head injury after crashing into a mobile crane which was in the process of removing German driver Adrian Sutil's Sauber, which had earlier gone off at the same corner.
Sutil has said that in his opinion the safety car should have been deployed then, though all drivers were clearly warned of the removal of the damaged Sauber by yellow flags prior to the scene at Turn Seven.
Bianchi was said to be in a "serious but stable condition" on Monday following emergency surgery. His parents, Philippe and Christine, arrived in Japan to see their son, who is at Mie General Medical Centre. Hospital officials declined to comment on the Marussia driver's condition.
FIA spokesman Matteo Bonciani told The Associated Press in a phone interview: "Bianchi is in a serious but stable condition. That's all I can say, and I'm doing this update on Jules' parents' behalf."
The deployment of the safety car is the sole responsibility of the FIA race director, Charlie Whiting, a highly experienced Briton who was formerly a mechanic with Bernie Ecclestone's Brabham team. It was his call to start the race under the safety car, driven by the experienced German former racer Bernd Maylander, and to stop it when conditions became untenable after two laps. It was also his decision to keep the safety car out until the ninth lap, when the race resumed 25 minutes later, much to the chagrin of racers such as Lewis Hamilton and Jean-Eric Vergne. They believed track conditions were good enough after seven laps, but Whiting wanted to be sure. Not all cars have the same level of downforce to stop them aquaplaning.
It was his decision not to send the safety car out again after Sutil's accident because the mobile crane was quickly activated at the scene. Protection to corner workers was provided by the yellow flags, which warned drivers they were approaching a potentially dangerous situation. To indicate the severity, double flags were waved, a sign for drivers to be extra cautious.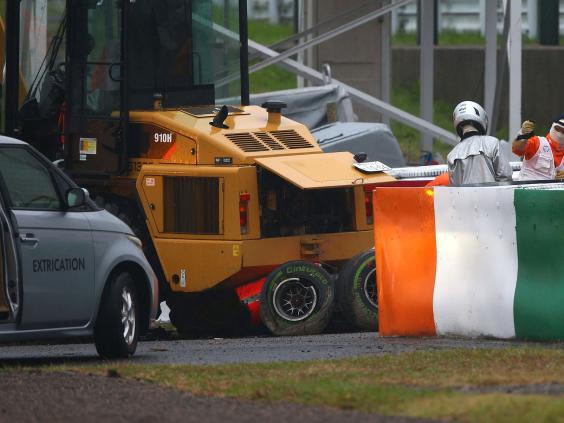 Whiting thus chose to leave it to them to take responsibility for themselves, rather than mandating their speed via the safety car, but Bianchi may not have slowed down as much as some others, his tyres may have been too worn or his car may have lacked the downforce at the speed he was going to avoid aquaplaning. All of the other drivers safely negotiated the corner.
The FIA will now consider whether the decision process should be handled by more than one person, but this will require in-depth analysis before changes can be made.
They will also look at the consistency of the safety car deployments. Whiting left Sutil's Sauber in the middle of the last corner during the German GP and relied on marshals to remove it, rather than neutralising the race with a safety car. On that occasion, veteran Niki Lauda supported the decision. But such calls are a very fine line between ensuring the drivers' safety and not needlessly disrupting a race. As with so many things in F1, there can be no hard and fast rules, and situations often rely on Whiting's discretion borne of long experience in his role.
Drivers will, of course, continue to race in the rain because, unlike many US series, that is part of the DNA of European racing, but it is likely that the FIA will also look into the suitability of race start timings after criticism that the Japanese GP organisers should have acted sooner to reschedule from their planned 3pm start which, on Sunday, meant getting the race under way when conditions were at their worst.
Very detailed investigations have been under way since Felipe Massa's accident in Hungary in 2009 to develop enclosed cockpits, but as yet no satisfactory compromise has been reached between providing adequate protection and optimising the rapid extrication of a driver.
Reuse content