A track spokesman has said that the Japanese Grand Prix race officials were not to blame for the crash that left Jules Bianchi with severe head injuries, claiming it was "bad luck" rather than bad judgement.
The Marussia driver collided heavily with a recovery vehicle that has stunned the sport. Bianchi, 25, has undergone an operation on his head to alleviate a subdural haematoma having been taken to the Mie General Medical Centre in Yokkaichi.
A recovery truck was already tending to the scene of Adrian Sutil's crash after the Sauber driver lost control of his car in the increasingly difficult conditions. As the truck reversed to pull Sutil's car off the track, Bianchi's car careered into the back of it at high speed, diving underneath it and cause Bianchi's helmet to take the full brunt of the force of the horrifying collision.
Race officials had been criticised for their delay in deploying the safety car as well as not moving the race start time forward by four hours in order to avoid the worst of Sunday's weather conditions. Typhoon Phanfone was known to be closing in on Suzuka, and the race had to start behind safety car conditions before being red flagged after a lap-and-a-half such was the ferocity of the rain.
However, a spokesman for the Suzuka track, which is owned by car manufacturer Honda, said that the accident zone had been covered in waved double yellow flags, and the collision was not down to anything other than bad luck as the weather was not yet bad enough to stop the race.
"Officials raised 'double yellow flags' after the accident by Sutil, which means drivers had to slow down to the speed that they can immediately stop, but unfortunately Bianchi's car aquaplaned right at the time and ran into the accident site, which was bad luck," the Suzuka Circuit spokesman Masamichi Miyazaki said.
"Admittedly, rain was coming and the road was wet, but not heavy enough to halt the race, and I believe the race officials made the same judgment."
FIA race director Charlie Whiting has been asked by president Jean Todt to investigate the full details of the accident while the use of the safety car and the procedure to deploy t could also be reviewed.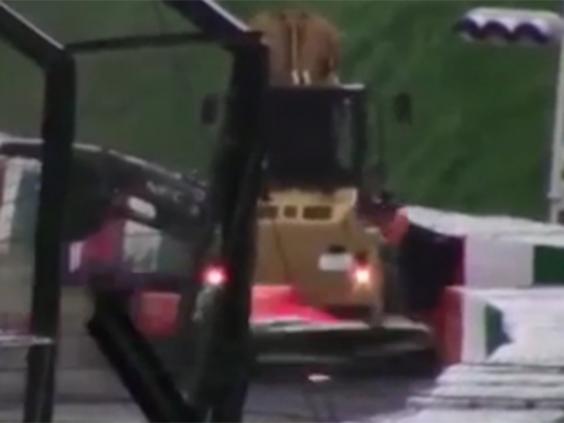 Bianchi remains in a "critical but stable condition" and has had just one operation since arriving at hospital. Marussia issued a statement on Monday thanking fans for their outpouring of support, with #ForzaJules trending on Twitter since the day of the accident.
Bianchi's parent Philippe and Christine, are by their son's bedside and have asked that their privacy be respected during this difficult time.
Reuse content