Jules Bianchi's condition has been described by his father as "stagnant" as he continues to fight for his life following the serious head injuries he sustained in a Formula 1 crash at last season's Japanese Grand Prix.
Bianchi remains in a come in a Nice hospital in France after suffering a horrendous crash in wet conditions during the Suzuka race in October last year, when his Marussia veered off track and collided with a recovery vehicle already on the circuit at relatively high speed.
The 25-year-old has the best wishes being sent to him from the F1 paddock as they compete in Monaco, the scene of Bianchi's only pints-scoring drive last season as he signalled his potential as one of the up-and-coming drivers before his tragic accident.
Jules Bianchi - Career in Pictures
Jules Bianchi - Career in Pictures
1/9 Jules Bianchi - Career in Pictures

Jules Bianchi (L) and his father pose after the FA category race of the 2006 Karting World Championnship in Angerville

AFP

2/9 Jules Bianchi - Career in Pictures

After stints in Formula Three and Formula Renault, Bianchi became the Ferrari F1 team's test driver in 2010

Getty

3/9 Jules Bianchi - Career in Pictures

On March 1, 2013, Bianchi was announced to be replacing Luiz Razia as a first choice driver for the Marussia team.

Getty

4/9 Jules Bianchi - Career in Pictures

Over the course of the 2013 season he beat he out-qualified and finished higher than team-mate Max Chilton in every race that he completed. Marussia confirmed that he would stay on with the team for the following season.

Getty

5/9 Jules Bianchi - Career in Pictures

Over the course of the 2014 season Bianchi continued to impress. Out of the nine races that Bianchi and Chilton completed, Bianchi was the quicker driver in eight of them.

Getty

6/9 Jules Bianchi - Career in Pictures

In May 2014 he became the first driver to score points for the Marussia team, securing 9th place at the Monaco Grand Prix

Getty

7/9 Jules Bianchi - Career in Pictures

On lap 43 of the 2014 Japanese Grand Prix, Bianchi lost control of his car under heavy rainfall. He collided head on with the rear of a tractor crane tending the removal of fellow driver Adrian Sutil's Sauber.

Getty

8/9 Jules Bianchi - Career in Pictures

Bianchi's condition was described as 'desperate' in the immediate aftermath and he eventually lapsed into a coma. Over the course of the next few months, Bianchi's case showed no signs of improving.

Getty

9/9 Jules Bianchi - Career in Pictures

On 17 July 2015, Bianchi eventually passed away from his injuries. He became the first F1 driver to be killed from injuries sustained in a Grand Prix since Ayrton Senna died at the 1664 San Marino Grand Prix.

Sports Ltd
Speaking in an interview with French television station Canal Plus, Philippe Bianchi said: "The first thing is that Jules is alive - that's the most important thing for us.
"He's fighting with the weapons that he has. In neurological terms, I'm not sure he is able to do much now. The situation is stagnant. Jules' neurological progress is not what we would like it to be.
"Seeing him fighting gives a lot of hope to his loved ones, and it's important for us.
"While there is life, there is hope, even though after a while you are hoping for a miracle. Every day is difficult.
"Every day, when we get up, the telephone is by our side. When we get up every morning, we think of Jules' life. We think also of his death, because we have to think about death.
"We have to think about death because we are in a situation where we know a lot of things can happen. It's terrible."
Philippe also briefly reflected on the Japanese Grand Prix, where the race was red flagged after Bianchi's crash and the full extent of the Frenchman's injuries became apparent.
"I think we all stopped living that day, the fifth of October," he added. "It's something you can never expect.
"It's not what Jules wants, being in a hospital bed. It's not his life - it's not what we want either. But we have to keep hope."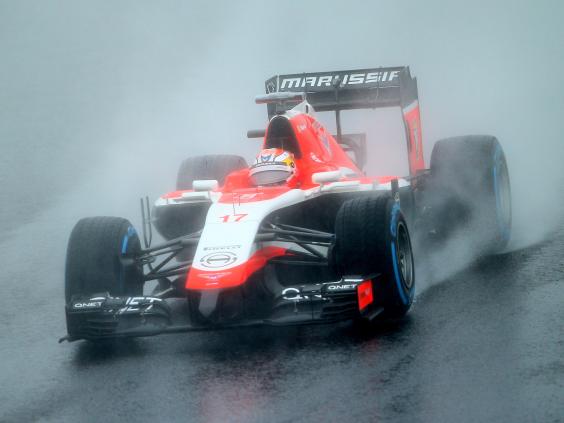 With F1 back on the streets of Monte Carlo for the first time since Bianchi's tremendous ninth-place finish that to-date remains the only points scored in the team's – now renamed Manor – brief history, team members are wearing red wrist bands marked with 'JB17' on them to pay tribute to Bianchi.
"It was Jules' dream to score points in Formula One, and he did it with Marussia," Philippe continued. "I was there and I was lucky enough, when Jules finished the grand prix, that I was the first person he took into his arms because I was on my own when he finished. Those are incredible moments."
He added: "Jules is here. Despite the (accident) he had, he's still here and he's fighting. I think all of these people thinking about him give Jules strength. I think he can feel it and it's beautiful. We're very touched by it."