The term 'baptism of fire' is used sparingly in Formula One, given the literal connotations that it has in a sport where fiery accidents are never far away, but it's an appropriate one for Williams rookie Lance Stroll.
The 18-year-old Canadian endured a difficult start to life in the top bracket after his crash on Wednesday during day three of the first pre-season test at Barcelona forced Williams to abandon their plans for day four.
Stroll spun out of Tuesday's afternoon session, damaging the front ring as he ran uncontrollably across a gravel trap, before ending Wednesday in the tyre barrier on the exit of turn six, damaging the brand new FW 40 chassis in the process. All things considered, it's probably not the start he had in mind in an attempt to impress his new employers.
"Following a thorough inspection overnight some damage to the FW40 chassis was discovered and therefore, on safety grounds, the team will not run the car today," Williams confirmed on Thursday morning." A second chassis will be prepared at the track this afternoon as originally planned, with the team aiming to be back on track for the second test next week starting on Tuesday 7 March."
Stroll needn't let this incident get to him, given it's only pre-season with plenty of time to make up for the shunt awaiting ahead. However, there's a quick lesson here that will hold Stroll in good stead in the future.
Formula One isn't a sport where you can rest on your laurels. Max Verstappen has already shown what can be achieved by grabbing the bull by the horns and seizing an opportunity. His predecessor, Daniil Kvyat, displays the complete opposite.
Kvyat got the opportunity of a lifetime when he was called into Red Bull in 2014 to replace the departing Sebastian Vettel, and lasted the best part of 15 months. Too many crashes, too many poor performances, and one too many run-ins with the aforementioned four-time world champion led to his demotion to the Toro Rosso outfit, and there was the general feeling in the paddock that Kvyat had done well to retain his seat there this season.
For Stroll, there is even more pressure to deliver. Kvyat had the benefit of gaining experience with Toro Rosso before moving up to a team that were competing at the front of the field, where as Stroll needs to hit the ground running in a Williams outfit that isn't quite where it was in 2015. If they are to rival the top three teams on the grid in 2017 in the form of Mercedes, Ferrari and Red Bull, Williams need Stroll to step up and deliver something special, given that not so long ago his teammate, Felipe Massa, had said his goodbyes and was riding off into the sunset.
The 2017 Formula 1 grid
The 2017 Formula 1 grid
1/20 Sebastian Vettel, Ferrari

Vettel finished fourth last season and will hope improvements to the team's 1.6-litre V6 will help him back onto the podium.

Getty

2/20 Kimi Raikkonen, Ferrari

The experienced Finn largely underperformed last season. At 37, could be his final season racing for a top team.

Getty

3/20 Sergio Perez, Force India

Perez retains the drive he has held since 2014. Force India again use the Mercedes-AMG engine.

Getty

4/20 Esteban Ocon, Force India

The talented 20-year-old raced in 9 Grand Prix for Manor last season and earns a call-up to a much more competitive team.

Getty

5/20 Romain Grosjean, Haas

Haas had a very good season last year, finishing 8th with their Ferrari engine. Grosjean will look to improve on his 13th place finish.

AFP/Getty

6/20 Kevin Magnussen, Haas

The Dane moves from Renault to Haas. Struggled last season.

Getty

7/20 Stoffel Vandoorne, McLaren

The talented Belgian, who scored a world championship point in the unfamiliar MP4-31 last year, replaces Jenson Button at McLaren.

Getty

8/20 Fernando Alonso, McLaren

The youngest double champion of all-time remains at McLaren for the 2017 season, despite a well publicised approach from Mercedes.

Getty

9/20 Lewis Hamilton, Mercedes

The team - and driver - to beat since the infamous V6 rule changes came into place in 2014.

Getty

10/20 Valtteri Bottas, Mercedes

Bottas replaces world champion Nico Rosberg at Mercedes, Will push Hamilton all the way this campaign.

Getty

11/20 Daniel Ricciardo, Red Bull

Adrian Newey has completely redesigned the RB13 for the 2017 season and Ricciardo will be hopeful of bettering last year's 3rd place finish.

Getty

12/20 Max Verstappen, Red Bull

There will be plenty of attention on Verstappen as he completes his first full season at Red Bull.

Getty

13/20 Nico Hulkenberg, Renault

Hulkenberg moves to the team from Force India, replacing Kevin Magnussen.

Getty

14/20 Jolyon Palmer, Renault

The Brit came under pressure last year for a disappointing 18th-place finish. Will be hopeful of improvement.

Getty

15/20 Marcus Ericsson, Sauber

Sauber were poor last season and were plagued by retirements. Ericsson nevertheless remains with the team for a third campaign.

AFP/Getty

16/20 Pascal Wehrlein, Sauber

The 22-year-old wins a drive at Sauber, moving from Manor Racing.

Getty

17/20 Daniil Kvyat, Toro Rosso

Resigned to Toro Rosso after plenty of speculation; will be desperate to show he shouldn't have been replaced by Verstappen at Red Bull.

Getty

18/20 Carlos Sainz Jr, Toro Rosso

Now in his third season with the team. Toro Rosso this year return to a Renault engine.

Getty

19/20 Lance Stroll, Williams

18-year-old rookie. Stroll's first appearance in the car didn't inspire confidence, he spun the car in testing.

Getty

20/20 Felipe Massa, Williams

Heroically returns to the team after Bottas departed for Mercedes. One of the most experienced drivers on the grid.

Getty
Stroll needs to maximise his chances, which means seizing every lap when it comes to track time before the curtain raiser in Melbourne in three weeks' time. The fact that Massa's 103 laps on Monday nearly matched Stroll's 110 laps across Tuesday and Wednesday shows he is already letting valuable track time slip through his fingers, and the more time he spends in the garage, the less he is showing the world he has what it takes to be a top level F1 driver.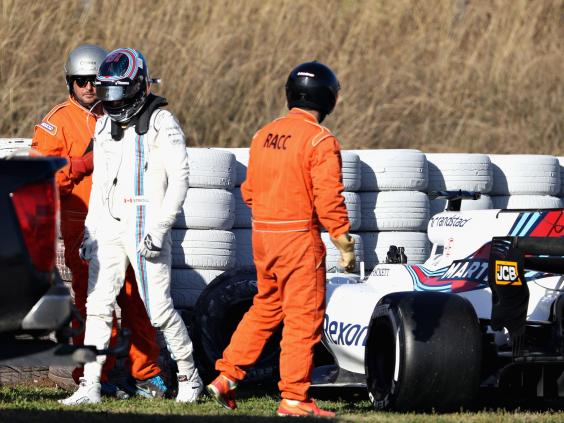 Stroll also missed out on running in simulated wet conditions, with a tanker lapping the Barcelona track on Thursday while dumping water out the back of it to recreate the type of weather commonly seen each season at the likes of Spa, Silverstone and Canada where rain is never far away. With no more scheduled wet running during the second test in Barcelona – where rain will be unlikely – Stroll faces going head first into unchartered territory the first time it rains this season.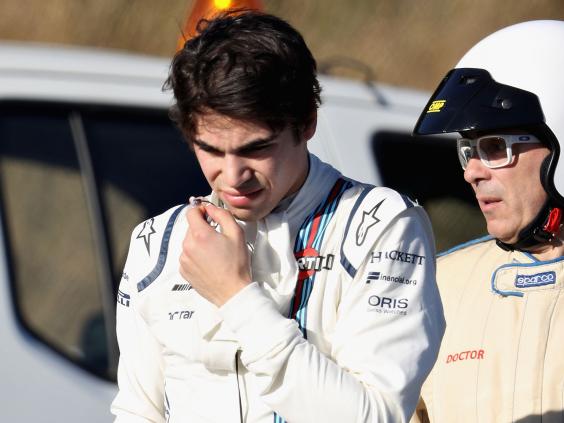 With Stroll believed to be on a one-year deal with Williams, his future is far from secure, and he will need to find his feet quickly if he harbours ambitions of remaining on the grid with Williams beyond the end of the season. Given the pressure already on his very young shoulders, it's no wonder he came unstuck in his first two days behind the wheel.
Reuse content