As Lewis Hamilton crossed the finish line at Hockenheim to head into the summer break with a 19 point lead over Nico Rosberg, it felt like the season was already over. How wrong we were.
With four races to go in this rollercoaster campaign, Rosberg leads Hamilton by 33 points that, crucially, gives him a race-advantage over his Mercedes teammate. Hamilton's run of six victories in seven grand prixs feels like an age ago, and after overhauling a 43-point deficit earlier in the season, the three-time world champion has it all to do again.
It's never been wise to bet against Hamilton fighting back from the brink, but this weekend showed a side of Hamilton rarely seen – one of mental fragility, one of conceding defeat, and one of knowing he'll finish up second best.
Hamilton rarely finishes second best, let alone accepts it. Previous accusations against him of being a sore loser are perhaps accurate in only that he doesn't taste defeat that often, but after failing to win any of the last five races and seeing his arch rival win four of them, Hamilton has been very magnanimous. The pair have shaken hands after races, stood on the podium together and even posed for pictures, their rivalry temporarily on hold while Mercedes wrapped up a third consecutive Constructors' Championship.
Yet this weekend's antics have displayed a shift in Hamilton's demeanour. It started with the already infamous Snapchat incident last Thursday, when the 31-year-old – yes, 31 – decided it was a good idea to take pictures of himself and his fellow drivers and add filters of rabbits and foxes to share with his followers. In the grand scheme of things, Hamilton was right in that it's a harmless act and isn't meant to cause anyone disrespect. But spin the scenario around and imagine the repercussions. What if a journalist interviewing the reigning world champion had started playing with their mobile phone while he was speaking? The chances of a second interview would be slim to none, and rightly so.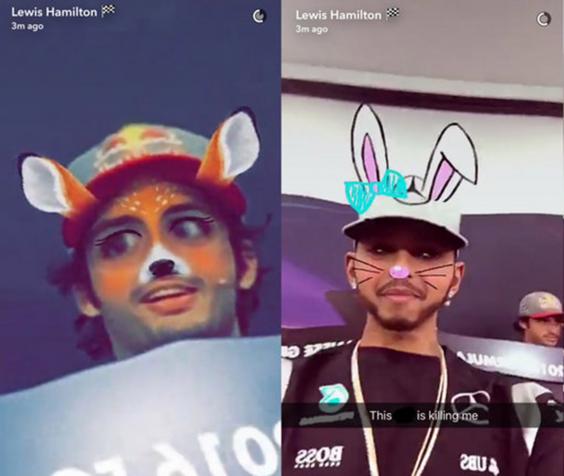 Had Hamilton left it at his statement – also posted on social media – explaining himself, it would have been left there. But Hamilton was clearly hurt by the criticism that followed and instead decided he wouldn't be speaking to the written press anymore. Remember the saying 'Hell hath no fury like a woman scorned'? That may be true, but journalists are a close second and you can be sure it won't be forgotten lightly.
Japanese Grand Prix in pictures
Japanese Grand Prix in pictures
1/27 Japanese Grand Prix

The result secured a third consecutive Constructors' Championship for Mercedes

Getty

2/27 Japanese Grand Prix

Nico Rosberg celebrates winning the Japanese Grand Prix at Suzuka

Getty

3/27 Japanese Grand Prix

Rosberg leaps for joy after winning the Japanese Grand prix

Getty

4/27 Japanese Grand Prix

Hamilton now trails Rosberg by 33 points in the drivers' championship

Getty

5/27 Japanese Grand Prix

Max Verstappen seized second off the start in passing Lewis Hamilton

Getty

6/27 Japanese Grand Prix

Nico Rosberg led every lap of the Japanese Grand Prix at Suzuka

Getty

7/27 Japanese Grand Prix

Lewis Hamilton dropped to eight on the start before recovering to finish third

Getty

8/27 Japanese Grand Prix

Hamilton dropped to eighth on the first lap after a poor start

Getty

9/27 Saturday Qualifying

Rosberg waves to the crowd after taking pole position

Getty

10/27 Saturday Qualifying

Nico Rosberg stands alongside Lewis Hamilton and Kimi Raikkonen after taking pole for the Japanese Grand Prix

Getty

11/27 Saturday Qualifying

Rosberg starts the Japanese Grand Prix from pole position

Getty

12/27 Saturday Qualifying

Sebastian Vettel takes a three-place grid penalty and will start in seventh

Getty

13/27 Saturday Qualifying

Rosberg emerges from the Mercedes garage for his final run in qualifying

Getty

14/27 Saturday Qualifying

Lewis Hamilton is cheered on by his supporters at Suzuka

Getty

15/27 Saturday Qualifying

Daniel Ricciardo will start behind his Red Bull teammate Max Verstappen

Getty

16/27 Saturday Qualifying

Ricciardo entertains himself with an AFL ball ahead of qualifying

Getty

17/27 Friday Second Practice

Esteban Gutierrez's Haas broke down midway through second practice resulting in a virtual safety car.

Getty

18/27 Friday Second Practice

Nico Rosberg topped both practice sessions to seize the early advantage in Japan.

Getty

19/27 Friday Second Practice

Lewis Hamilton had to make do with second place behind his Mercedes teammate and championship rival.

Getty

20/27 Friday Second Practice

Kimi Raikkonen was the best of the rest as he out-paced his Ferrari teammate Sebastian Vettel.

Getty

21/27 Friday Second Practice

Fernando Alonso and Vettel engaged in some early wheel-to-wheel action during practice.

Getty

22/27 Friday Second Practice

Kevin Magnussen managed to keep his Renault out of the barrier after going off at the hairpin.

Getty

23/27 Friday First Practice

Hamilton was not as fast as his Mercedes teammate Rosberg in first practice.

Getty

24/27 Friday First Practice

Rosberg takes a 23-point lead into this weekend's Japanese Grand Prix.

Getty

25/27 Friday First Practice

Hamilton is looking to put his Malaysia misery behind him.

Getty

26/27 Friday First Practice

Rosberg has won eight grand prixs this season compared to Hamilton;s six.

Getty

27/27 Friday First Practice

Hamilton runs under Suzuka's trademark bridge during first practice.

Getty
The concerns about how the press conferences are conducted are fair and, in all probability, very true. That's why Hamilton is such a prominent name on social media, where he does engage with fans, post regular updates in-between race weekends and respond to Twitter messages and the likes.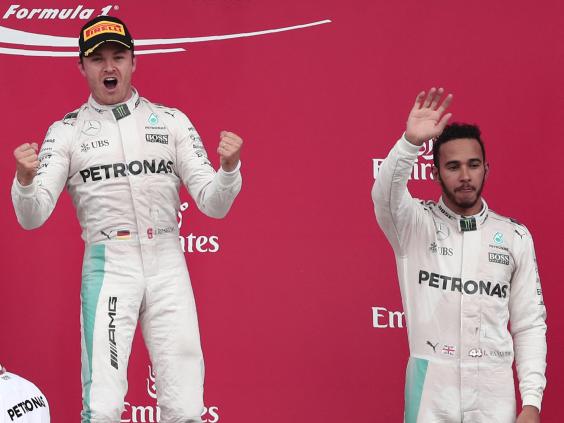 Yet once again, it was social media that got him into trouble in the hours after the Japanese Grand Prix where he was comprehensibly beaten by Rosberg. Mercedes lodged an official appeal with the FIA over Max Verstappen's late defensive move to try and keep Hamilton behind him in the battle for second. But with both Verstappen and Hamilton leaving the track before the investigation began, the FIA explained that a ruling would be given in two weeks' time in Austin where both parties could tell their side of the story. A deleted tweet later, a withdrawn appeal and it was confirmed that the race result stood.
In the minutes before the race got underway, Hamilton paced nervously across the front of the grid, looking at the large damp patch in front of him and fearing it would impact his start and ruin his race. Yet Hamilton's hopes were over before he even reached the damp patch after a clutch issue saw his engine bog down and send him plummeting down to fifth.
All of these factors are an extremely rare sight in the life of Lewis Hamilton, and echoed shades of his debut season where he and McLaren managed to snatch defeat from the jaws of victory and miss out on the 2007 world championship. If Hamilton can't rediscover the mental fortress that he has built over the last two and a half years, then the writing is on the wall for his championship hopes.
Reuse content