Lewis Hamilton says he does not fear retribution from his Mercedes team-mate Nico Rosberg in Bahrain this weekend following their confrontation at Sunday's Chinese Grand Prix.
The German undoubtedly felt frustrated with his role as piggy in the middle between a team-mate in the lead who was having to learn the limit of his tyres while Rosberg was trying to keep in front of Sebastian Vettel, who was breathing down his neck looking for the slightest chink in Mercedes' armour.
Yet, fresh from what all  parties insisted was a non- acrimonious post-race debriefing in Shanghai, Hamilton kept things low-key and was not inclined to score points off his team-mate.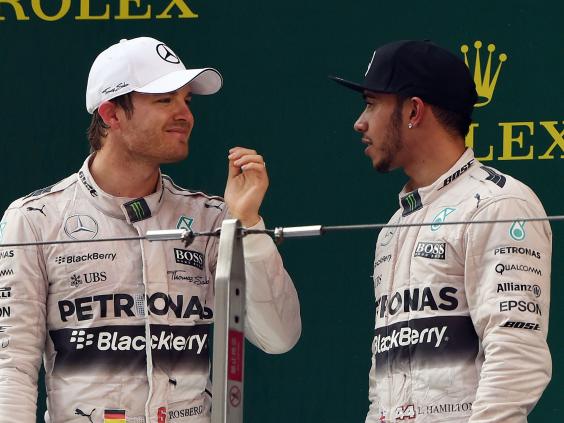 "I won the race and did the best job I could have done," he said. "But it's natural in battle that if you haven't won, you'll feel frustrated. Last year, if I lost to him, I would just go away and try to be better the next time.
"I always want to win. If I had been the one feeling that Nico wasn't going fast enough, I wouldn't have sat back. I would have been pushing. I don't know what he was thinking.
"I want a guy to be on my ass, pushing to pass me, if he has the pace. If he's got enough, he'll pass me. Perhaps Nico was just comfortable in P2 [second place], and maybe that's the difference between us."
As for the Mercedes non-executive chairman, Niki Lauda, Hamilton's actions were those of a driver with a winning mentality.
Asked whether the Briton had the right to be selfish, Lauda replied: "Sure, he will drive selfish. These guys, I call them egocentric bastards, and this is the only way to win a championship.
"There is no friendship out there. When you race you have to fight, that's it."
Reuse content