Lewis Hamilton loves Maya Angelou's famous poem "Still I Rise", and perhaps its lines that best summarised his ascent to a drivers' second World Championship in the twilight of Abu Dhabi - and Mercedes' first since the legendary Juan Manuel Fangio back in 1955, were these:
"Just like moons and like suns, with the certainty of tides, just like hopes springing high, still I'll rise."
He had been thrashed by title rival Nico Rosberg in qualifying, and admitted that he had had a sleepless night. But when the chips were down he was dominating his rival even before Rosberg slid helplessly from his mirrors with technical troubles, and then fended off a mighty challenge from Felipe Massa, whom he had beaten for his first championship crown in 2008.
"Lewis, you are a legend," Prince Harry told him on his slowing-down lap. "Thanks for not making the British public sweat."
Never was a start more keenly anticipated. Rosberg had to win to stand a chance of the title, with Hamilton no better than third. With Valtteri Bottas in his Williams third on the grid and, like Rosberg, starting on the cleaner side, there were threats all around the Englishman. That was until the lights actually went out and he took off like a rocket into a lead he surrendered only during tyre stops.
F1 Abu Dhabi Grand Prix 2014 - in pictures
F1 Abu Dhabi Grand Prix 2014 - in pictures
1/34 Final race

Hamilton is showered with champagne after the race

EPA

2/34 Final race

Hamilton celebrates his triumph

Getty

3/34 Final race

Hamilton can't hide his emotions on the podium

4/34 Final race

Hamilton commiserating runner-up Nico Rosberg

5/34 Final race

Hamilton embraces girlfriend Nicole Scherzinger

6/34 Final race

Hamilton lifts the British flag after being crowned champion

Getty

7/34 Final race

Hamilton in action at the Yas Marina circuit

EPA

8/34 Final race

Hamilton powers towards victory

9/34 Final race

Hamilton leads Mercedes team-mate Nico Rosberg

10/34 Final race

A TV broadcast shows Lotus' Venezuelan driver Pastor Maldonado leaving his burning car

11/34 Final race

Ferrari's Spanish driver Fernando Alonso breaks hard

12/34 Saturday qualifying

Lewis Hamilton shakes hands with Nico Rosberg as the two share a smile

Getty Images

13/34 Saturday qualifying

Nico Rosberg (c)m Lewis Hamilton (l) and Valterri Bottas (r), the top three from qualifying in Abu Dhabi, wave to the crowd

Getty Images

14/34 Saturday qualifying

Lewis Hamtilon and pole-sitter Nico Rosberg

Getty Images

15/34 Saturday qualifying

Lewis Hamilton emerges from the darkness as the sun sets over the Yas Marina pit-lane

Getty Images

16/34 Saturday qualifying

Kimi Raikkonen flashes by the lights of the hotel that towers over the track

Getty Images

17/34 Saturday qualifying

Valterri Bottas follows Lewis Hamilton

Getty Images

18/34 Saturday third practice

Daniel Ricciardo flashes past the harbour-side yachts at the Yas Marina circuit

Getty Images

19/34 Saturday third practice

Red Bull are saying goodbye to Sebastian Vettel as he prepares to leave at the end of the season

Getty Images

20/34 Saturday third practice

Prince Harry shares a joke with Geri Halliwell in the Red Bull garage

Getty Images

21/34 Saturday third practice

Adrian Sutil runs his Sauber close to the kerb

Getty Images

22/34 Friday second practice

Lewis Hamilton of Great Britain and Mercedes GP powers on

23/34 Friday second practice

Romain Grosjean of France and Lotus drives the Yas Marina Circuit

24/34 Friday second practice

Paddy Lowe, Mercedes Technical Executive Director looks on in the team garage

25/34 Friday first practice

Fernando Alonso follows his former team-mate Felipe Massa

Getty Images

26/34 Friday first practice

Lewis Hamilton ended first practice on top of the timesheets

Getty Images

27/34 Friday first practice

Romain Grosjean turns in as his Lotus glistens in the Abu Dhabi sun

Getty Images

28/34 Friday first practice

Kamui Kobayashi competes in first practice as Caterham return to action following two races away from the grid

Getty Images

29/34 Friday first practice

Daniel Ricciardo runs through the tunnel in the final sector of the Yas Marina track

Getty Images

30/34 Friday first practice

Lewis Hamilton tackles the Yas Marina circuit

Getty Images

31/34 Friday first practice

Nico Rosberg appears relaxed ahead of the biggest weekend of his life

Getty Images

32/34 Friday first practice

Fernando Alonso poses in the garage ahead of first practice

Getty Images

33/34 Friday first practice

Daniel Riccardo's helmet for the Abu Dhabi Grand Prix

Getty Images

34/34 Friday first practice

Sebastian Vettel signs autographs for fans in his final outing for Red Bull

Getty Images
Hamilton's 11th win of the season made him only the fourth multiple British world champion, after greats Graham Hill, Jim Clark and Jackie Stewart, and prompted rival Fernando Alonso to remark: "The best man won." The sentiment was widely echoed, but not with more meaning than from Hamilton's old boss Ron Dennis, who had nurtured his career.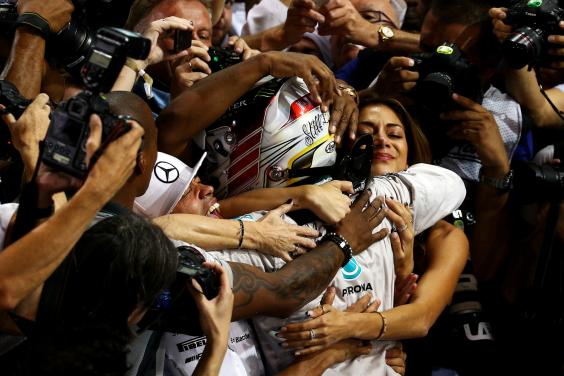 The best man did indeed win. Rosberg has been the faster qualifier this year, but Hamilton had won 10 races to Rosberg's five as their cars lined up on the grid, and had so often had to recover after misfortune. However, Rosberg proved a worthy challenger and when things began to go wrong he called upon a champion's spirit and refused to go down without a fight. There was grace there as well as resolve, as he was one of the first to congratulate a man who more than once has proved his nemesis since they first began racing one another back in 1997.
Even had Rosberg's car not lost its energy recovery system, Hamilton was in control yesterday. As the German's car slipped from second place, then down through each of the (double) points scoring positions until it was a lapped 14th, Rosberg many times asked his crew whether he might still be in contention should Hamilton's car run into trouble, but the news for him only got worse.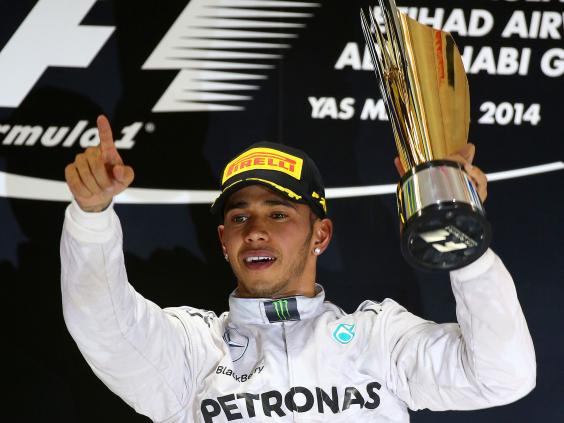 How soul-destroying must it have been to feel his dream slipping away with every second lost. Yet when Mercedes eventually advised him to bring his car into the pits with two laps to go he was resolute. "I'd like to go to the end," he said simply and, respectfully, the reply came: "Please continue."
Even after Rosberg's demise, this was no easy run for Hamilton as Felipe Massa was hungry for Williams' first success since Barcelona 2012. On a set of Pirelli's supersoft compound tyres he began to slash the gap with 12 laps left, but as his tyres began to lose their vital grip he did not quite have enough to challenge the Mercedes.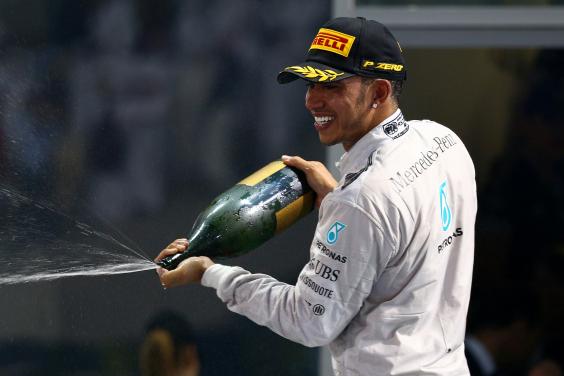 Making it an excellent day for Williams and Mercedes, Bottas recovered to an excellent third place.
Hamilton always said that this title would be sweeter than the first.
"In 2007 it was a very bad experience losing the World Championship in the last race," he admitted. "I fell to a low over which I had no control. In 2008, I came back and won the championship. While that was great, my emotions were shot. I wasn't so mature, I didn't have the knowledge I have now.
"Normally before a race you have butterflies in your stomach and are nervous, but today I felt extremely calm. It was weird; was that a good thing or a bad thing? Obviously, it was good! Last night I kept thinking that tomorrow is the big day, something could happen to the car and that would be the championship done. Naturally, you think of all the negative things that could happen but I tried really hard to bring all the positives into it.
"This is the great day of my life: 2008 was a special time, but the feeling I have now is way, way past that, above and beyond. It's the greatest feeling I've ever had. This is like an outside-the-body  experience."
Defeat brought out the real Rosberg, for there was no sign here of the sometimes condescending character who likes to play mind games. In its place was a fighter taking it on the chin, with his head held high.
"I'm very disappointed, a good chance was there today," he said. "It didn't work out, but in the end my race didn't make a difference because Lewis won fair and square anyway. It was a great battle between us, and that's what I race for.
"He deserved to win today and he deserved to win  the championship. He was this year that little bit better. He was the best driver on  the grid."
Besides winning the drivers' and constructors'  championships, 16 of the 19 races and setting a new record for one-two finishes, Mercedes' greatest racing season also set a new high for sportsmanship, and perhaps that was the greatest of all their achievements.
Abu Dhabi Grand Prix results (55 Laps):
1 Lewis Hamilton(Gbr) Mercedes GP 1hr 39mins 02.619sec,
2 Felipe Massa(Bra) Williams 1:39:05.119,
3 Valtteri Bottas(Fin) Williams 1:39:31.419,
4 Daniel Ricciardo(Aus) Red Bull 1:39:39.819,
5 Jenson Button(Gbr) McLaren 1:40:02.919,
6 Nico Hulkenberg(Ger) Force India 1:40:04.719,
7 Sergio Perez(Mex) Force India 1:40:13.619,
8 Sebastian Vettel(Ger) Red Bull 1:40:14.619,
9 Fernando Alonso(Spa) Ferrari 1:40:28.419,
10 Kimi Raikkonen(Fin) Ferrari 1:40:30.419,
11 Kevin Magnussen(Den) McLaren 1:40:32.919,
12 Jean-Eric Vergne(Fra) Scuderia Toro Rosso 1:40:34.519,
13 Romain Grosjean(Fra) Lotus F1 Team at 1 Lap,
14 Nico Rosberg(Ger)Mercedes GP at 1 Lap,
15 Esteban Gutierrez(Mex)Sauber-Ferrari at 1 Lap,
16 Adrian Sutil(Ger)Sauber-Ferrari at 1 Lap,
17 Will Stevens(Gbr)Caterham at 1 Lap
Not Classified:
18 Kamui Kobayashi (Jpn) Caterham 42 Laps completed,
19 Pastor Maldonado(Ven)Lotus F1 Team 26 Laps completed,
20 Daniil Kvyat(Rus)Scuderia Toro Rosso 14 Laps completed
Final World Championship Drivers' Standings
1 Lewis Hamilton(Gbr) Mercedes GP 384pts,
2 Nico Rosberg (Ger) Mercedes GP 317,
3 Daniel Ricciardo(Aus) Red Bull 238,
4 Valtteri Bottas(Fin) Williams 186,
5 Sebastian Vettel(Ger) Red Bull 167,
6 Fernando Alonso(Spa) Ferrari 161,
7 Felipe Massa(Bra) Williams 134,
8 Jenson Button(Gbr) McLaren 126,
9 Nico Hulkenberg(Ger) Force India 96,
10 Sergio Perez(Mex) Force India 59,
11 Kevin Magnussen(Den) McLaren 55,
12 Kimi Raikkonen(Fin) Ferrari 55,
13 Jean-Eric Vergne(Fra) Scuderia Toro Rosso 22,
14 Romain Grosjean(Fra) Lotus F1 Team 8,
15 Daniil Kvyat(Rus) Scuderia Toro Rosso 8,
16 Pastor Maldonado(Ven) Lotus F1 Team 2,
17 Jules Bianchi(Fra) Marussia 2,
18 Adrian Sutil(Ger) Sauber-Ferrari 0,
19 Marcus Ericsson(Swe) Sauber-Ferrari 0,
20 Esteban Gutierrez(Mex) Sauber-Ferrari 0,
21 Max Chilton(Gbr) Marussia 0,
22 Kamui Kobayashi(Jpn) Caterham 0,
23 Will Stevens(Gbr) Caterham 0,
24 Andre Lotterer (Ger)Caterham 0
Manufacturers:
1 Mercedes GP 701pts,
2 Red Bull 405,
3 Williams 320,
4 Ferrari 216,
5 McLaren 181,
6 Force India 155,
7 Scuderia Toro Rosso 30,
8 Lotus F1 Team 10,
9 Marussia 2,
10 Sauber-Ferrari 0,
11 Caterham 0
Reuse content