Lewis Hamilton has drawn first blood in this season's psychological battle with Mercedes team-mate Nico Rosberg after the latter's bid to upstage the Briton backfired.
The duo endured an often tense fight last year as they went head to head for the Formula One world title before their rivalry exploded in Belgium when Rosberg ran into Hamilton.
It earned Rosberg a stern dressing down from his bosses, and in turn also fired up Hamilton who went on to dominate the final few races, and crucially claim the championship.
Malaysian Grand Prix in pictures
Malaysian Grand Prix in pictures
1/25 Malaysian Grand Prix

Sebastian Vettel lifts the Malaysian Grand Prix trophy

Getty Images

2/25 Malaysian Grand Prix

Sebastian Vettel of Germany and Ferrari celebrates with the trophy on the podium after winning the Malaysia Formula One Grand Prix at Sepang Circuit

GETTY IMAGES

3/25 Malaysian Grand Prix

Vettel cruised to victory in the closing stages once Hamilton's threat faded

Getty Images

4/25 Malaysian Grand Prix

Vettel dropped to third but took the lead once the Mercedes pair pitted

Getty Images

5/25 Malaysian Grand Prix

The stricken Sauber of Marcus Ericsson is retrieved after the safety car comes out

Getty Images

6/25 Malaysian Grand Prix

Lewis Hamilton led Sebastian Vettel and Nico Rosberg early on

Getty Images

7/25 Malaysian Grand Prix

Kimi Raikkonen was hampered by an early puncture but recovered to fourth position

Getty Images

8/25 Malaysian Grand Prix

Lewis Hamilton leads from the start as Nico Rosberg challenges Sebastian Vettel

Getty Images

9/25 Saturday qualifying

Lewis Hamilton will start on pole ahead of Sebastian Vettel and Nico Rosberg

Getty Images

10/25 Saturday qualifying

Rosberg grimaces after Hamilton clinches pole

Getty Images

11/25 Saturday qualifying

Hamilton runs down the back straight in the rain

Getty Images

12/25 Saturday qualifying

Nico Rosberg could only manage third

Getty Images

13/25 Saturday qualifying

Lewis Hamilton secured his second straight pole of the season

Getty Images

14/25 Saturday qualifying

Sebastian Vettel managed to split the two Mercedes

Getty Images

15/25 Saturday qualifying

Kimi Raikkonen was the shock name to miss out in Q2

Getty Images

16/25 Saturday third practice

Rosberg returned to the top to the timesheets in final practice

Getty Images

17/25 Saturday third practice

Rosberg could take heart from his showing in third practice to take momentum into qualifying

Getty Images

18/25 Saturday third practice

Kimi Raikkonen finished third in final practice despite suffering a puncture

Getty Images

19/25 Friday second practice

Kimi Raikkonen managed to finish both sessions in second

Getty Images

20/25 Friday second practice

Nico Rosberg topped first practice but could only manage third in second practice

Getty Images

21/25 Friday second practice

Roberto Merhi's first ever run in the Manor Marussia ended in the gravel trap

Getty Images

22/25 Friday second practice

Lewis Hamilton returned to the track to set the fastest time of the day

Getty Images

23/25 Friday first practice

Hamilton's Mercedes is winched onto a recovery lorry

Getty Images

24/25 Friday first practice

Lewis Hamilton was forced to end his first run after just four laps

Getty Images

25/25 Friday first practice

Fernando Alonso returned to action following his recent concussion

Getty Images
With Mercedes again in the ascendancy at the start of this season, it appears the title will more than likely be a two-horse race between the duo, with any edge that can be gained vital.
In qualifying for Sunday's Malaysian Grand Prix, it appeared Rosberg blocked Hamilton on a flying lap in the final session, run on a damp track as a thunderstorm curtailed Q2 and caused a 35-minute delay.
Fortunately for Hamilton his first lap in that period proved enough, ultimately pipping Ferrari's Sebastian Vettel by 0.074secs to claim his 40th career pole, with an unhappy Rosberg down in third.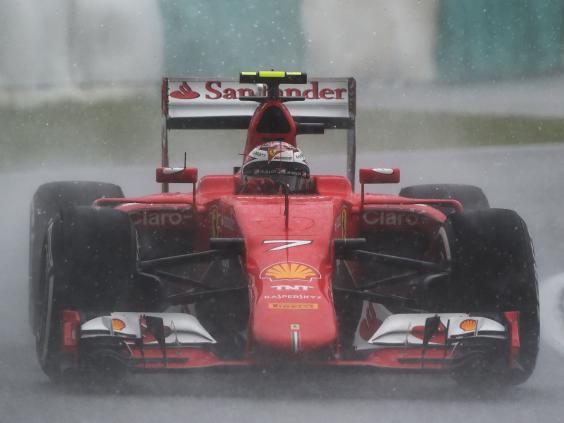 Post-qualifying, at the individual media sessions for the drivers, Hamilton attempted to take the sting out of the situation when asked about Rosberg's move.
"I did improve on my first sector, it was quickest, but then I just bailed out," said Hamilton.
"I had traffic. I came up on quite a few cars ahead. The sector was looking quite good, but the cars were going to get in the way, so I decided to take a second lap."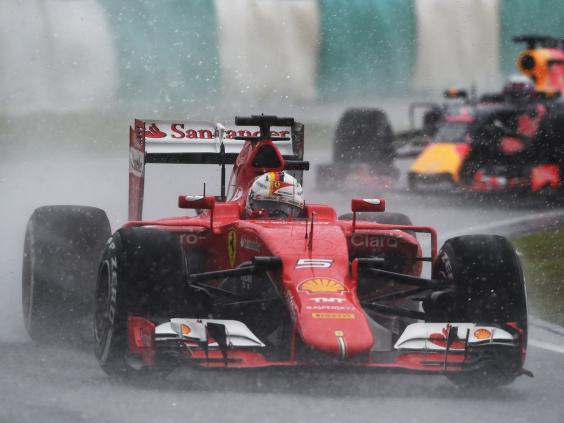 Pressed on whether there was any suggestion he felt Rosberg had held him up, he instantly replied: "No."
With the session winding down, Rosberg then appeared at the back of the room and resurrected the matter as he said: "Nico Rosberg, Mercedes AMG Petronas.
"There are a lot of comments on Twitter saying Nico blocked you. Is that true, he blocked you on your second timed lap?"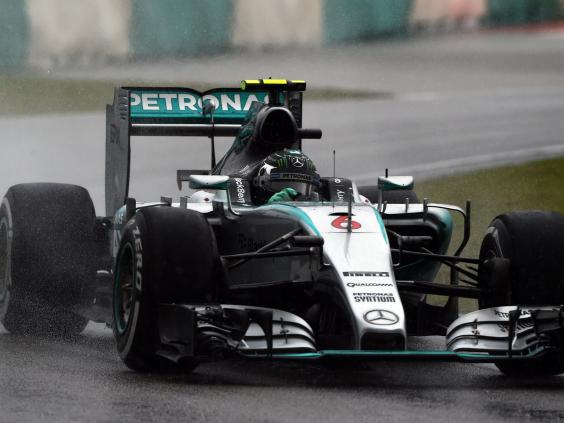 Hamilton smiled and in reply said: "I think you should probably ask him. I think he'll have a good opinion on that."
Whilst the assembled media burst into laughter, a clearly unamused Rosberg shook his head and said: "That's not funny! That's not funny!"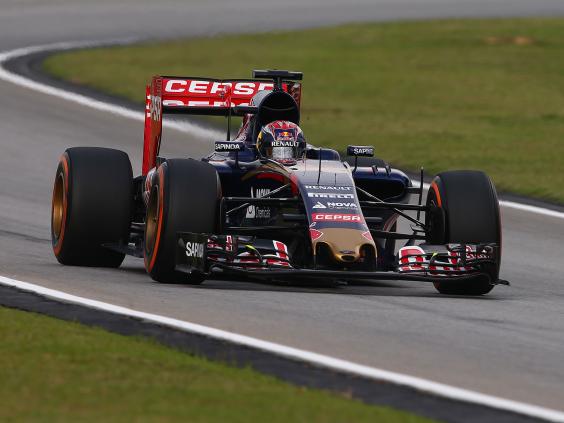 Rosberg then took his place for questions and was immediately asked as to whether he had blocked Hamilton.
Rosberg said: "You best ask Lewis about that. No, it is not even a relevant discussion because we were both on slow-down laps at that point in time. And that was very, very clear."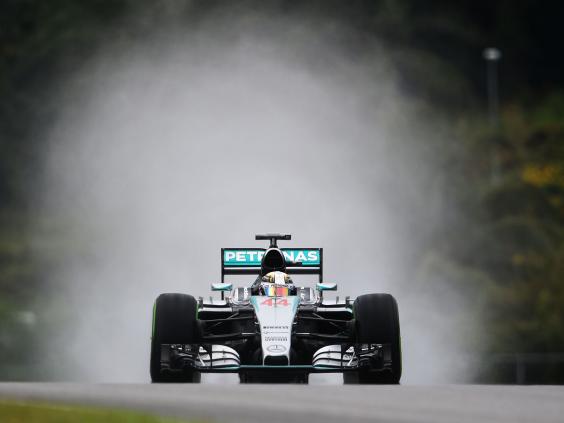 Informed Hamilton had set a personal best in the first sector, Rosberg said: "Yeah, but if you bail out of a lap it turns into a slow-down lap, doesn't it?"
It was then suggested to Rosberg that Hamilton only slowed as he came upon the German, to which he said: "That is not true. He backed off way before coming up on me."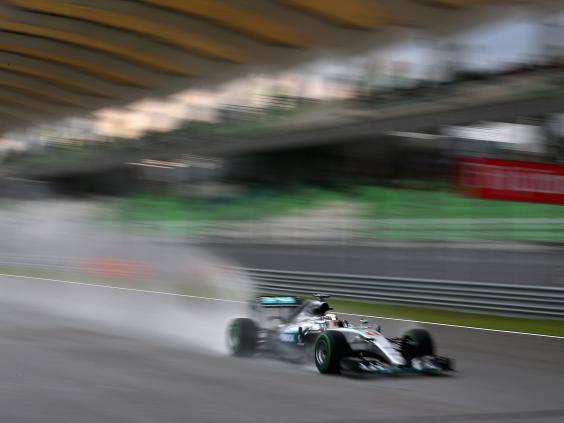 Although the next question was on a different subject, Rosberg chose not to let the matter drop and remarked: "How do we make that a fact, that he bailed out before he came across me?
"That is the interesting one because me just saying it isn't going to bear much weight. So, we need to think of one, which I don't have an answer for to make that a fact for you.
"I will have to think about something later on. Or you can ask Toto (Wolff, Mercedes motorsport boss) who is coming. That is maybe a good one. That will give some more weight to it."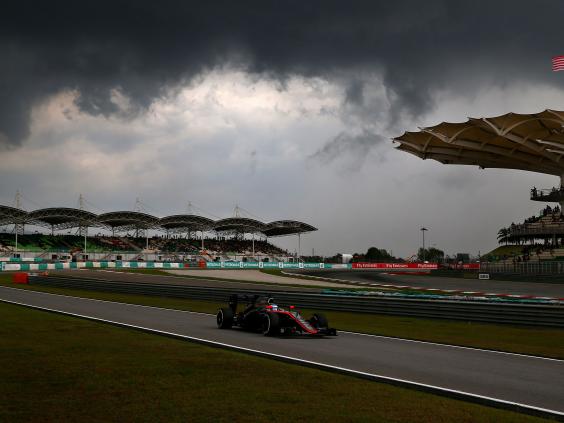 Unfortunately for Rosberg, Wolff was unavailable for his session, and so could not offer an opinion.
For Hamilton, it proved to be a good day as he managed to get one up on his main rival for this year's crown, both on and off track
Further rain is expected during the race, which will certainly spice up the occasion, particularly with Vettel separating the Mercedes duo and with Ferrari returning to form.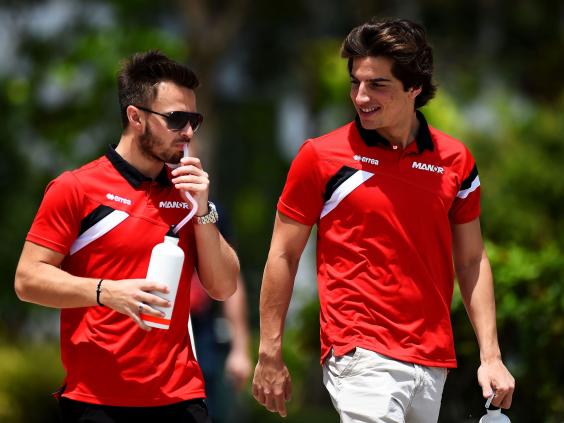 Red Bull pairing Daniel Ricciardo and Daniil Kvyat line up fourth and fifth, with 17-year-old Max Verstappen sixth for Toro Rosso, the first teenager to qualify in the top six for 54 years.
McLaren duo Jenson Button and Fernando Alonso, meanwhile, start 17th and 18th, which although appearing wretched, is an improvement as the team have found further pace from where they were in Australia.
Manor pair Roberto Merhi and Will Stevens have been given dispensation to race after the former failed to set a time within the 107 per cent rule, whilst the latter did not take part in qualifying due to a fuel pressure issue.
Final Positions after Qualifying:
1 Lewis Hamilton (Gbr) Mercedes GP 1min 49.834secs,
2 Sebastian Vettel(Ger)Ferrari 1:49.908,
3 Nico Rosberg(Ger)Mercedes GP 1:50.299,
4 Daniel Ricciardo(Aus)Red Bull 1:51.541,
5 Daniil Kvyat(Rus)Red Bull 1:51.951,
6 Max Verstappen(Ned)Scuderia Toro Rosso 1:51.981,
7 Felipe Massa(Bra)Williams 1:52.473,
8 Romain Grosjean(Fra)Lotus F1 Team 1:52.981,
9 Valtteri Bottas(Fin)Williams 1:53.179,
10 Marcus Ericsson(Swe)Sauber-Ferrari 1:53.261,
11 Kimi Raikkonen(Fin)Ferrari 1:42.173,
12 Pastor Maldonado(Ven)Lotus F1 Team 1:42.198,
13 Nico Hulkenberg(Ger)Force India 1:43.023,
14 Sergio Perez(Mex)Force India 1:43.469,
15 Carlos Sainz(Spa)Scuderia Toro Rosso 1:43.701,
16 Felipe Nasr(Bra)Sauber-Ferrari 1:41.308,
17 Jenson Button(Gbr)McLaren 1:41.636,
18 Fernando Alonso(Spa)McLaren 1:41.746,
19 Roberto Merhi(Spa)Manor Marussia F1 1:46.677,
20 Will Stevens(Gbr) Manor Marussia F1 No Time
Note: Roberto Merhi's Q1 time of 1:46.667 was not within 107 per cent of Hamilton's P1 time of 1:39.269, and Will Stevens didn't set a time. Both Manor Marussia drivers will require dispensation from the FIA to be able to start the race.
More to follow...
Reuse content