Jenson Button won here in his 2009 world championship season, yet the 35-year-old says it wasn't so much his victory as his pole position that was so important to him.
"As we all know, it's very difficult to overtake here," he said. "So Saturday is probably more important than Sunday. That was the most important pole position I've ever had, and what really made my weekend."
Lewis Hamilton, chasing a second win here to bring himself equal with Mercedes team-mate Nico Rosberg, his conqueror here for the past two seasons, agreed as he took his first F1 pole in the Principality. "Qualifying is everything. I tried everything to overtake Nico here last year. And unless you're seconds faster than the car in front, it's very, very hard to do that."
Monaco Grand Prix 2015 in pictures
Monaco Grand Prix 2015 in pictures
1/28 Thursday first practice

A view of the Monte Carlo harbour

2/28 Thursday first practice

Daniil Kvyat emerges from the tunnel in the wet

3/28 Thursday first practice

Felipe Massa in first practice as he tackle the wet conditions

4/28 Thursday second practice

Roberto Merhi's Marussia is retrieved after crashing during practice

5/28 Thursday second practice

Niki Lauda walks off after visiting the Ferrari garage

6/28 Thursday second practice

The notoriously small pit lane proves another task for the drivers to deal with

7/28 Thursday second practice

Sebastian Vettel emerges from the Ferrari garage

8/28 Saturday third practice

Lewis Hamilton climbs the hill up towards Casino

9/28 Saturday third practice

Jenson Button showed the best pace of the season in the McLaren

10/28 Saturday third practice

Nico Rosberg travels alongside the Mediterranean Sea

11/28 Saturday third practice

Kimi Raikkonen's Ferrari sits stranded after breaking down

12/28 Saturday third practice

Toro Rosso's Carlos Sainz follows Red Bull's Daniel Ricciardo through the Lowe's hairpin

13/28 Saturday third practice

Daniel Ricciardo tackles the first corner

14/28 Saturday qualifying

Pastor Maldonado negotiates the harbour chicane

Getty Images

15/28 Saturday qualifying

Sebastian Vettel comes over the crest of the Casino Square

Getty Images

16/28 Saturday qualifying

Lewis Hamilton follows a Ferrari through the Lowe's hairpin on his way to pole

Getty Images

17/28 Saturday qualifying

Lewis Hamilton celebrates his pole position in Monaco

Getty Images

18/28 Saturday qualifying

Lewis Hamilton celebrates his pole position in Monaco

Getty Images

19/28 Sunday race

Cara Delavinge gets to grips with the McLaren before the race gets underway

Getty Images

20/28 Sunday race

The start of the Monaco Grand Prix

Getty Images

21/28 Sunday race

Lewis Hamilton spearheads a train of cars on the opening lap

Getty Images

22/28 Sunday race

Nico Hulkenberg ends up in the tyre barrier after being hit by Fernando Alonso

Getty Images

23/28 Sunday race

Lewis Hamilton leads through the Lowe's hairpin on the first lap

Getty Images

24/28 Sunday race

Jenson Button leads team-mate Fernando Alonso through the Swimming Pool Chicane

Getty Images

25/28 Sunday race

Daniil Kvyat leads Red Bull team-mate Daniel Ricciardo and Kimi Raikkonen into turn one

Getty Images

26/28 Sunday race

Alonso walks back to his garage after retiring

Getty Images

27/28 Sunday race

Lewis Hamilton pulls away from Nico Rosberg on the run up to e the Casino Square

Getty Images

28/28 Sunday race

Nico Rosberg celebrates victory in the Monaco Grand Prix

Getty Images
So how does it feel just before the drivers head out for these crucial qualifying sessions? Double world champion Mika Hakkinen, who won here for McLaren in 1998 after a fierce battle with team-mate David Coulthard, gave a graphic illustration of his mindset then.
"I remember the qualifying hour vividly. The track was becoming faster with every lap. I would put in a quick one, and then David would beat my time. I would dig a bit deeper, and then, again, David would find another tenth.
"The atmosphere in the McLaren garage was very tense. David had provisional pole, now it was my turn again; it was now or never. I sat in my car and mentally rehearsed my lap, in real time, eyes closed. I had to push to the absolute limit – leaving no margin anywhere – but without any mistakes. I had butterflies in my tummy but you need that sometimes. It's a sign of adrenaline and keeps you ultra sharp.
"Maximum attack is how you drive a quallie lap: drive like an animal, as fast as you can, taking everything out of the car."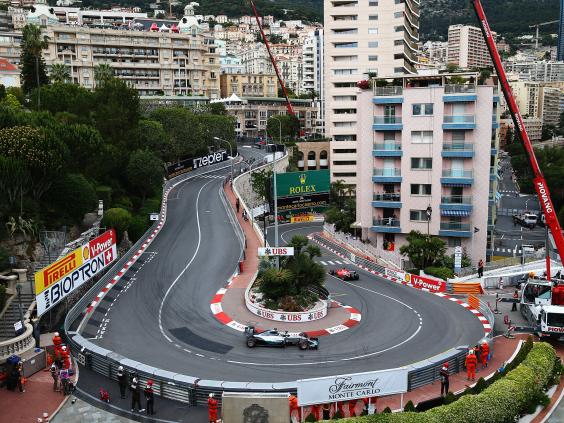 Hakkinen beat Coulthard by three-tenths, won the race, and went on to win his first title that year.
Yesterday, Hamilton and Rosberg waged a similar duel, just as they did here last year but without controversy.
In Q2 Hamilton was called back into the pits for a front-wing adjustment, and thereafter his session lacked the fluidity of his practice runs on Thursday. "Let's calm down and reset," he told his engineers. "That was really bad, I didn't get any gaps and the tyres weren't in good shape."
Later he added: "It's difficult to express just how difficult this track is. After all these years it's still difficult to get your head round it and continue to improve. I had some traffic, and some really bad laps in Q1 and Q2."
Rosberg led him by a few hundredths in the former and by half a second in the latter, and seemed as pre-eminent as he had been last year, until he locked his right front wheel and headed into the escape road in the first corner.
Part of the problem was getting the tyres hot enough, as the ambient temperature dropped. "These tyres take quite a long time to start working, and they are still very hard considering they're the soft and supersoft compounds," Hamilton explained. "We had to do an out lap from the pits, a good warm-up lap, and then the fast lap, but even on the fast lap they were still so-so."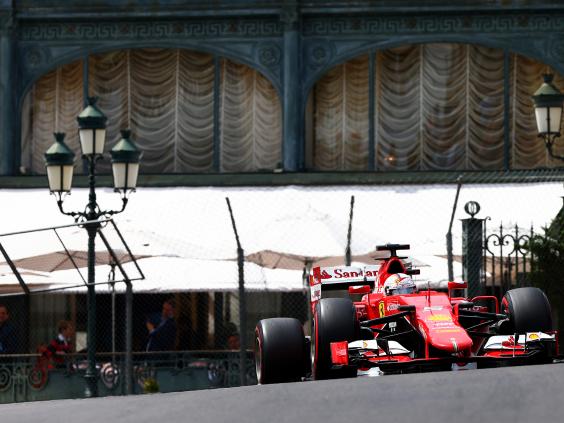 By prior intra-team agreement – to avoid the situation Rosberg created last year by going down the escape road at Mirabeau and preventing Hamilton from challenging for pole – Hamilton led him out for the crucial Q3 runs. They yielded 1m 15.304s for him, 1m 15.440s for Rosberg, 1m 15.849s for Sebastian Vettel.
But Hamilton wasn't finished. Both Rosberg and Vettel eased back after failing to improve in their first sectors, but Hamilton went faster still, with a lap of 1m 15.098s. Finally, after eight years, he would start the Monaco GP from pole position.
"It's been such a long time waiting that I can't express how happy I am," he said. "It wasn't an easy qualifying session, a lot of things could throw you off your rhythm, and I didn't recover that really until those two final laps. So I was really, really happy about that. It's incredibly special for me and my guys.
"I don't feel like this is a milestone, but definitely it's an important day for me. Since 2007 qualifying has not been great for me here. Every year has generally been quite poor: some years I had the car but sometimes things got in the way; in others I didn't have the car. I have a long way to go to get anywhere near what my hero Ayrton Senna achieved here but this is the first step, maybe."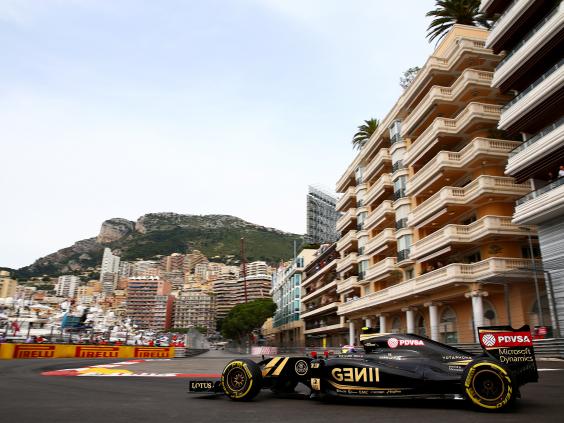 Rosberg and Vettel were philosophical, putting as much of a slant on things as you can when you know that it's your rival's race to lose when he starts at the front here.
"Probably I had the opposite to Lewis," Rosberg said. "I had good rhythm at the start of qualifying, having not had that all weekend, then lost touch towards the end. I had to go for it, but it didn't work out."
"So far nobody has scored any points so tomorrow anything is possible," Vettel said. "The start is going to be very important, and as I'm on the inside maybe I can split the Mercedes. Anything can happen round here."
Final Positions After Qualifying:
1 Lewis Hamilton (Gbr) Mercedes GP 1min 15.098secs
2 Nico Rosberg(Ger) Mercedes GP 1:15.440
3 Sebastian Vettel(Ger) Ferrari 1:15.849
4 Daniel Ricciardo(Aus) Red Bull 1:16.041
5 Daniil Kvyat(Rus) Red Bull 1:16.182
6 Kimi Raikkonen(Fin) Ferrari 1:16.427
7 Sergio Perez(Mex) Force India 1:16.808
8 Carlos Sainz(Spa) Scuderia Toro Rosso 1:16.931
9 Pastor Maldonado(Ven) Lotus F1 Team 1:16.946
10 Max Verstappen(Ned) Scuderia Toro Rosso 1:16.957
11 Romain Grosjean(Fra) Lotus F1 Team 1:17.007
12 Jenson Button(Gbr) McLaren 1:17.093
13 Nico Hulkenberg(Ger) Force India 1:17.193
14 Felipe Massa(Bra) Williams 1:17.278
15 Fernando Alonso(Spa) McLaren 1:26.632
16 Felipe Nasr(Bra) Sauber-Ferrari 1:18.101
17 Valtteri Bottas(Fin) Williams 1:18.434
18 Marcus Ericsson(Swe) Sauber-Ferrari 1:18.513
19 Will Stevens(Gbr) Manor Marussia F1 1:20.655
20 Roberto Merhi(Spa) Manor Marussia F1 1:20.904
Note: Romain Grosjean has a five-place grid penalty for an unscheduled gearbox change, so will start the race from 16th.
Reuse content