With the Championship winner already decided the race was on for second place heading into the last round with 12 points separating the Yamaha team-mates Valentino Rossi and Jorge Lorenzo.
For the first time in four and a half years, nine-times world champion Valentino Rossi gave himself the advantage by making a last lap dash in qualifying on Saturday and secured pole position, something he hasn't accomplished since Le Mans in 2010. Joining him on the front row was Andrea Iannone, who was making a comeback from his injury sustained in Sepang three weeks ago, and in third on the grid is Repsol Honda's Dani Pedrosa.
Iannone led for the first ten laps until Rossi chose his moment to make his pass, however this was shortlived as Marquez smoothly stole the lead and won the race with Rossi 3.5 seconds behind, claiming his 13th win of the season and breaking another record, for most wins in one season.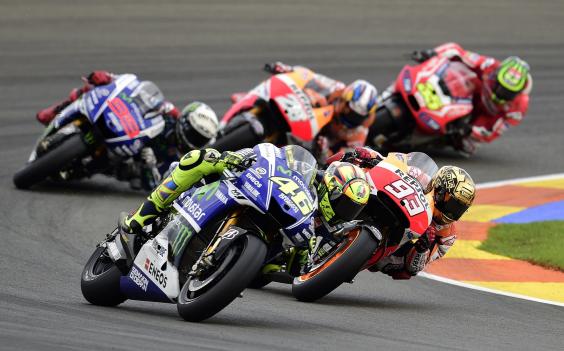 Lorenzo's start from the second row saw him fall back to seventh early on and having to battle past both the Ducati Desmocedici's of Cal Crutchlow and Andrea Dovizioso up to fourth. But when rain began to hit parts of the track, he made the decision to return to the pits switching to his wet bike, as did Iannone. This decision didn't pay off for either as most of the track stayed dry and Lorenzo was forced to retire with six laps of the race remaining, confirming Rossi as second place in the Championship and himself third.
Crutchlow led the way for the Brits, coming home in fifth place, while Bradley Smith who had crashed and rejoined the race finished in 14th place securing himself as the top Briton in the Championship in 8th position.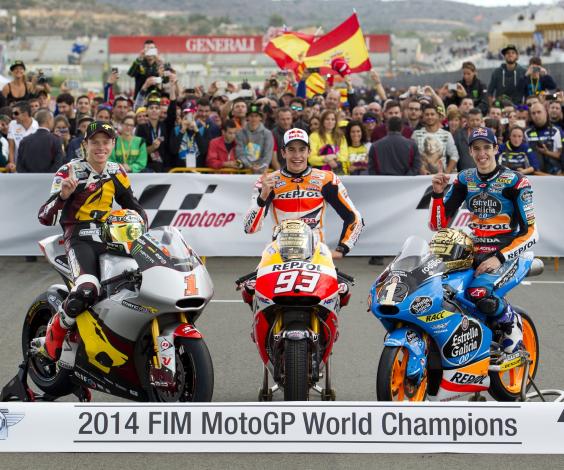 In the junior class, Jack Miller claimed the win for the Moto3 race, but it was Marc Marquez' brother Alex, who by crossing the line in 4th won the title of Moto3 World Champion. Marquez moves up to Moto2 for next season and Jack Miller will begin testing with the premiere class tomorrow as he makes the jump to MotoGP for 2015.
Reuse content