Tony Fernandes, the colourful owner of Queen's Park Rangers, Caterham Cars and AirAsia, does not regret his five-year adventure in Formula One's "piranha club".
"There's nothing wrong in trying and failing," he says. "I've had an unbelievable life. I'm 50 years old, and I brought Lotus back. No one can take that away from me. And Caterham is a much better known car manufacturer now. We've doubled our sales. I've met some great people. And I've learned how not to do things. I've learned about focus."
A self-deprecating laugh is acknowledgement that he is harder to pin down than a frame house in a hurricane.
"I'd rather get to 55 and say I'm glad I did it, than wish I had. But we were just not good enough, and I enjoy football more."
He concedes that not being involved on a daily basis, or else not employing someone with the calibre of former McLaren chief Martin Whitmarsh, was his biggest mistake.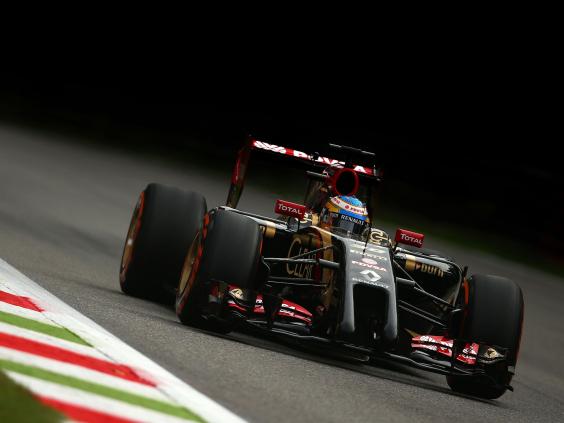 "That's the lesson from all this," Fernandes says. "I'm so meticulous with AirAsia. I'm there and I know everything that's going on. Success! I spent a lot more time on football and we are better. I won't say successful, but better."
Fernandes revived the fabled Team Lotus in 2010. But the dream soured when controversial entrepreneur Dany Bahar joined Lotus Cars in Malaysia and wanted Fernandes' train set – Team Lotus – too. Founder Colin Chapman had separated the two entities as long ago as 1968, and Lotus Cars had been acquired by General Motors in 1986, but a lengthy legal case in 2011 proved inconclusive. In the end Fernandes rebranded as Caterham.
"That was the first massive chink in the dream," he admits. "Selling the Lotus F1 brand was a major blow. I never said it to anyone, but it left me feeling that F1 was very nasty and vindictive.
"Then Caterham didn't really progress, a lot of investments didn't come through and it started to get tough."
He had entered F1 believing former FIA president Max Mosley's promise of a $40m budget cap. But that was always doomed. "Pretty soon the whole cost of F1 went the other way," Fernandes reflects. "Tyres were free when I came in, now we pay for them. Then there was the turbo-engine change, whose cost almost doubled."
In January he put his team on notice that his patience was not limited, and eventually sold it to a group of Swiss and Middle Eastern investors.
Fernandes does not want to come across as a sore loser, but he does not pull punches. "The economics of the sport is all wrong. Bar Ferrari, Red Bull, Mercedes and McLaren, everyone else is struggling.
"I don't want to say how much we ended up spending beyond the cap Max talked of, but it was a lot. So you've got to put your hands up and say, 'We're beat. It doesn't make sense any more'."
He admits that felt like falling out of love, and that the system beat him. "Every team talked about working together but it never happened. There should be enough money in the system for everyone to race. I don't believe I should have the same as Ferrari or Red Bull, but $60m, $70m, that should come from the prize money.
"If you get more sponsorship and you can raise your budget to $120m, so be it. But $40m was unrealistic unless people really wanted it, and they didn't. And the teams were not together, which was a major disappointment."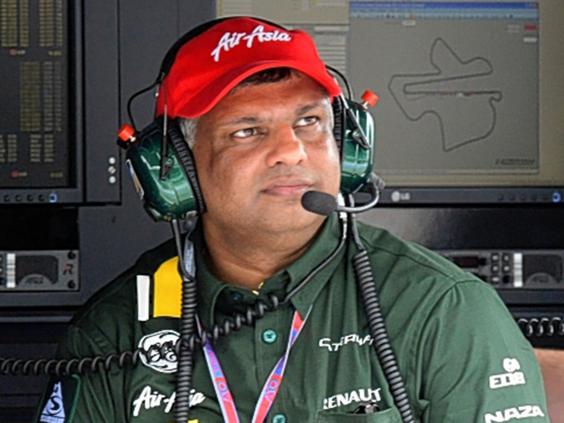 It did not help that he had also seen football's commercial model. "In football the teams are much closer together. And yet they too are competing like hell. Whether you're a top team or at the bottom, you get enough money to survive, and that's the major difference. We got £30m when we were relegated [from the Premier League in 2013], and then £60m when we came back up. Of course, Manchester United have more and Chelsea have more, but you have baseline prize money which enables you to compete."
And, as QPR proved in last season's Championship play-off final against Derby County at Wembley, you still have the chance to win.
Wouldn't it have been better to focus on one or the other rather than buying QPR and diluting the effort that should have gone into F1?
"Fair question," he laughs after a long pause. "Maybe. Even then we were beginning to question F1, but if I had just stuck with F1 we would have been slightly better. I'm not sure how much better."
In football there is no need to spend additional millions redesigning the ball for each match, either. "And there's a fairer distribution of money and a better control of spending. There's a better dialogue. There's a general understanding that we are in it together. Obviously there are differences; somebody wants a salary cap, and somebody else doesn't. But there's a clear voting structure. One team, one vote. No need for unanimity. In F1 I think there is some sensibility where people want to help each other, but not at the top.
"But I'm not criticising motor racing. I love the sport. And I wouldn't have got involved in football or car making if I hadn't met Bernie [Ecclestone]."
Fernandes has proved his mettle with QPR's fightback after relegation last year. "We didn't give up and die, we came back fighting hard. There aren't many teams that bounce back straight away. That was a fairy tale. But definitely I thought we had a chance."
He cites the motivation of the players as the crucial change at Loftus Road last season. "There was such great camaraderie. Richard Dunne has been unbelievable, and Joey Barton has been great. He's a tough boy – but I don't think he realised how heavy I was when he got me up on his shoulders [at Wembley]. Bobby Zamora kept coming back and doing great things."
So now Fernandes will focus on QPR, AirAsia, exciting new projects with Caterham Cars, and his smaller race teams. "I love GP2 and Moto2," he laughs. "I think I'm a second division guy. What we should have done in hindsight was start a GP2 team, slowly learn the ropes, and then move on to F1." Instead, he fell out of love with F1. But does he feel better to be out of it? "Yeah," he admits. "It's a relief."
Reuse content