Fernando Alonso insists his reputation puts him in a position of power when it comes to making a decision over his future.
The position of the two-time world champion at Ferrari has been in question for several months and it now looks certain he will move on following the announcement that Sebastian Vettel is to leave Red Bull - with Alonso's seat his likely destination.
The 33-year-old is considered by many to be the best driver in Formula One but, with a restructuring taking place at Maranello, Ferrari appear keen to move in a new direction without the former Renault driver on board.
A return to McLaren, where Alonso spent an incident-filled season alongside Lewis Hamilton in 2007, appears to be the best option but the Spaniard could also decide to take a self-imposed sabbatical and return for the 2016 season.
F1 Japanese Grand Prix
F1 Japanese Grand Prix
1/9 Friday second practice

Daniel Ricciardo's damaged Red Bull is retrieved from the barrier after a heavy off

Getty Images

2/9 Friday second practice

Lewis Hamilton ended Friday as the fastest man of all once again

Getty Images

3/9 Friday second practice

Sebastian Vettel prepares to take to the track in second practice

Getty Images

4/9 Friday second practice

Fernando Alonso looks far from happy during Friday practice

Getty Images

5/9 Friday second practice

Lewis Hamilton passes under the tunnel at Suzuka

Getty Images

6/9 Friday first practice

Nico Rosberg topped first practice timesheets

Getty Images

7/9 Friday first practice

Jenson Button drives through the final chicane as the famous Suzuka ferris wheel spins in the background

Getty Images

8/9 Friday first practice

Max Verstappen made his debut in the first Friday practice session

Getty Images

9/9 Friday first practice

Max Verstappen looks on as he copes with his F1 debut

Getty Images
Whatever his immediate futures holds, Alonso - who has twice finished as runner-up in the championship during his five years with Ferrari - is adamant all of the decisions will be taken by him, with his own interests at heart.
"I have a very unique position," he said.
"For so many years and with so much respectful work I have done on the track, I decide where to go, what I do and when I do it.
"Some of the things that are happening are a consequence of what I'm thinking. I have had a clear plan for the last three months and everything is moving in the right direction.
"I'm the decision maker; whatever I do will have some consequences but I'm in a privileged position.
"Whatever I want to do I will do. I will race more or less in whatever place I want.
"After that the others will move their position probably, when I finally make my decision I will tell you when it is time."
Alonso confirmed other teams in the paddock had been in touch to see what his situation at Ferrari was and he is hopeful that an announcement can be made shortly.
"They (rival teams) are curious as there are so many rumours," he said.
"They call just to get in touch to know about your position or your possibilities for next year. I have the opportunity to whatever I want and I will do whatever I think is best for me in my career right now.
"It is about a hunger for success, wanting to win, wanting to become champion, wanting be to happy and having a good life.
"There are many things that when I put together a few months ago showed me a direction to go and I have followed that direction - everything is going to plan and hopefully I can tell you soon."
With Vettel vacating his seat at Red Bull, there would have been an option to talk to Alonso - but the team decided to promote 20-year-old Russian Daniil Kvyat from their sister team Toro Rosso.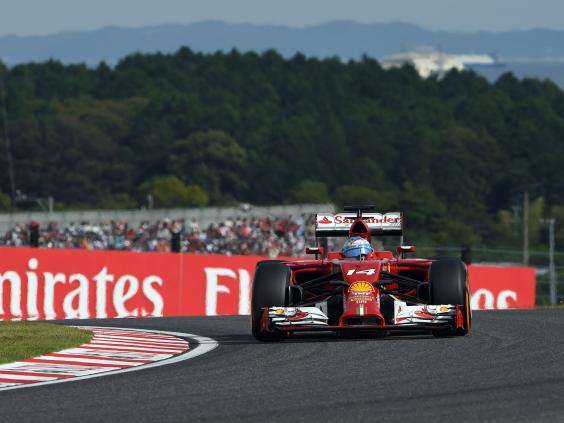 But Alonso, who also refused to rule out staying at Ferrari - however unlikely, said a move to Red Bull had never been in the pipeline.
"No, not really," he replied when asked if Kvyat's appointment came as a surprise.
"The programme of Red Bull has been very successful with Sebastian, Ricciardo and Kvyat and it is understandable that they follow the programme. A position at Red Bull was never a priority for me."
Although a McLaren return is being touted, Ron Dennis has insisted the Woking team have yet to sign any drivers for next year - with current incumbents Jenson Button and Kevin Magnussen also in the dark over their respective futures.
"We do not have a contract with any driver at this moment in time. It isn't our priority," the McLaren boss said.
"Of course, we talk, of course we do all the things you expect us to do. But at this moment in time we have not got contracts that we have activated.
"It is not a great position to be in if you are either Jenson or Kevin but the reality is they understand. The key thing for them is that our priority is to produce a car with which they can win."
PA
Reuse content