When Nico Rosberg joked with Sebastian Vettel in Melbourne a fortnight ago that he hoped Ferrari could move up and join the fight with Mercedes, nobody imagined it would happen so soon.
But on Sunday, in the searing heat of Sepang, the man some thought was washed up last year rediscovered his mojo. The German drove a superbly judged, strategic race which made full use of his car's superior tyre wear and put Ferrari back in the winners' enclosure for the Malaysian Grand Prix.
As Vettel savoured his first victory since Brazil 2013, Ferrari's first since Spain that year, and their first together in only his second race for the Scuderia, he was emotional.
"Last year was not a good year for me. We had a great car and I was struggling to extract the performance," he said. "This year's car is fantastic and when the gates first opened for me at Maranello it was a great day for me. I grew up watching Michael [Schumacher] and now I'm driving that red car. We had a great car, great strategy and great pace. It's been a really, really great day, one that will always remain with me."
Malaysian Grand Prix in pictures
Malaysian Grand Prix in pictures
1/25 Malaysian Grand Prix

Sebastian Vettel lifts the Malaysian Grand Prix trophy

Getty Images

2/25 Malaysian Grand Prix

Sebastian Vettel of Germany and Ferrari celebrates with the trophy on the podium after winning the Malaysia Formula One Grand Prix at Sepang Circuit

GETTY IMAGES

3/25 Malaysian Grand Prix

Vettel cruised to victory in the closing stages once Hamilton's threat faded

Getty Images

4/25 Malaysian Grand Prix

Vettel dropped to third but took the lead once the Mercedes pair pitted

Getty Images

5/25 Malaysian Grand Prix

The stricken Sauber of Marcus Ericsson is retrieved after the safety car comes out

Getty Images

6/25 Malaysian Grand Prix

Lewis Hamilton led Sebastian Vettel and Nico Rosberg early on

Getty Images

7/25 Malaysian Grand Prix

Kimi Raikkonen was hampered by an early puncture but recovered to fourth position

Getty Images

8/25 Malaysian Grand Prix

Lewis Hamilton leads from the start as Nico Rosberg challenges Sebastian Vettel

Getty Images

9/25 Saturday qualifying

Lewis Hamilton will start on pole ahead of Sebastian Vettel and Nico Rosberg

Getty Images

10/25 Saturday qualifying

Rosberg grimaces after Hamilton clinches pole

Getty Images

11/25 Saturday qualifying

Hamilton runs down the back straight in the rain

Getty Images

12/25 Saturday qualifying

Nico Rosberg could only manage third

Getty Images

13/25 Saturday qualifying

Lewis Hamilton secured his second straight pole of the season

Getty Images

14/25 Saturday qualifying

Sebastian Vettel managed to split the two Mercedes

Getty Images

15/25 Saturday qualifying

Kimi Raikkonen was the shock name to miss out in Q2

Getty Images

16/25 Saturday third practice

Rosberg returned to the top to the timesheets in final practice

Getty Images

17/25 Saturday third practice

Rosberg could take heart from his showing in third practice to take momentum into qualifying

Getty Images

18/25 Saturday third practice

Kimi Raikkonen finished third in final practice despite suffering a puncture

Getty Images

19/25 Friday second practice

Kimi Raikkonen managed to finish both sessions in second

Getty Images

20/25 Friday second practice

Nico Rosberg topped first practice but could only manage third in second practice

Getty Images

21/25 Friday second practice

Roberto Merhi's first ever run in the Manor Marussia ended in the gravel trap

Getty Images

22/25 Friday second practice

Lewis Hamilton returned to the track to set the fastest time of the day

Getty Images

23/25 Friday first practice

Hamilton's Mercedes is winched onto a recovery lorry

Getty Images

24/25 Friday first practice

Lewis Hamilton was forced to end his first run after just four laps

Getty Images

25/25 Friday first practice

Fernando Alonso returned to action following his recent concussion

Getty Images
At the start, it looked like business as usual as Lewis Hamilton retained the lead from pole position while Vettel, starting second on the grid, had to squeeze Nico Rosberg against the pit wall to keep his compatriot from overtaking at the first corner.
"He did the same last year," Rosberg said. "I kind of shut my eyes and prayed he would leave me enough room and he did, but if it had been a centimetre less it would have been a different story."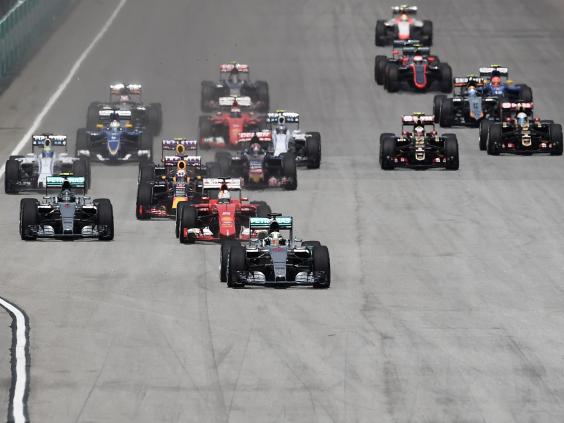 Hamilton, however, was already struggling with his Mercedes' balance, and when Swedish driver Marcus Ericsson spun in the first corner while fighting with Nico Hulkenberg and the safety car was deployed while the stricken Sauber was taken away, Mercedes led a mass dash into the pits to change from the medium-compound Pirelli tyres to the hards.
Crucially, Ferrari kept Vettel out on his mediums. Mercedes stacked Rosberg behind Hamilton in the pits, as the Red Bulls, Williams, Max Verstappen's Toro Rosso and the McLarens also stopped. When Hamilton rejoined, he had fallen from first to fifth and began losing time behind the other cars which had stayed out. Rosberg fared even worse, as he was delayed behind Hamilton and then while trying to get back out of the pits because of the heavy traffic flow.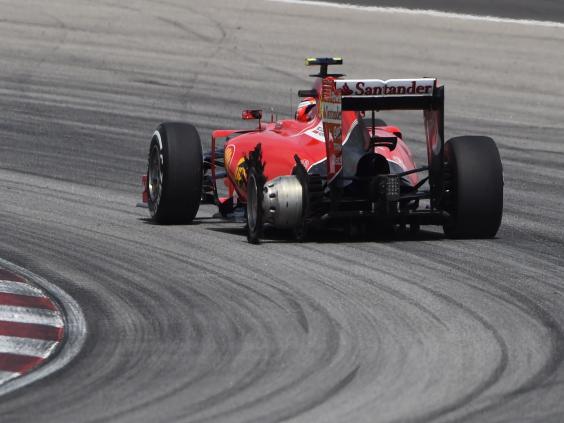 Mercedes had locked themselves into a three-stop strategy, but as Hamilton fought his way back past Carlos Sainz Jr, Romain Grosjean and Hulkenberg within a single lap to take up the chase in second place, 10 seconds adrift, it became clear that the Ferrari had both the pace and the tyres to get by with a two-stopper. With Rosberg similarly trapped among slower cars, Mercedes never recovered sufficiently to launch a counter-attack.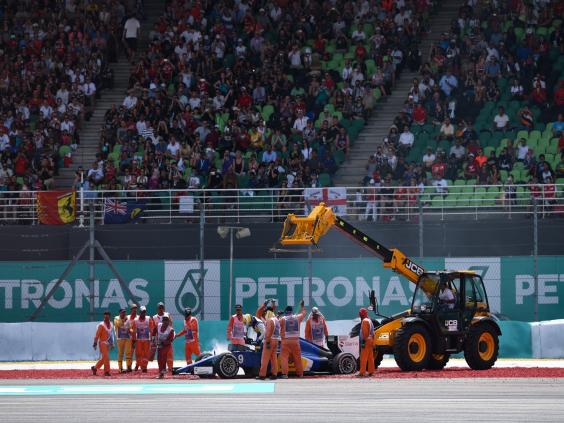 Underlining how strong the red cars were in the high ambient and track temperatures – 33C and 60C respectively – Vettel's team-mate Kimi Raikkonen was able to recover from a first-lap puncture caused by a brush with Felipe Nasr.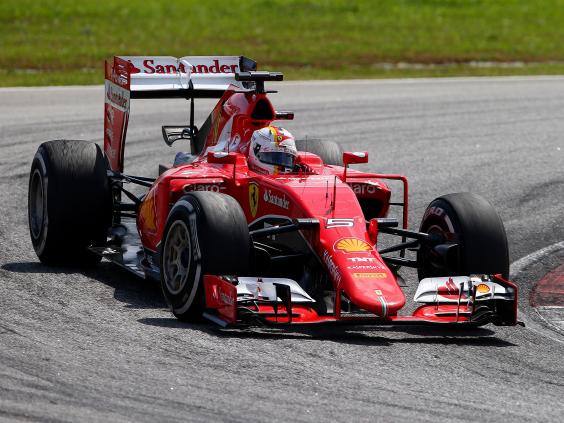 At one stage, Hamilton had an angry exchange with his team over the radio when they started talking to him while he was cornering and again when they fitted another set of hard tyres for his final stint when he had wanted mediums. But the fact was he had used up all of those. He was also confused when he intercepted a team discussion on whether a fourth stop might be necessary, but later he backed down on criticism of his chosen strategy.
"First, huge congratulations to Ferrari and Sebastian," he said. "They had some good pace today. We did everything we could because we knew they came here having made a step forwards, but they were too fast for us today.
"I was definitely struggling with the balance all day and was uncomfortable in the car. It was good on the medium tyre, and that's why I wanted another set at the end because I knew the hards weren't good for me. But I think the team did the best choices today.
"We weren't expecting Ferrari to be so quick, but I don't really know if I had stayed out with Sebastian early on whether that would have made a difference. They were a little better on tyre degradation and after that first pit stop I just had so much ground to make up it was pretty much impossible."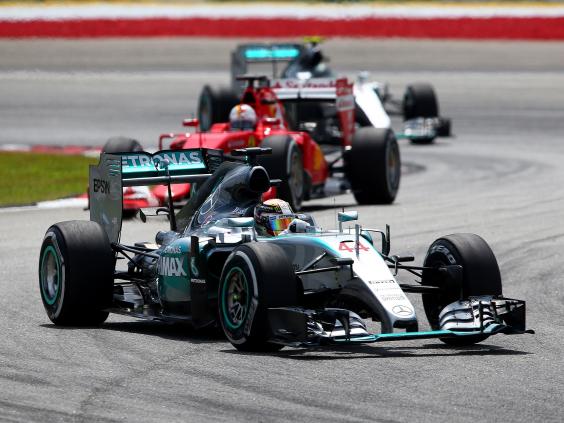 Rosberg, an unhappy third, admitted he still wasn't too clear on the strategic choices the team had made for him. "It was quite complex out there," he said. "Congratulations to Ferrari, they did an awesome job. But there's a big difference between getting close and beating us because they are faster! Now I say bring it on; we are gonna fight back big time!"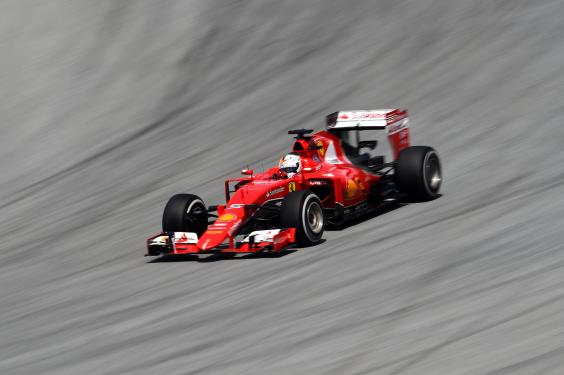 In the end, Hamilton was 8.5sec behind the Ferrari, with Rosberg another 3.7sec down. Poignantly, Vettel lapped both Red Bulls on his 52nd lap, but took no delight in that.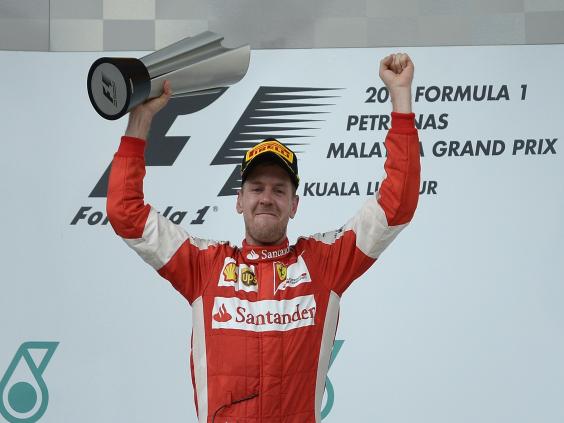 "I have spent my entire life with Red Bull; we celebrated our first win together with Toro Rosso at Monza in 2008, then we won for the first time as a team in China in 2009," he said. "But this is maybe a little bit extra. Today I probably don't understand yet how it is, but it's very emotional.
"I'm happy and proud to beat these guys [Hamilton and Rosberg]. They were phenomenally strong last year and to be the first one to beat them fair and square is an incredible achievement."
Results:
1 Sebastian Vettel (Ger) Ferrari 1hr 41mins 05.793secs,
2 Lewis Hamilton(Gbr)Mercedes GP 1:41:14.362,
3 Nico Rosberg(Ger)Mercedes GP 1:41:18.103,
4 Kimi Raikkonen(Fin) Ferrari 1:41:59.615,
5 Valtteri Bottas(Fin)Williams 1:42:16.202,
6 Felipe Massa(Bra) Williams 1:42:19.379,
7 Max Verstappen(Ned)Scuderia Toro Rosso 1:42:44.878,
8 Carlos Sainz(Spa)Scuderia Toro Rosso at 1 Lap,
9 Daniil Kvyat(Rus)Red Bull at 1 Lap,
10 Daniel Ricciardo(Aus)Red Bull at 1 Lap,
11 Romain Grosjean(Fra)Lotus F1 Team at 1 Lap,
12 Felipe Nasr(Bra)Sauber-Ferrari at 1 Lap,
13 Sergio Perez(Mex)Force India at 1 Lap,
14 Nico Hulkenberg(Ger)Force India at 1 Lap,
15 Roberto Merhi(Spa)Manor Marussia F1 at 3 Laps
Not Classified:
16 Pastor Maldonado(Ven)Lotus F1 Team 47 Laps completed,
17 Jenson Button(Gbr)McLaren 41 Laps completed,
18 Fernando Alonso(Spa)McLaren 21 Laps completed,
19 Marcus Ericsson(Swe) Sauber-Ferrari 0 Laps completed,
20 Will Stevens(Gbr) Manor Marussia F1 0 Laps completed
PA
Reuse content