A champion Nascar driver has been questioned and released by police after he crashed into and killed a fellow racer who was walking on the track last night.
Video footage posted online showed 42-year-old Tony Stewart was involved in a collision with another vehicle during a sprint car event at the Canandaigua Motorsports Park in New York state.
The driver of that vehicle, 20-year-old Kevin Ward Jr, can be seen getting out of his stricken car and striding back towards the centre of the track, gesticulating towards Stewart's car as it continues racing.
When Stewart's car comes round for the next lap, and with a caution called by race officials, it can be seen to clip Ward and send him hurtling around 50 feet (15 metres) down the track.
Sheriff Philip Povero, from Ontario County police, said Ward was pronounced dead upon arrival at hospital.
The incident is not being investigated as a criminal matter, Povero said, and he added that Stewart had been "fully cooperative" when he was questioned and then released late last night.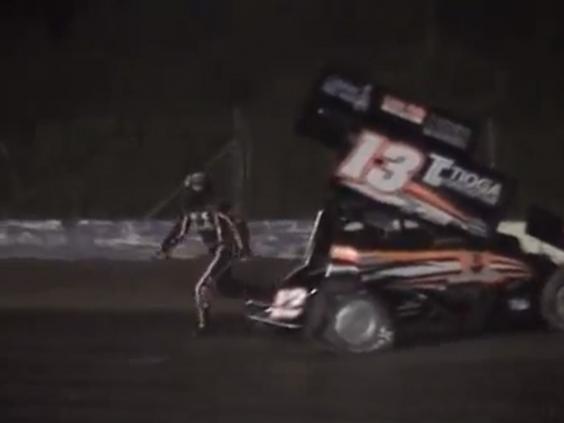 Michael Messerly, a fan who witnessed the crash, said Ward had been wearing a dark racing suit and that the track was dimly lit where the collision occurred after the second turn. He said it appeared that Stewart hit the driver as he was walking on the track after they had collided on the previous lap.
Tyler Graves, a sprint car racer and friend of Ward's who was also watching, told Sporting News: "The right rear tyre hit Kevin. [He] was sucked underneath and was stuck under it for a second or two and then it threw him."
Mike Arning, a spokesperson for the Nascar team Stewart-Haas Racing - which Stewart co-owns – said it was still "attempting to sort through all the details".
He nonetheless issued a statement reading: "A tragic accident took place last night during a sprint car race in which Tony Stewart was participating. Tony was unhurt, but a fellow competitor lost his life. Our thoughts and prayers go out to his family and friends."
@tonystewart is joining the ESS gang @Canandaigua_MSP . pic.twitter.com/9MJsP0OHYN

— Empire Super Sprints (@ESSprints) August 9, 2014
The sprint car race last night at Canandaigua was organised by Empire Super Sprints (ESS), and should not be confused with Nascar's Sprint Cup Series, a separate discipline named after its sponsor the Sprint Corporation.
Stewart started his career in racing in the sprint car discipline, before going on to win the top Nascar series three times.
He nonetheless still competes in sprint car events as a hobby, and had been in New York to take part in a Nascar event today at Watkins Glen.
Yesterday, ESS tweeted that Stewart was joining them for the race at Canandaigua, as well as the list of competitors for the evening's "A-Main Feature" event, with Steward lining up three rows behind Ward. ESS was not immediately available to comment on last night's crash.
Reuse content