Three-time Indy 500 winner Dario Franchitti has suffered serious injuries after a horrific crash during the IndyCar Series' Grand Prix of Houston, in which several members of the crowd were hit by flying debris.
Franchitti clashed with ex-Formula One driver Takuma Sato on the final lap of the race held on the streets of Texas, with his Target Chip Ganassi Racing car launching into the air after colliding heavily with the concrete wall marking the track limits.
The Scottish racer, who has won the IndyCar series an impressive four-times, suffered a broken back in the crash as well as a fractured ankle and a serious concussion.
IndyCar released a statement via their official Twitter feed to confirm that Franchitti was awake upon his arrival at the hospital, and that he would be monitored overnight as he begins his recovery.
"IZOD IndyCar Series driver Dario Franchitti was admitted awake and alert to Memorial Hermann Texas Medical Center in Houston for a concussion, spinal fracture that will require no surgery and a fracture to the right ankle.
"He will be kept overnight."
The 40-year-old was left with nowhere to go when Sato appeared to lose the rear of his car, sliding accidentally into Franchitti's path. His Dallara DW12 – named in memory of former racer Dan Wheldon – immediately decimated upon impact, with its design built with specific crumple areas to take the brunt of the impact.
"On the last lap I caught the marbles and brushed the wall and lost momentum," said Sato. "A couple cars passed me as I was offline and in Turn 5. I got very loose and Dario and I came together."
This did however result in a large amount of debris scattering into the crowd, with IndyCar confirming that an official and two fans were taken to hospital.
"Following an accident that occurred on-track at the Grand Prix of Houston this afternoon, our greatest concern is for our fans and participants," Mi-Jack Promotions, promoter of the Grand Prix of Houston, IndyCar and Reliant Park officials said in a joint statement.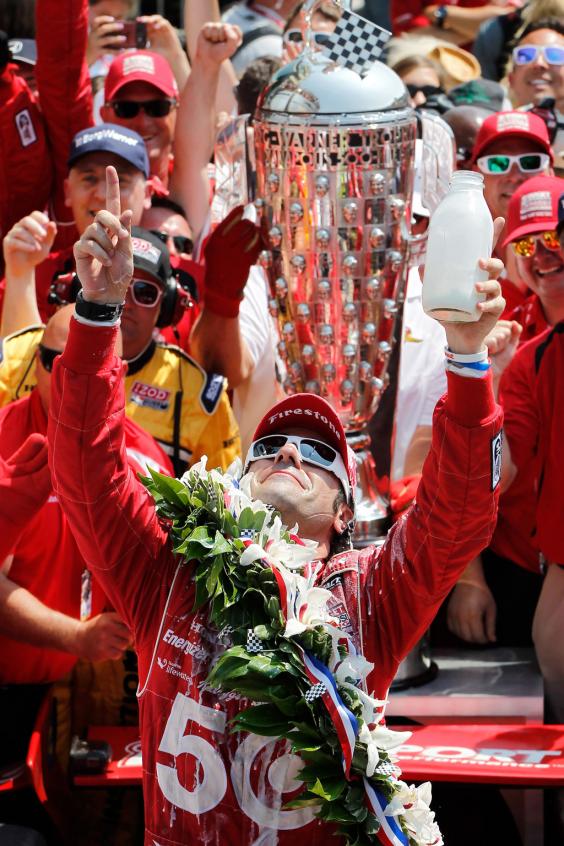 The sight of the crash brought back horrifying memories of the collision that took Englishman Wheldon's life two years ago next week, when he was involved in a mass pile-up at the Las Vegas Motor Speedway.
Franchitti, a close friend of Wheldon's, went on to win an emotionally charged 2012 Indy 500, and broke down into tears after the race when dedicating the victory the Wheldon. Those watching yesterday will have breathed a huge sigh of relief with the news that Franchitti was conscious when taken to the hospital, but the incident is a stark reminder of how dangerous the sport can be.