Mercedes have an iron grip on Formula One at the moment. In Abu Dhabi this weekend either Lewis Hamilton or Nico Rosberg will become their first world champion since Juan Manuel Fangio in 1955.
The Brackley-based team have also already clinched the constructors'title and broken McLaren's 1988 record of 10 one-two finishes in a season. On top of all that, Mercedes AMG Petronas F1 Team have won a raft of industry awards for best powertrain innovation, best team, best engineer and best race car.
Yet the man who has crafted all this success, head of Motorsport Toto Wolff, still remains dissatisfied. "The way I function or I'm calibrated is that I still feel miserable with the achievements," he says, in what many rivals will regard as a startling admission after his team also won 15 of the 18 races this season.
"We could have an endless philosophical debate about why you always feel that it's just not good enough," he smiles. "We've won a constructors' title now and this is something to be proud of, especially for Mercedes Benz, but there are so many other successful teams out there who have won multiple titles in a row, drivers' and constructors', who have shown what it means to have a sustainable, long-term, functional team.  We've done it once and it's just not good enough yet."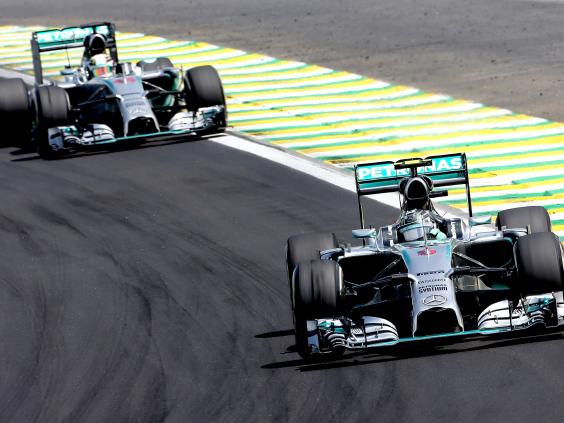 An Austrian former amateur racing driver who made his money in the investment sector, Torger Christian "Toto" Wolff still owns 10 per cent of Williams, for whom his wife Susie is a test driver. But since January 2013 he's held 30 per cent of the Mercedes F1 team, which has only fuelled his "it isn't good enough yet" attitude.
"Maybe what makes  competitive people competitive is that they always have the paranoia and the fear that this could be over immediately or this is just not good enough. You see always the negative and never see the positives. In Brazil we just analysed what went wrong. If you'd listened, you'd think it was another team!"
He admits to a penchant for picking the thread of satisfaction until it comes apart and spoils the moment. "I've had one single moment of happiness, and that was when I flew back with Lewis [Hamilton] and Niki [Lauda] from Sochi after winning the constructors' championship. You know when you have this one very precious couple of seconds where you have satisfaction? Lewis ate five Lindt chocolate balls, one after the other. I had a beer. What a bloody celebration! But looking back we'll be much more satisfied about it. We all read those books about how you need to cherish the moment. But it's so bloody hard to just do that. Maybe being so competitive, maybe wanting to win it again and again, makes your life more miserable! Or more fulfilled."
While one of the big questions behind Mercedes' success is how much it owed to what former team principal Ross Brawn put in place, there's also a sense that Wolff woke things up and made the board at Mercedes realise exactly what was needed in terms of resources. He also introduced a demanding management system which called on people to assess their skills and shortcomings. In that way he was able to create a more cohesive entity and to smooth out some dysfunctionality.
Perhaps Wolff's greatest achievement has been to blend together the strong egos of so many talented characters – in management, on the driving side, and in the engineering department – to create the superteam that toppled the dominant Red Bull.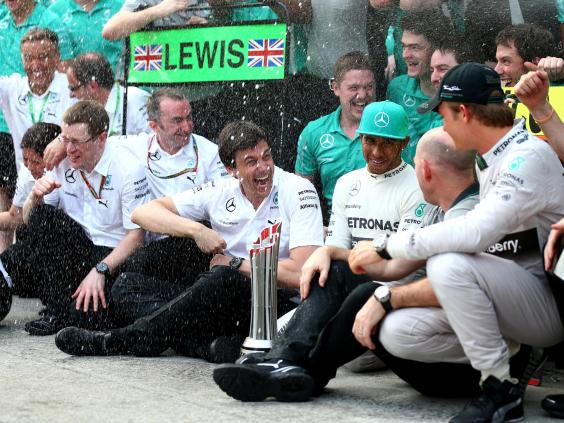 "We have such a strong group of senior individuals where everybody is in their positions and the analogy is we're not a group of six year-old rugby players. We are grown-ups. We let the ball run. We don't all run after the same ball. But if you want to ask somebody to challenge yourself or to brainstorm, you can grab the person and do that. You can only do that if you trust the guy."
For a self-confessed glass-half-empty guy, Wolff is a vibrant, amusing and likeable character who exudes positivity, but there's steel behind the smile. Mercedes let Wolff get on with running the race team. Even after the acrimonious collision between Rosberg and Hamilton in Belgium. Wolff lost little time showing his bite, and dealt with Rosberg in a manner that left the German cowed.
"The board understand that in order to be efficient, they needed to empower somebody. They didn't want to have a manager, they wanted to have somebody with skin in the game," Wolff explains, referring to his shareholding. "So you have your own risk of your investment which you can lose, and you have an alignment of interests.
"We are on a leash because we represent that mega brand and you have the responsibility for the brand. But they leave us a very long leash.
"I think we have just taken a lot of good decisions and that's not down to one person, but to many individuals. This is why it's called a team."
But he still worries, especially about the double points at Abu Dhabi. "Imagine we have a bloody DNF [did not finish] and [Daniel] Ricciardo wins the race. And clearly Lewis breaking down would be a nightmare. We cannot be complacent." But even if Hamilton did fail to win the title, Wolff, who started contract-extension talks with the Briton on Monday, says: "We want him to stay for many more years. He is great for the team. He is part of the family."
Reuse content