Andy Murray's US Open campaign is over for another year but the Scot could take pride in his performance after losing a typically gruelling quarter-final to Novak Djokovic.
The two long-term friends and rivals are used to pushing each other to the limit and fought toe-to-toe for more than three and a half hours before Djokovic completed a 7-6, 6-7, 6-2, 6-4 victory.
This is the first year since 2009 that Murray has failed to reach a Grand Slam final but he should take plenty of positives from his performance against the world No 1. There were times when Murray played some of his best tennis since his return from the back operation he underwent nearly a year ago, though there was no doubt that Djokovic was the stronger player physically when the match finished at 1.17am.
While Murray did not suffer a repeat of the cramping which had troubled him in his first-round match, his back and hips stiffened up towards the end of the third set. His movement was clearly impaired in the latter stages, though he fought hard to remain in contention.
Murray had been on court for three and a half hours more than Djokovic over the first four rounds, which might have made a difference. However, the Scot said afterwards that he was disappointed to have struggled physically, especially given the hard work that he had put into his summer training camp in Miami.
"Physically I would say he was definitely fresher, but towards the end I tried to hang in as best I could," Murray said afterwards. "He appeared fresher than me. Whether he was or not, I don't know, but maybe he does a better job of hiding it than me. The pace of my serve slowed significantly towards the end of the third set."
It was hard to judge whether the outcome would have been any different if Murray had not had his physical problems, but in the first two sets in particular he had looked sharp. He was often the more aggressive player, even if the price he paid for that was a large number of unforced errors – 65 compared to Djokovic's 48.
Murray went for his shots on both flanks and hit some stunning forehands in particular. Over the years his backhand has been his most productive flank, but his cross-court forehands, driven low and flat with huge power, were a potent weapon here.
Djokovic, playing in his 22nd consecutive Grand Slam quarter-final, had not dropped a set in his first four matches and had dropped his serve only four times, but was pushed hard. Crucially, however, the Serb played the big points better than the Scot. Murray forced 16 break points but converted only four of them, whereas Djokovic had only 10 break points but converted seven.
The world No 1 is through to his eighth consecutive US Open semi-final, which equals the mark of Roger Federer and Ivan Lendl but is still four short of Jimmy Connors' Open era record. Djokovic will next play Japan's Kei Nishikori, who reached his first Grand Slam semi-final when he beat Stan Wawrinka 3-6, 7-5, 7-6, 6-7, 6-4 in a match that lasted four and a quarter hours.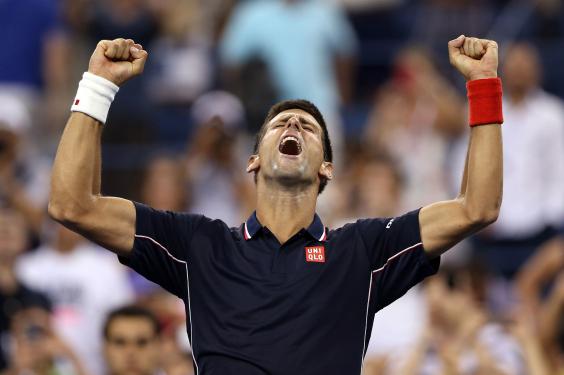 After the start of the evening session had been delayed by Nishikori's marathon victory, Murray's match did not begin until 9.43pm, though that might have been a blessing in disguise. The temperature on another glorious day had peaked at 32C in the afternoon and even at this stage of the evening it was still 26C. Although there was a breeze at the start, it quickly calmed down as the match got under way.
Murray had plenty of chances to take control of the first set, which lasted 73 minutes. He had break points in Djokovic's first five service games and was admirably aggressive, but made too many unforced errors and did not put enough first serves in court.
Although Murray started confidently enough, cracking a big backhand return winner on the very first point and breaking in the opening game, he was soon 4-1 down. Djokovic was furious with himself when Murray broke back in the seventh game and smashed his racket into his chair at the change of ends.
Until this point the stadium had been relatively subdued, but as the level of the tennis rose so did the noise from the crowd, with some encouragement from both players. Djokovic, having just saved a break point at 4-4, urged the spectators to pump up the volume after winning a superb 29-shot rally. On the next point Murray did the same after striking a fine backhand winner down the line.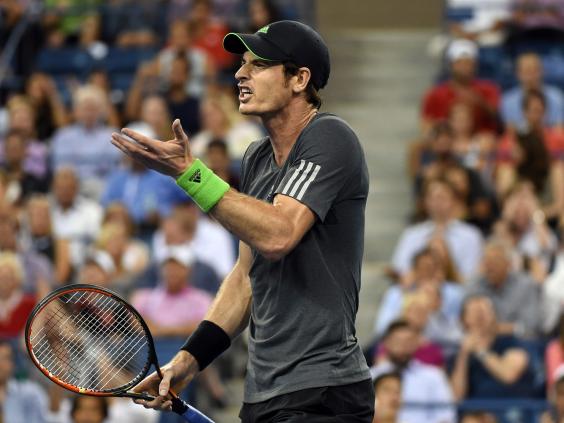 While the opening set could hardly have been closer, the subsequent tie-break could hardly have been more one-sided. Djokovic won the first four points, taking advantage of some mediocre serving by Murray, and eventually won it 7-1, converting his first set point with a service winner. In his 21 meetings with Djokovic, Murray has never won after losing the first set.
The second set bore similarities to the first. Djokovic again took an early lead, breaking in the third game, before Murray levelled at 3-3 with a bold backhand cross-court pass. It was the first of three successive breaks of serve.
Djokovic saved a set point with a volley winner at 5-6, but was outplayed in the tie-break. This time it was Murray's turn to win 7-1, also completing the job at the first attempt with a service winner. With the clock approaching midnight, it was time to start what would effectively be a best-of-three-sets match.
In the third set Djokovic again took an early lead, breaking to go 3-1 up, and this time Murray could not find a way back. He had two break points in the following game, but on the first hit a backhand long at the end of a splendid 27-stroke rally and on the second put a loose forehand in the net.
Murray was furious with himself, while Djokovic, perhaps sensing how important the game would be, celebrated holding serve as if he had won the set. Three games later the world No 1 did exactly that, capitalising on some tired mistakes by Murray to break serve for the sixth time and take the set.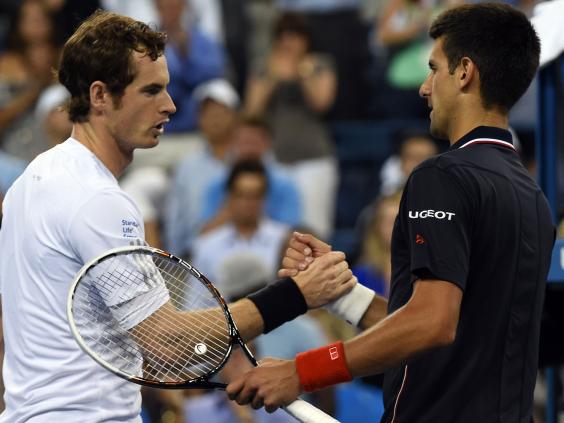 By now Murray was clearly in some physical difficulty. His legs lacked their usual energy and he moved stiffly between points. There were no breaks of serve in the fourth set until the final game. Murray went 15-40 down and Djokovic converted his first match point when the Scot netted a backhand.
Murray said it had been "a good tournament". He added: "I played some nice tennis at times. There are definitely a few things I can do better to keep working on and improving, but it's a shame. Obviously the Slams are over for this year, so I have to wait a few months before the next one."