The last time Anna Watkins was in a double scull with another woman, she won an Olympic gold medal.
So I'm just hoping the experience of accompanying a complete novice – barring the ergo rowing machine, which I'm told doesn't count – is not too much of a let-down from the career high-point of one of Britain's best and most charismatic rowers.
That and staying upright in the boat would be nice too. It is too chilly a day for a dip in the River Cam.
Besides the achievement in itself of winning a gold medal in front of a home crowd at Eton Dorney, Watkins will be remembered for sharing one of London 2012's warmest moments when her partner Katherine Grainger ended her persistent silver streak.
Few in and around Team GB were willing an athlete to win more than Grainger. Who would have wanted such a thoroughly likeable person to endure a fourth consecutive crushing near-miss?
For Watkins, the gold medal was equally liberating. It gave her the impetus to make a huge career and life decision: to take a break from international rowing to have a baby. William was born in October last year.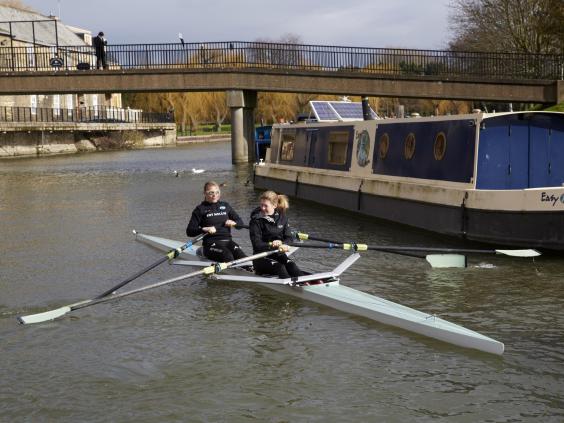 "London 2012 was the biggest event for a British person that you could conceive. You're not going to surpass that, so it has to be for a bigger reason," she said. "London's freed me up a little bit. I could go back and do something more experimental. I could do the single [scull], try a bigger crew or see what else I can give to the sport and get out of it rather than a gold medal at any cost, because that box is ticked."
Rather than race towards Rio 2016, Watkins plans to add to her family with husband Ollie, a Formula One engineer, and return for Tokyo 2020. She would still only be 37 years old – a year younger than Grainger was at the London Games.
"I want to cram as much as I can into my life. If I had had one baby and done Rio and then had another baby, I'd be dragging things out," she said. "There would be a decade when I was on reduced power, as it were. I knew that the wrong thing would be to push everything I have to one side. The sacrifice would be too much."
In the meantime, as befits a character who appears impatient with the normal pace of life, she will hardly be idle. In between raising a child, she is completing her PhD in maths and fulfilling her duties as an ambassador for the BNY Mellon Boat Race this weekend.
"I feel like I'm in a position I should really appreciate. What I'm doing now is time well spent," she said. "I've got the opportunity to be involved in the Boat Race and do a bit of corporate work, which is a gift as a mother as it's a day here and there. I'm not spending any significant time away from William."
She disagrees that motherhood is inherently incompatible with being an Olympian but concedes it would be tough. Those who manage it usually have trailing spouses or other family members.
"I agonised over it. Sometimes I thought if I won the Lottery I could get really amazing childcare and carry on rowing but other times I'd be thinking I need to have something big enough in my life to move on and a child ought to be able to provide that other focus," she said.
"To be the best in the world you have to train as much as your body will let you so weekends are quite heavily involved. With a family that's a big ask."
She is back to peak fitness barely six months after giving birth and is running the London Marathon this month. "It's hugely important after having a child. You give your body over to someone else and sport can help you reclaim it. It's made me feel like me again," she said. "I even have a rowing machine in the house which I would never have previously contemplated. Nap time is ergo time."
Clearly, as all mothers do, she has mastered multi-tasking. Which is just as well during the morning I spend with her, as she is forced to do the work of two people until I find my rhythm.
Under her quietly reassuring guidance, I get the hang of driving with my feet first and bringing my hands through without either skinning my knuckles or catching a crab with an oar.
The effect of getting it right is strangely addictive. If only – as a working mum-of-two – I had the time to actually take it up.
Anna Watkins was speaking as the new official BNY Mellon Boat Race Ambassador. The BNY Mellon Boat Race takes place on Sunday 6 April. For updates follow twitter.com/@BNYMellonRace
Reuse content