Jessica Ennis-Hill claims she will be at ease in retirement having feared injury issues could ruin her goodbye from athletics had she carried on.
The 30-year-old heptathlete last week called time on her career and elected not to aim for next year's World Championships in London, which will be staged at the venue where she claimed Olympic gold in 2012.
The golden girl of British athletics had the chance to bid farewell to the public at a parade in Manchester on Monday as an estimated 200,000 lined the streets and applauded 350 Team GB and Paralympics GB athletes for the 214 medals the teams accrued in Brazil.
And while the mention of Ennis-Hill's retirement was booed by fans hoping she would continue, she insisted the call was prompted by a worry over her ability to maintain top physical condition.
"My body can't cope with the volume of training that it used to," she told BBC Sport.
"It was that fear of, 'Do I push on that one more year and potentially get injured and come away disappointed?'
"Doing the heptathlon, you've got to be 100 per cent motivated; you have to want to do the training or you're not going to get anywhere with it.
"The past couple of years, I've struggled with injuries and Achilles problems. I'd have sessions that would go really well but then I'd be injured for a few days later.
"Do I say, 'I'm in a really nice position here, I've achieved what I wanted to achieve and more' and do I walk away feeling really happy and satisfied? That's what I wanted to do."
Rio 2016 Olympics - in pictures
Rio 2016 Olympics - in pictures
1/18 Adam Peaty celebrates his record-breaking gold medal

Team GB swimmer Adam Peaty celebrates winning the gold medal in the men's 100m breaststroke - as well as setting a new world record.

Ian Walton/Getty Images

2/18 Refugee swimmer Yusra Mardini represents Syria in Rio

Yusra Mardini, a swimmer from Syria, competed at the Rio 2016 Games as part of the Olympic refugee team. This was the first year the Games featured a team made up of stateless refugees, including the 18-year-old Mardini who swam part of the dangerous journey from war-torn Syria to Greece less than a year ago.

Alexander Hassenstein/Getty Images for IOC

3/18 Chris Mears and Jack Laugher make a synchronised splash

Team GB divers Jack Laugher and Chris Mears compete in the Men's Diving Synchronised 3m Springboard Final, winning Britain's first gold medal in the event.

Adam Pretty/Getty Images

4/18 Gold medalist couple Laura Trott and Jason Kenny in emotional moment

Gold medalist Jason Kenny of Great Britain celebrates with girlfriend, cycling gold medalist Laura Trott of Great Britain, after winning the Men's Keirin Finals race.

Bryn Lennon/Getty Images

5/18 Beach volleyball players' contrasting attire sparks debate

Egypt's Doaa Elghobashy made headlines for the full-length outfits she and her partner donned to compete in Rio, with media referring to the contrast with Italy's Marta Menegatti as a "culture clash". Elghobashy was also the first Olympic beach volleyball player to compete whilst wearing a hijab.

Ezra Shaw/Getty Images

6/18 Touching glimpse of unity as North and South Korean gymnasts share smiles

South Korean gymnast Lee Eun-ju, right, and her North Korean counterpart Hong Un Jong pose together for photographers during the artistic gymnastics women's qualification at the 2016 Summer Olympics in Rio de Janeiro, Brazil.

Kim Do-hoon/Yonhap via AP

7/18 Max Whitlock brings home Team GB's first ever gymnastics gold

Max Whitlock of Great Britain competes in the Men's Pommel Horse Final, beating teammate Louis Smith with two gold medals to his silver.

Alex Livesey/Getty Images

8/18 Phelps takes home his fifth gold medal from Rio

USA's Michael Phelps taking part in the Men's 100m Butterfly Semifinal during the swimming event at the Rio 2016 Olympic Games.

Francois-Xavier Marita/AFP/Getty Images

9/18 Islam El-Shehaby was sent home for refusing to shake his opponent's hand

Egyptian judoka, Islam El-Shehaby, (R), was removed from the Rio Games after refusing to shake the hand of Israeli victor, Or Sasson, (L). The incident took place after his opponent beat him in the over-100kg competition, with less than two minutes remaining. The athlete was reprimanded by the IOC and sent home.

Toshifumi Kitamura/AFP/Getty Images

10/18 City of God turned gold medalist

After growing up in the City of God favela in Rio's slums, Rafaela Silva falls to her knees with joy after winning Brazil their first gold medal of the Games in judo.

David Ramos/Getty Images

11/18 Andy Murray wins the only Team GB tennis medal in Rio

Tennis star Andy Murray in the men's singles, playing Argentinian Juan Martin Del Potro. He later took the gold medal for the event; the only team GB tennis medal at the Games.

Julian Finney/Getty Images

12/18 Charlotte Dujardin rides Valegro to victory

Charlotte Dujardin, riding Valegro, competes in the dressage event in Rio. She went on to win Gold in the individual dressage, and celebrated the news with her now-fiance.

AP Photo/John Locher

13/18 American runner Abbey D'Agostino takes a tumble

Abbey D'Agostino of the USA (R) is assisted by Nikki Hamblin of New Zealand after colliding during the Women's 5000m heats. Both athletes were recognised for their Olympic spirit by the IOC.

Ian Walton/Getty Images

14/18 Mo's double gold for GB

Team GB's Mo Farah can't hide his excitement after winning gold in the Men's 5000m finals.

Julian Finney/Getty Images

15/18 Bolt secures his sporting legacy in Rio

Usain Bolt is streets ahead of the competition in unbeatable triple-treble gold medal win.

Cameron Spencer/Getty Images)

16/18 Simone Biles is now seen by many as one of the USA's best athletes

US gymnast Simone Biles competes on the balance beam during Women's qualification for Artistic Gymnastics at the Rio Games. Biles became famous throughout the gymnastic events for "The Biles", her signature move encompassing a double back somersault with a twist.

David Ramos/Getty Images

17/18 British boxer brings back gold

Nicola Adams of Great Britain and Sarah Ourahmoune of France in action during the Women's Fly (48-51kg) Final Bout. Adams went on to win gold in this event, the only gold of Team GB's three boxing medals.

Dean Mouhtaropoulos/Getty Images

18/18 Triathlete brothers take first and second place

Team GB triathletes Alistair Brownlee and Jonny Brownlee compete during the Men's Triathlon at Fort Copacabana in Rio.

Alex Livesey/Getty Images
Ennis-Hill was not the only gold medallist in attendance in Manchester on Monday as the likes of Alistair Brownlee, Jade Jones, Nicola Adams and Max Whitlock all braved the driving rain to celebrate their achievements in South America back in the summer.
"It's been fantastic to see this support, we spend so much time away that you don't always get a sense of what we have at home," said Brownlee, who won triathlon gold ahead of his brother, Jonny.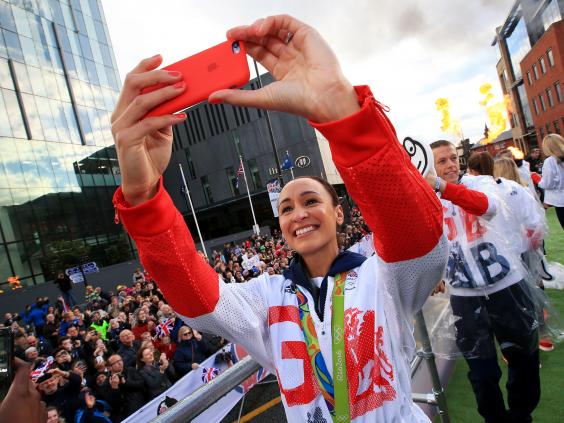 "I saw so many people at the side of the road with so much enthusiasm - the cheering, the signs - it was really spectacular."
The crowd were already aware of Ennis-Hill's future prior to the parade but the next step for flyweight boxer Adams, a champion in London and Rio, is yet to be determined.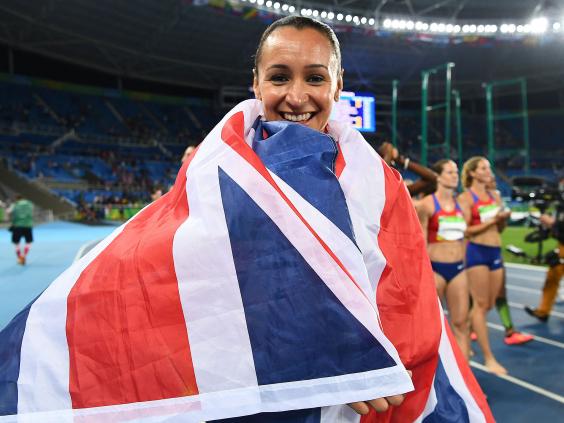 Bouts in the professional ranks have been mooted, as has a possible bid for a third Olympic crown in Tokyo in 2020, but the 33-year-old was guarded on the subject of her future on Monday.
"I'm not sure yet, I need to sit down with the team and decide where I'm going to go next after I've had a holiday," she said.
"Seeing everyone who has turned out and seeing so much support out here, I'd just like to say thank you to everyone. Being here as a two-time gold medallist and having the support of the nation is unbelievable."
PA
Reuse content