Preparing for the Winter Olympics in a back garden in Leeds is not, at first consideration, likely to dispel the long and wobbly shadow cast by Eddie the Eagle over winter sport in this country. Take a pause and observe more closely, though, and it demonstrates just what a different world this is: in Edwards's time a marginal gain was staying upright; for Zoe Gillings it could make the difference in earning a place on the podium in the snowboard cross.
Next month Gillings begins a winter campaign designed with intricate care to culminate in triumph in Russia. Barring disaster – an ever-present possibility in snowboarding, given the sport's painful vagaries – the 28-year-old from the Isle of Man will arrive in the Black Sea resort of Sochi in February and journey the 40 miles up into the mountains to the resort of Rosa Khutor, where she will compete in her third Olympic Games. There is unlikely to be a better-prepared athlete in the event, in which snowboarders race each other down a course.
Gillings's knowledge of the 1,250m course, with its eight turns and myriad jumps and rollers, is already exhaustive. She rode it at the start of the year at its test event, since when the English Institute of Sport has built her an imitation start gate for her to use in her garden in Leeds.
She then spent a chunk of the summer practising over a series of replica jumps she and a couple of other British snowboarders built 3,900m above sea level on the Zermatt glacier in Switzerland. Back home she has spent time training in an altitude chamber at John Moores University in Liverpool.
During the test event in February, Gillings used a GPS tracking device to record the course as well as filming it via a miniature camera attached to her helmet. She has viewed the footage "hundreds" of times and will watch it  hundreds more before she steps up to the real start gate next year.
"It is a first-person view of exactly what I saw – and what I will see going down the course," says Gillings, whose Olympic season begins in the Austrian resort of Montafon on 14 December. "It enables you to practise the course without having access to it. It is a fun course to ride. Usually the tougher, faster, scarier ones tend to suit me.
"The start section is very important. The faster you can get out of the start gate and over the first features then you can get in front and stay out of trouble. That's the most important area. The specific features that I had a bit of a problem on, I have been working on over the summer. We made replicas of some of the features and practised them so I can get them perfectly."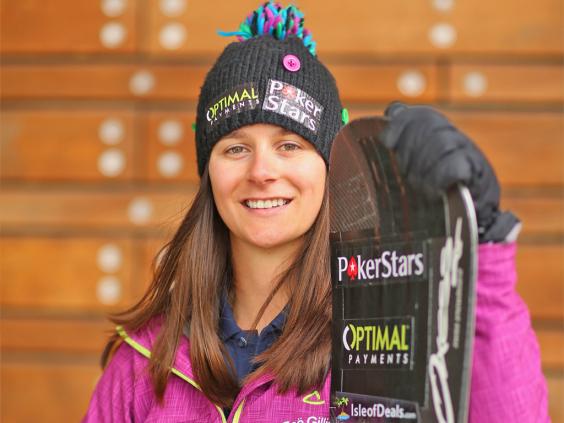 This is eating, sleeping and dreaming Sochi: "The idea of dreaming about [the course] worries me – so I try not to watch the footage before I go to bed!" But it is implanted in her mind. "If you asked me to describe it, I could without any difficulty. Out the start gate, steep down, drop off, another steep, roller, roller, step up, glide, land – I could go on."
Gillings's career has been as up and down as one of the courses she bounces down at speeds of around 50mph. Hers has never been a conventional life. She and her two brothers were home schooled, spending part of the year on the Isle of Man and the rest in Albertville, France, where she learned to ski aged three. "The career advice given to me and my brothers was, 'Find something you love to do and then find someone to pay you to do it'," says Gillings. "That's what we've done."
In 2005 she shattered bones in her right foot and was told by the surgeon that that was it for her career. A year later she came 15th at the Turin Winter Games. At the 2010 Games in Vancouver she improved to eighth – medal winners in the sport tend to be in their early 30s – only to lose her lottery funding as the UK governing body for skiing and snowboarding collapsed. Gillings helped make ends meet by setting up a website that sourced shopping discounts for her fellow Manx.
A new governing body, British Ski and Snowboard, was formed and Gillings regained her funding. Now under the guidance of Paddy Mortimer, the BSS performance director, she is back up to No 8 in the world. To qualify for Sochi she must be in the top 24 come January and once in Russia anything is possible – just ask Lindsey Jacobellis. The American was cruising towards gold in Turin 2006, tried one trick too many and ended in an embarrassed heap in the Piedmont snow. Eight years later she will be back in Sochi still looking to make amends.
"You work for four years and…" says Gillings. "It can be right out of your control, another girl could just crash into you and then you're out. No one is ever quite sure what is going to happen. The reality of it is frustrating at times but it is all part of the sport and what makes it exciting.
"I want a medal from every competition. It's unpredictable so nobody can be sure of getting one. Over the last  couple of seasons I have beaten all the girls who are going to be competing [in Sochi] so it's not a certainty but it is a  possibility."