With his dreadlocks, trousers round his knees and Teenage Mutant Ninja Turtle gloves, slopestyle skier Henrik Harlaut may have made a bigger impression in Sochi with his choice of dress than his actual performance.
The popular Swedish athlete ended up placing sixth in the men's final for his event this morning – but got off to a spectacularly bad start on his first run when it appeared his baggy ski trousers "got caught up in his skis".
BBC commentators Ed Leigh, Tim Warwood and Murray Buchan watched on with evident shock as Harlaut came tumbling down on the course's final jump, with skis, hair and trousers seemingly all over the place.
While it looked at a number of points as though the sportsman would be left red-faced and entirely trouserless, he was saved from embarrassment by his suspenders.
The 22-year-old jumped up straight after his sensational wipe-out, and ended up completing solid runs of 83.20 and 84.40.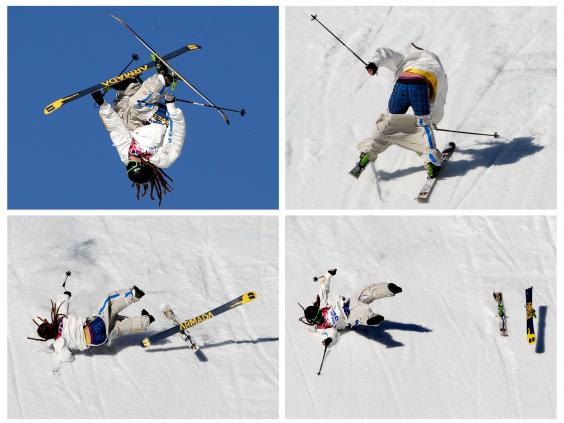 He later told reporters that his "hang loose" style had not been as much of an impediment as it looked, and said of his trousers: "I don't find it difficult. I've skied like that the past 10 years. It's been (my style) for awhile. I'm pretty comfortable like that."
In terms of the actual slopestyle scores, the event ended up as a clean sweep for the US, with Joss Christensen, Gus Kenworthy and Nicholas Goepper taking gold, silver and bronze.
Harlaut's fellow Scandinavian Andreas Haatveit (Norway) just missed out on a podium place, while Great Britain's James Woods came in a respectable fifth.
In pictures: Winter Olympics' Fridge Kids
In pictures: Winter Olympics' Fridge Kids
1/5 1. Mikaela Shiffrin

1. Mikaela Shiffrin: Lindsey who? The 18-year-old from Vail, Colorado, is the new darling of US skiing. She claimed World Championship gold in the slalom last year, just two years after collecting the junior version, and already has seven World Cup wins to her name.

AP

2/5 2. Tora Berger

2. Tora Berger: The most golds ever won at a Winter Games is five by the US speed skater Eric Heiden in 1980. Berger, a 32-year-old Norwegian, goes for six in the biathlon. She won four golds and two silvers at last year's World Championships. Her recent form has been erratic but she has the help of a strong line-up in the two relays to give her a head start.

Getty Images

3/5 3. Noelle Pikus-Pace

3. Noelle Pikus-Pace: The American who could rain on Britain's parade. "The fastest mom on ice" has been Lizzy Yarnold's biggest rival on the World Cup circuit and won the test event in Sochi last year. She is an athlete who takes risks and that can lead to spectacular success, or spectacular failure.

Getty Images

4/5 4. Alex Ovechkin

4. Alex Ovechkin: There is possibly no athlete under more pressure than the captain of Russia's ice hockey team. The US-based player is under orders to secure the medal his country wants above all others. Their pool match with the US is one of the highlights of week one.

Getty Images

5/5 5. Yuna Kim

5. Yuna Kim: The South Korean, 23, has never finished off the podium in her figure-skating career and there is no expectation she will break the remarkable run in Sochi. She won gold four years ago in Vancouver and World Championship gold in London last year. The one to beat and then some.

Getty Images
Reuse content