It was the procession on ice, a high-speed dash to Britain's first gold medal of these Winter Olympics secured by Lizzy Yarnold, a 25-year-old farmer's daughter from Kent, and delivered with the emphatic certainty of a born champion.
Yarnold began her final two skeleton runs on Friday night with a commanding lead worth nearly half a second. The gold was hers to lose and she never for a moment looked like doing anything other than grabbing it with both hands.
In between her third and fourth runs she waved at the TV cameras and wished watchers a happy Valentine's Day. For Britain this was a medal from Russia with love.
"I have shown the world what I am capable of," said Yarnold. "It is lovely it is Valentine's Day, there's lots of romance in the air. There are so many people who were part of my journey – I am so chuffed I am Olympic champion!
The 10 British gold medal winners at the Winter Olympics
The 10 British gold medal winners at the Winter Olympics
1/10 Men's curling 1924

Laurence Jackson, William Jackson, Robin Welsh, and Tom Murray won the first Winter Olympic Gold medal in curling at the inaugural Winter Olympics in Chamonix, France, in 1924.

2/10 Men's Ice Hockey 1936

Captain Earl Erhardt, became the oldest ice hockey gold medallist, aged 39. John Davey, who was Britain's top scorer with seven goals, was born in London and raised in Ontario, Canada. Other members: Alexander Archer, James Borland, Edgar Brenchley, James Chappell, John Coward, Gordon Dailley, James Foster, John Kilpatrick, Archie Stinchcombe and James Wyman.

3/10 Jeannette Altwegg (Figure skating) 1952

Jeannette won World, European, and Olympic titles within 1951 and 52 and then immediately retired at the age of 22. She went on to work for a children's orphanage in Switzerland, despite being offered the opportunity to turn professional.

4/10 Two-man bobsleigh 1964

Robin Dixon and Tony Nash won gold in the bobsleigh by 12/100ths of a second. The following year they won the world title.

5/10 John Curry (Figure skating) 1976

John finished 11th at the 1972 Olympics, but was spotted by Ed Moseler who assisted the British skater to move to Denver, where he was given tuition from Carlo Fassi, helping him to eventually win World, European and Olympic titles.

6/10 Robin Cousins (Figure skating ) 1980

Robin managed to finish 10th when John Curry won Olympic gold. He won world title medals two years later, then seizing the gold at the Olympics in 1980.

7/10 Jayne Torvill and Christopher Dean (Figure skating) 1984

Jayne and Christopher became European and world champions in 1981, defending those titles in 1982 and 1983. They won gold at the Olympics thanks to their routine to Ravel's Bolero. More than 24 million television viewers tuned in to watch their performance.

8/10 Women's Curling 2002

Rhona Martin, Debbie Knox, Fiona MacDonald, and Janice Rankin. The women's curling team won Britain's first gold medal since 1984.

9/10 Amy Williams (Skeleton) 2010

Williams didn't qualify for the 2006 Winter Olympics in Turin, but progressed to win gold in Vancouver in 2010 - the first individual gold medal winner since 1980. Amy broke the track record twice along the way and won by more than half a second.

10/10 Lizzy Yarnold (Skeleton) 2014

Lizzy Yarnold became the 10th Briton to win a Winter Olympic gold medal with success in the skeleton in Sochi

GETTY IMAGES
"I believed in myself, I knew I could do it if I put in the hard work and dedication. My message would be follow your dreams, never give up and never limit yourself to what you can achieve."
She won by a nearly a second, almost double the margin of Amy Williams's gold-medal winning run in Vancouver four years ago, from the American Noelle Pikus-Pace. It was a commanding performance from an athlete blessed with the clearest of minds.
Even in her celebrations in front of the small grandstand overlooking the finish, where her parents and sisters were sitting, she remained in control, smiling and whooping with joy.
"Lizzy Yarnold is unique," said Williams. "She has something different within her psychologically. Within five years of starting she has become an Olympic champion, and that is pretty much unheard of in any sport."
Four years ago, during the previous Winter Games when Williams was taking her gold, Yarnold was ranked the 54th best shot-putter in the UK. An aspiring but run-of-the-mill athlete, she was in the early stages of switching sports, taking the first steps from being a hopeful heptathlete to a sure-thing slider.
"It will not be an easy war," said Andi Schmid, British Skeleton's head coach, before the final. For once in this stellar season the Austrian was wrong.
Yarnold dominated the World Cup series and arrived in Sochi as the world No 1. She dominated training and she has dominated the Olympics. Those around her have not noticed a shred of nerves throughout the week.
Yarnold took a lead of 0.44sec into on Friday night and was the first on the ice. She clapped her hands together and set off.
It was the perfect start, her fastest of the final, and she continued in that vein around the 17 curves and 1,500m long track. When she flashed across the blue finish line painted on the ice, the clock stopped at 57.91sec. It was a new course record.
The only two women likely to challenge the Briton followed her onto the track and neither came close. Pikus-Pace crossed 0.78sec adrift and Elena Nikitina, the home favourite, nearly a second behind despite making the quickest start.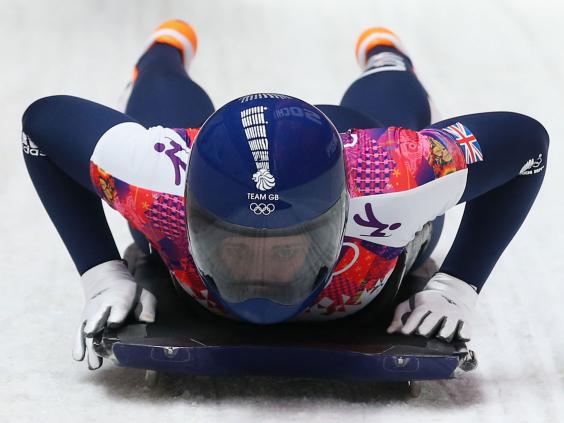 It left Yarnold an hour and a half to wait until her final run, when the gold would finally be hers – barring coming off her sled (called Mervyn after Mervyn Sugden, an underwriter who supported her financially during the fledgling stages of her skeleton career). There was still no sign of nerves for a first-time Olympian, smiling happily as she made her way back to the athletes' area and waving at the TV cameras.
The second run of 58.09 was more ragged but it was still enough to widen her final lead to 0.97sec.
It is the crowning glory to a modern sporting fairy tale. Six years ago Yarnold had never heard of the sport. She turned up to a talent-spotting day in Bath run by UK Sport wanting to try out modern pentathlon. She was put through a series of tests, not just being made to run, jump and try a push start, but also mental ones.
The resulting letter that arrived at the family home offered her a skeleton trial and enclosed a DVD showing Shelley Rudman winning her silver medal in 2006 and talking about it on breakfast television.
The early years were difficult, both financially and physically. But in 2012 there were signs that it was all coming together. Yarnold won a World Championship bronze and her first World Cup race. This year it all clicked.
"Lizzy is very strong physically and mentally," said Schmid. "She is talented and understands the reading of the track. She has a great feeling for what is going on down the track."
It is Yarnold's total recall that is a key element in her armoury. She is able to recite turn by turn the Sanki track from the moment she leaves the dressing room. She knew the curves and corners she raced around last night at 80mph off by heart.
Yarnold will receive her gold in the Medals Plaza in the Olympic Park this afternoon, only the 10th Britain has collected in the 90-year history of the Winter Olympics and only the fifth won by a British individual. Britain's last five winter medals have all been won by women – the men have not won one since 1998.
Since skeleton returned to the Games in 2002, British women have won a medal each time: Alex Coomber's bronze in Salt Lake City, Rudman's silver in Turin, Williams's gold in Vancouver – and now Yarnold's name is added to the honours board.
There is no great secret to this consistency. Like much of Britain's Olympic success in the Summer Games, it follows a process of rigorous planning and careful athlete identification, and once the success starts there is a momentum: medals bring money bring medals bring more money.
Yarnold, and Williams before her, owe a great deal to Coomber and Rudman, who finished 16th on Friday night. They succeeded despite their circumstances; Yarnold has succeeded because of them.
British Skeleton's funding for this Olympic cycle was a record £3.5m, having been £2.1m before Vancouver. Now it will rise again.
Reuse content