There are times when it seems as if there has always been a whiff of enthusiastic amateurism surrounding Britain's Winter Olympians, from Earls -a-sliding, to Grenadier Guardsmen bobbing and Eddie the Eagle falling without style, to paraphrase Buzz Lightyear. The first time Lizzy Yarnold tried bob skeleton, sliding headfirst down an ice chute at 90mph, she cut up a camping mat and stuck it on her T-shirt for extra padding, pulled on an old pair of skiing goggles and set off.
There, any connection with her predecessors – the Earl of Northesk won Britain's first ever skeleton medal – ends. Yarnold was talent-spotted, a product of a system that fits athletes to sports. It is sporting speed dating with a scientific edge and has led to a marriage of happy convenience that may soon earn a golden blessing. Six years ago, Yarnold had never heard of skeleton. She was among 1,500 women who turned up at a talent-spotting day for rowing, modern pentathlon and skeleton, wanting to trim her heptathlon skills to the pentathlon. Instead, Yarnold received a letter asking her to skeleton trials. Enclosed was a DVD of Shelley Rudman talking on BBC Breakfast about winning silver in Turin. It was the first time Yarnold had watched the sport.
Today Rudman and Yarnold are team-mates, respectively world champion and world  No 1. Britain have won 23 medals in the country's entire Winter Olympic history. Now there is the chance of two from the same event.
"The plan started five years ago for Sochi," says Yarnold. "Every night I go to bed dreaming of it, full of adrenalin – I can never get to sleep. I just can't wait."
She is sitting in the canteen at Bath University, the base of British Skeleton, a bubbly and talkative 25-year-old, excited about what lies ahead in Sochi. She is also a driven young woman, a professional athlete of the highest calibre and possibly even higher commitment; Yarnold describes herself as two different people.
There's Lizzy, sitting on the other side of the table sipping a cup of tea, and then there's "The Yarnold", who appears when work is to be done, be it in the gym or on the track.
"She's a very different animal," says Yarnold. "So I don't smile, I'm not chatty, I've got a job to do and I'm quite aggressive and absolutely filled with adrenalin. I don't necessarily choose that but once I'm in that groove there's no coming out, no stopping me."
There is another element that has helped her win the World Cup this year with seven podium places in eight races. A skeleton athlete has to memorise the track, know what corners are coming and how to best steer in and out of them, with a twitch of the shoulder or a drag of a toe. This is where Yarnold stands out.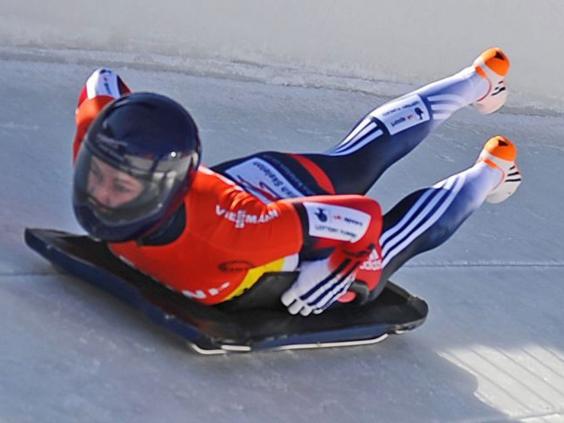 "Lizzy is unique," suggests Phil Searle, British Skeleton's general secretary. Searle tells me she has "total recall", so I ask her to describe the Sochi track. Off she goes, eyes glazing over as if a film of the course is running through her mind.
"You come out at the start and it's really beautiful at the top of the track. So you walk out and it's a wooden floor, like decking, so I can hear that sound when I'm walking across it in my shoes. I always sling my galoshes off, take my clothes off, all in the same routine, and then bend down to the sled.
"It's a very long straight so I have at least 16 strides before I get on to the sled. I've got to propel myself with the most velocity I can, because from the start to the first corner is really, really long and it bottlenecks in as well. So as you come out of this pre-cut spur into the ice, your eyes have to be set on the entrance of corner one.
"Between corner one and two are two left-handers and then it is a long way down to corner three, so in that top section you have to get as much speed as you can – explosive at the start but then really relaxed into the sled."
She pauses and looks up. "That enough?"
Yarnold has immersed herself in a sport which has become Britain's signature winter event, with a medal at each of the five Games it has been run, culminating in Amy Williams' gold in Vancouver 2010. Williams is Yarnold's landlady in Bath.
"I learnt a lot from her," says Yarnold. "She was committed to it and I realised that to become an Olympian or a gold medallist starts with every single session, grinding, never giving up.
"This is my first Olympics. I want to enjoy the experience but when I go into competition, it's exactly the same process. I have total faith in this system."
Music is part of the system, the race-day routine that is so important to her. In between runs – there are four over two days – Yarnold listens to "really, really country music, really chilled" to help switch off. Then as race-time approaches "it's lots of grime music, that really gets you going. Lyrics play a big part, people who are trying to succeed. I love artists like Wiley and Dizzee Rascal, so that will hype me up."
She met Dizzee Rascal once in a gym in south London. "He said 'I'm Dizzee' and I said 'I'm Lizzy'," she says and laughs. That is Lizzy speaking, the Lizzy who likes listening to The Archers and being taught to knit by her granny.
"I don't think I would be a thrill-seeker outside the sport," she says. "I love skeleton but it's not the adrenalin rush, it's the being good at sport and improving yourself, finding out how far you can go."
Yarnold's fate will be determined on Valentine's Day, when she completes her third and fourth runs. As she is world No 1 there is an expectation – regardless of the vagaries of winter sport; predictions are less certain than in the Summer Games. Yarnold's response is to trot out the line common to Team GB athletes across both Olympics. It goes something like this: "As long as you do your best that is all you can hope for…" But then, for a moment, The Yarnold, the professional, pops out.
"I don't," she says, "enter any race to come second."
Star-Watch Sochi
Star-Watch Sochi
1/12 Bode Miller

They call him the old man of skiing because he has turned 36 now, but he remains one of the most exciting competitors I have ever seen, both in the downhill and Super G. He has such incredible athletic balance. It would be wonderful to see him win another Olympic gold. He had knee surgery last spring but I am told he expects his knee to be stronger than it has been for the past 10 years. He has certainly had some encouraging results since his operation.

2/12 Arianna Fontana

She's 23 and quite petite, with a spontaneous turn of speed. She has won only bronze medals in short track at the last two Olympics but can go for gold this time. She is very explosive, which makes her so good over the shorter distances. This season she has shown how quickly she can go from high speed to overdrive, unlike many of her rivals who simply stay at high speed.

3/12 Shelley Rudman

Shelley is a complete inspiration – she has already won a silver medal at the Turin Winter Games and is balancing being a full-time athlete with being a mother to Ella. She is going into Sochi as the reigning world champion in skeleton and I know she will be expecting a lot from herself – she is the ultimate professional and has so much experience of the skeleton and will be leaving no stone unturned in her preparation.

4/12 Zoe Gillings

If anyone can provide the "wow" factor for Britain it is is Zoe Gillings. The snowboarder from the Isle of Man deserves a taste of glory at last. This is her third Games but in the past four years she has struggled for funding. She's had to find the money to keep going which, at 28, is really hard. But somehow this seems to have given her quite a lot of focus, an extra edge.

5/12 Noriaki 'Kamikaze' Kasai

At 41, he's the world's oldest competitive ski jumper, appearing in his seventh Olympics. Watch him take off. He has a crazy style — they don't call him "Kamikaze" for nothing.

6/12 Lizzy Yarnold

Lizzy is the one in form after her outstanding World Cup successes. She has dominated the series this winter and if she can keep in that bubble of confidence at the Olympics she'll be untouchable. She is a raw talent, strong and powerful and someone who really lives the sport, as I did. I hope to grab a coffee with her once I get to Sochi as I have a few final tips to give her. Lizzy follows the same sort of training programme as I did and we have a similar, very focused mentality. I certainly don't rule out Shelley [Rudman] either. She has the experience and is technically very good. This track could suit her.

7/12 James woods

You might say James Woods is the snowman showman. He's a great character, 18 years old and a really funny guy, quite small but obviously very talented — all the attributes you would expect of someone who does crazy things on skis.

8/12 Katie Summerhayes

Last year Summerhayes was Britain's first female skier in 19 years to win a World Cup medal and, although only just back from injury, she landed a silver medal at a World Cup event in Gstaad last month.

9/12 Nick Buckland and Penny Coomes

They were third in the recent Europeans — a remarkable performance considering Nick underwent surgery for an erratic heartbeat last year — and will be striving for an Olympic medal. They are both 24 and a couple off the ice. They have friendly, outgoing personalities although judges put more of a premium on good technique.

10/12 Jennifer Jones

Jones is a canny tactician and her renowned mind games on the ice may represent the biggest threat to GB. She is a real character — experienced and flamboyant, a 39-year-old mother and qualified lawyer who is not afraid to take risky shots. Plays the big angles beautifully.

11/12 Tatyana McFadden

The world will be fascinated by this truly amazing female athlete. We last saw Tatyana McFadden here winning the London Marathon; now she will compete as a cross country skier in Russia, the land of her birth — but represent the US.

12/12 Kim Yuna

She is only 23, but is already the Grand Dame of skating, a beautiful woman on and off the ice who might be the belle of this Olympic ball. She has such a graceful, classic style and amazing technique.
Reuse content