If American Pharoah wins the Belmont Stakes tonight he will become the 12th horse in history to sweep thoroughbred racing's iconic Triple Crown.
The 3-year-old colt followed up victory in this year's Kentucky Derby, the first race in the historic trio, by clinching the Preakness Stakes in Baltimore a fortnight later.
Victory in New York will cement his place in the history books, with no horse having achieved the feat since Affirmed became the 11th in 1978.
Triple Crown glory would also drastically increase American Pharoah's value, with Time estimating that he could earn up to $100m in stud fees in coming years if he wins.
The official odds have American Pharoah as the overwhelming favourite at 2/5, but history shows that arriving for the third leg as favourite after two victories is no guarantee of Triple Crown success.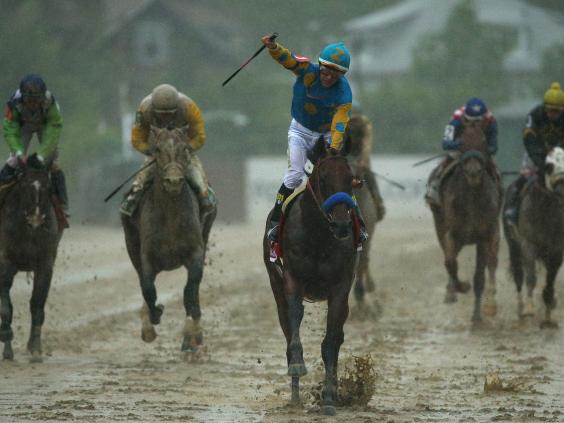 Since Affirmed's victory, 13 horses - more than have claimed the Triple Crown in history - have matched American Pharoah's double-win without claiming the Belmont Stakes.
Last year, California Chrome was made odds-on favourite at Belmont to break the run and become the first Triple Crown-winner of the 21st century. Like so many before him he failed, tying for fourth.
The congested nature of the three races has been cited as a key reason why so few horses have achieved the milestone in recent times. They take place in a timeframe of little over a month, with American Pharoah's victory at Kentucky coming on 2 May.
Analysis conducted by Wired also shows that the Belmont Stakes' punishing distance should be considered a factor. The race takes place over one and a half miles, a quarter of a mile further than both Preakness and Kentucky, which when combined with fatigue is enough to prove decisive.
Trainers who opt to forgo a bid for Triple Crown success, instead focusing on one or two of the races, can therefore often keep their horse in better shape than a horse racing the full trio.
However, gamblers have not been deterred. The Belmont Stakes website says that almost $200m dollars have been bet on the horse, with no other runner attracting more than $35m.
The stage has been set for American Pharoah to ride his way into the record books.