"Give me a kiss," said winning jockey to winning trainer in the post-race carnival. "Where do you want it?" asked Jim Culloty of Davy Russell. Momentarily formal conventions had been suspended, as had belief.
When the pair came together at the start of the year Culloty's advice to Russell was to take up drinking. The latter had just been dumped on New Year's Eve by Michael O'Leary's Giggingstown stable. He rang a lot of people in search of a job as well as balm for the soul. Culloty provided both.
Funny how things work out. The man who replaced Russell at the Ryanair factory outlet, the upwardly mobile Bryan Cooper, was watching the Gold Cup from Frenchay Hospital in Bristol, the leg he shattered on Wednesday held together by pins.
Everything happens for a reason say the fatalists, trying to make order from chaos when fate turns a world upside down, for good or bad, in a way no one comprehends. Events surrounding Lord Windermere's victory threw their own powerful weight behind the idea that someone up there is indeed joining the dots in a sequence pre-ordained.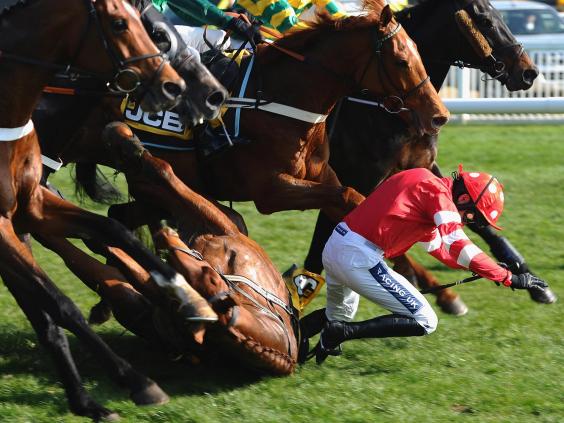 Victory was delivered by a horse Culloty had no intention of taking when he pitched up at Brightwell's Sales in 2010. "I wasn't looking to buy anything that day but when I saw him I fell in love. Someone else was bidding and all of a sudden they stopped and I had him.  I didn't know the vendor was standing right behind me. I think they must have thought we were bidding up."
The same angel of diversion arrived on Russell's shoulder halfway through the first circuit when he wondered if he might pull him up to save him for a coming race at Punchestown. "My horse is very idle and was pricking his ears. I had stopped riding at that stage, but managed to keep him going. I knew I had a lot of horse under me."
So the horse that might not have been his and might have stopped to graze returned Culloty to the top step of the Cheltenham podium as a trainer on the 10th anniversary of his third and final victory as a jockey on Best Mate.
The unlikely connectivity continues. Lord Windermere owner Dr Ronan Lambe's first experience of victory was delivered by Culloty on the very first horse he acquired, Zeroberto. It came at the Galway Festival a few months after Culloty's last success on Best Mate.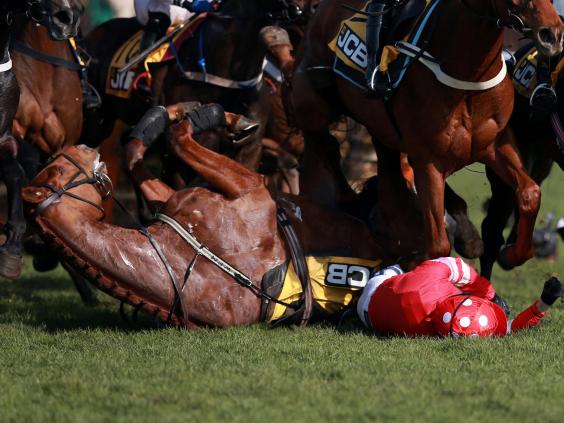 "I was speaking to him after that race and he told me that he was thinking of giving up due to his injuries. He'd had quite a few bangs on the head and wanted to turn his hand to training. I told him that if he did he was to give me a ring and I would send him a couple," Dr Lambe promised, never imagining that their association would deliver them to this hallowed place on a Friday afternoon a decade later.
Lord Windermere is the pick of Culloty's emerging stock, and had been lined up for this race a year ago after claiming the RSA Chase. "I asked Davy then if he were free on Friday of next year, I wanted him to ride for us, and that is how it worked out," Dr Lambe said.
It was an astonishing day for Russell, who also won the opening and closing races on, irony of ironies, Gigginstown mounts. "Things happen and you move on. I've always said that's life," Russell said, reflecting on the dark days at the start of the year. "It is a lesson for anybody who gets knocked through their life or career. You keep your mouth shut and move on. Thank God it has worked out."
Russell won't remember much about either of his bookend wins after his stunning victory up the hill, running away from favourites Bob's Worth and Silviniaco Conti, via a coming together with On His Own, which required a visit to the stewards' room before the victory was confirmed.
The happy hand providence dealt Russell flipped the sentiment for Ruby Walsh and Daryl Jacob. Perhaps it was the horse gods getting their own back on Walsh, who suffered a compound fracture of his right arm and a dislocated shoulder after a fall in the first race of the day. Were his mount, Abbyssial, on Twitter he might have offered the following summary: "No one wants to see a jockey injured, but he's only human. He lives outside the stable."
There is an epic quality to the falling horse, a wildly random element as the reluctant beast seeks to right the wrong of a clattered hurdle. Since the horse would not seek to clear an obstacle out of choice, there is no instinct to call upon when balance is lost.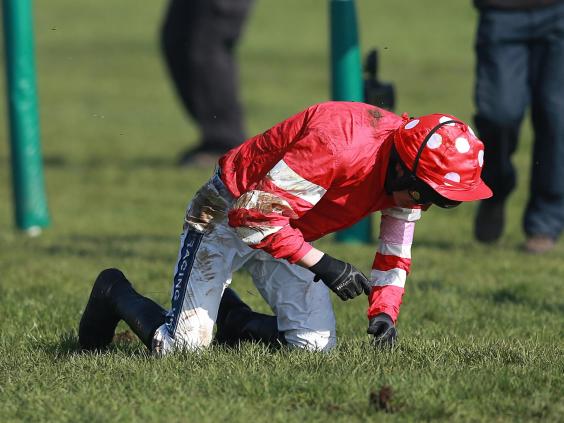 Abbyssial quickly lost the battle with gravity, tossing Walsh this way and that. Happily the horse regained his hooves quickly but it was immediately obvious that Walsh was in trouble. Though he rolled onto his knees and then got to his feet, his right arm required the support of his left to prevent it hanging limp at his side.
Jacob was a passenger when Port Melon lost all orientation on the run to the line for the Albert Bartlett Novice Hurdle, wiping out a stretch of fence and face-planting the unfortunate rider on to concrete, breaking his knee, leg and elbow. 
Jacob, who broke a stirrup in the first race of the day to finish fourth on the fancied Calipto, had just seen his luck turn with a first victory of the week on Lac Fontana. He barely had time to change his colours before throwing his leg over Port Melon. Minutes later he was heading out of the circuit in an ambulance and will have surgery today.
"I've just spoken to him," said Port Melon's trainer, Paul Nicholls. "Thank goodness he rode that winner otherwise he would have been suicidal. The incident looked horrific."
The sadness didn't end there. In the final race of the festival, Raya Star fell, breaking his spine and bringing the fatality count to four.