After an afternoon of warm-up acts peppered with drama, perhaps it should have been no real surprise that the main event followed suit. The result of the Betfred Cheltenham Gold Cup, though, involved more ecstasy than agony.
The short-head victory of 20-1 shot Lord Windermere made Co Cork-based Jim Culloty only the fifth man to both ride and train a winner of steeplechasing's showpiece prize. And it was sweet compensation, vindication even, for rider Davy Russell, who this season lost his lucrative retainer with one of Ireland's top owners, Michael O'Leary.
Culloty will always be feted as the partner of three-time Gold Cup-winner Best Mate, the last of whose three victories came 10 years ago. Now he has a new favourite friend in the eight-year-old who carries the colours of his chief supporter, Irish businessman Ronan Lambe. But for much of the race, the gelding looked as likely to win as his odds and his previous form this season – well-beaten in three runs – suggested. He was at the back of the field, detached from the rest of his rivals, for most of the first circuit. It was not until the last stride that he poked his nose in front.
But in doing so he had veered across the track, taking On His Own (16-1) and third-placed The Giant Bolster  (14-1) with him. After a 15-minute inquiry by the stewards into the degree of interference, it was announced to rapturous acclaim that he would keep the £327,235 prize. "They were the worst minutes of my life," said Culloty. "It was all so unbelievable that I almost expected I would lose the race."
The three-and-a-quarter-mile contest got under way only after two false starts and, in a compelling denouement, seldom can fortunes have switched so swiftly and bizarrely up the famously demanding uphill stretch from the last fence. Silviniaco Conti jumped the obstacle in front, closely followed by last year's winner, Bobs Worth. But the battle between them was over as soon as it began, the pair's paths diverging under pressure, and Bobs Worth jinked left and right.
As Silviniaco Conti pressed for home, On His Own, who had blazed much of the trail, started to come back as his stamina kicked in. And then Lord Windermere appeared, on the effective but wayward course that took his group towards the stand side rails.
"I can't quite believe it," said Russell, winning his first Gold Cup. "He was never on the bridle, never in the race, until the last. The whole field was in front of me, I just sat and suffered the whole way.
"But his actual jumping was brilliant and I was able to stay on the inside the whole way and so didn't use any petrol. He was very idle, like he was last year. I couldn't ride a winner for Jim all year, but he kept saying to me, 'wait for Cheltenham'."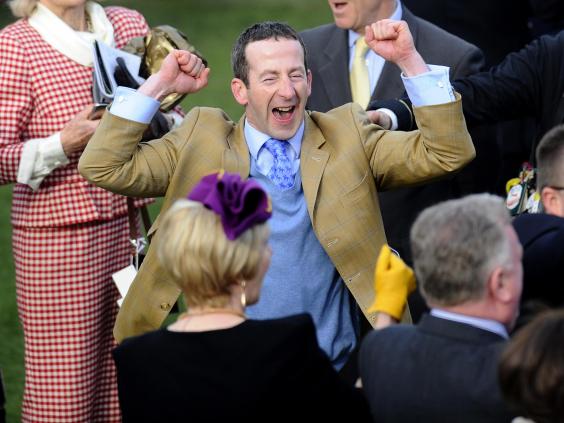 Like that of the horse, Culloty's form going into the meeting left much to be desired. Until Spring Heeled won a lesser contest here on Thursday in the same purple silks, he had not saddled a winner in Ireland or Britain since August. But clearly man and his beast have an affinity with this particular arena, for it should not be forgotten that 12 months ago Lord Windermere laid down his credentials as a star of the future by winning the meeting's top novices' contest, the RSA Chase.
"There were days earlier in the season when the horses were so not right that I was just riding them round a field," said Culloty. "But then I have only 25 in the yard, most of them youngsters, so I have only a few to go to war with. So even though they weren't right, it wasn't as bad as having loads of runners and them running badly. And by God, they have come right at the right time."
Culloty follows in the footsteps of legends; those before him to have achieved Gold Cup glory in the saddle and on the ground are Danny Morgan (Morse Code; Roddy Owen), Pat Taaffe (Arkle three times and Fort Leney; Captain Christy), Fred Winter (Saffron Tartan and Mandarin; Midnight Court) and Jonjo O'Neill (Dawn Run; Synchronised).
Willie Mullins, On His Own's trainer, may yet contest the result, in the form of an appeal. But before the race, he and owner Graham Wylie would have taken second spot. They paid a late entry fee of £27,500 to put the 10-year-old, who earned £122,826 yesterday, in the race after an unexpectedly sparkling warm-up last month. "Four weeks ago he was a handicapper going for the Grand National," said Mullins, "but after he won the last day I reckoned he might get in this mix." On His Own is now 10-1 favourite for next month's National.
The Giant Bolster, fourth last year and runner-up in 2012, added to his fine record in the race, beaten by three-quarters of a length. "A wonderful horse," said rider Tom Scudamore, "to be placed in three Gold Cups. I hope he gets the credit he deserves."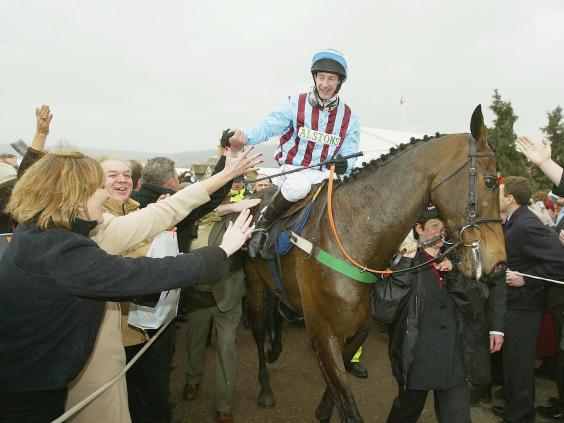 A length behind, Silviniaco Conti kept going for fourth place, in front of Bobs Worth. "He ran a blinder," said trainer Paul Nicholls of the former. "He jumped the last in front, you could hardly ask more, and then he was left rather on his own. The first three helped each other a bit, but I'm not complaining."
Nor was Nicky Henderson, trainer of the vanquished king. "He's not done an awful lot wrong," he said. "Perhaps the ground was a little quick for him. He'll be back."
The horse whom Russell might have ridden in another season, Last Instalment, unseated Brian O'Connell – himself a replacement for injured Bryan Cooper – half-way round. But Russell did open and close the day, on Tiger Roll and Savello, for O'Leary's Gigginstown House Stud – two of a four-timer for the maroon colours – so feelings are clearly not that hard. "Life will throw plenty at you," said Russell, "and there will be a lot worse thrown at others. What happened with me and Gigginstown is just part of the game, and it's an ill wind that doesn't blow your way."
With horses, there is always a fine line between gold and base metal. Yesterday Ruby Walsh suffered a broken arm and missed the ride on On His Own, and Daryl Jacob sustained a broken knee in a freak incident on the way to the start less than half an hour after his first winner of the week. But for Culloty and Russell, the coin spun their way with a new best mate.