A race in his honour is a nice touch, though were they to erect a bronze at the gates of Cheltenham it would scarcely do justice to the contribution of A P McCoy to National Hunt racing.
His farewell to Cheltenham suffuses the Festival, which opens today, in valedictory splendour. What a way to say goodbye to a great champion. He is, in effect, starring in his own movie, an equine bio-pic rolled out over four daily episodes. He will ride on to Aintree, of course, but never again at this meeting in the lee of Cleeve Hill.
According to some estimates there will be as much as £40m riding on McCoy, a detail that batters logic into the bleachers. He has 30 career winners here but he is not Ruby Walsh-prolific. We must reach back 17 years to the last and only the second time he topped the jockeys' table in Festival week.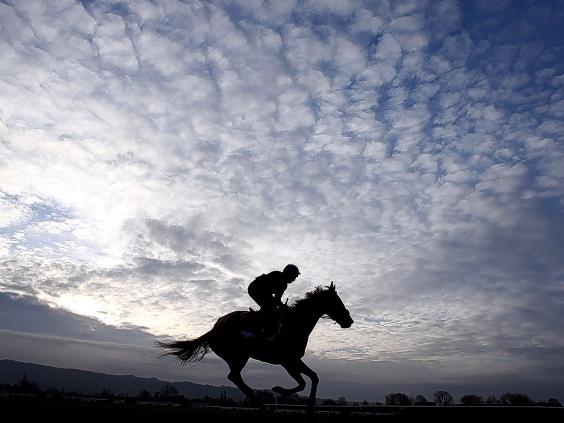 But what is Cheltenham about if not the suspension for four days of all reason?
McCoy takes his leave from a shifting landscape. The £45m grandstand development, due for completion early next year, is a bold statement intended to elevate the institution beyond the folky world of tweed and Barbour.
No longer a congregation dominated by racing devotees, Cheltenham appeals to a cross-section of party goers, many of whom have nil connection to the horse, save for the conduit of a betting slip and a pint in the Guinness village.
The emotional attachment to McCoy adds a layer of cream to a feature race on the opening day already loaded with flavour.
In the rush to embrace the next big thing, Faugheen, and his rivalry with veteran stablemate Hurricane Fly, the claims of defending champion Jezki in the Champion Hurdle had been relegated somewhat, until McCoy declared for him.
The contest takes us to the heart of the matter, each of the components – jockey, horse, trainer, owner – steeped in racing lore. Jezki, ridden by an icon, owned by JP McManus and trained by  Jessica Harrington, whose horses ride out in the shadow of the Wicklow Mountains across the Carlow border from the great Willie Mullins.
Mullins has already made plain his love for Hurricane Fly, but the big money is following the darling Faugheen, owned by the Ricci dynasty and ridden by the  talismanic Walsh.
And just to make things interesting, Mullins flags up the merits of the third wheel in his affections, Arctic Fire, a horse thought by him to be the best of the lot three years ago.
It could be that were Mullins and Walsh to go fishing for the rest of the Festival they would still wind up table toppers. With Walsh on the flanks of Douvan, Un De Sceaux, Faugheen and Annie Power on day one, all short odds, Ruby Tuesday might just be the name we hang on him.
The funniest racehorse names
The funniest racehorse names
1/20 Better Than Sex

Works best when called by overexcited race commentators

GETTY IMAGES

2/20 Iwinyougetnothing

Not the most encouraging horse to back when having a flutter

GETTY IMAGES

3/20 Whykickamoocow

Indeed

GETTY IMAGES

4/20 Hoof Hearted

Say it over a few times if you don't get it

GETTY IMAGES

5/20 Gee Spot/Gee Wizz/Bee Gees

Many racehorse owners have made a play on the name Gee Gee

GETTY IMAGES

6/20 Myexwifesashes

How the owner of this particular horse got on with his ex-wife is not known

GETTY IMAGES

7/20 Wearthefoxhat

This one was rejected by the authorities. When said very fast (especially with an Irish accent) you realise why

GETTY IMAGES

8/20 Sofa Can Fast

Meanwhile, this one was allowed... but not for long

GETTY IMAGES

9/20 Onewaytickettothegluefactory

Harsh but true

GETTY IMAGES

10/20 Attention Shoppers

Presumably named so that whenever the horse was mentioned over a tannoy at the races the announcer sounded ridiculous

GETTY IMAGES

11/20 Oh No, It's My Mother-in-Law

Race commentators have never sounded so fearful

GETTY IMAGES

12/20 DoReMiFaSaLaTiDo

Plain baffling

GETTY IMAGES

13/20 AARRRRRRR

Pronouncing this with a west-country accent is optional

GETTY IMAGES

14/20 Maythehorsebewithyou

One for Star Wars fans

GETTY IMAGES

15/20 Blow Me

This one is from 1945. It's been touted as a future title for a Jilly Cooper novel

GETTY IMAGES

16/20 Sorry About That

With parents named Guilty Conscience and Running Naked there may be something to be sorry about

GETTY IMAGES

17/20 Curried King Prawns

Brilliantly irreverent

GETTY IMAGES

18/20 Hahahahahaha

Does the commentator really go for it when calling this one or risk sounding like a kill-joy by announcing it seriously?

GETTY IMAGES

19/20 Bare Naked

Works best when it's said in conjunction with the jockey i.e. John Smith is riding Bare Naked

GETTY IMAGES

20/20 Givemeanothername

This is the name the other horses on this list would have liked

GETTY IMAGES
The return of Sprinter Sacre in the Champions Chase lights up day two. Experts would have him the best two-mile chaser in a generation. His victory in 2013 saw him clobber the defending champion Finian's Rainbow by 19 lengths. Further victories followed that spring at Aintree and Punchestown.
And just when it seemed he might enter Arkle territory, the Sprinter was struck down with an irregular heartbeat at the end of 2013.
In his comeback at Ascot two months ago, he was bettered by Dodging Bullets, an acceptable reverse given the uncertainty surrounding the outing.
The man in the saddle that day, and on Wednesday, Barry Geraghty, rates Sprinter Sacre alongside Moscow Flyer as the best he has ridden. He was last on his back a week ago and observed a different animal to the one that followed Dodging Bullets home.
"He didn't jump as well as he can do and that made it harder work for him (Ascot). But he ran a good race and he looks and seems an awful lot better now.
"If we get the same horse I sat on last Friday, I'd say  we'll have a bit of fun round Cheltenham. He felt no  different to how he was. Whether that's 90 per cent, 100 per cent or maybe he's even better, God only knows."
The final day belongs to the Gold Cup, though the showpiece might have to share top billing with the Festival's great goodbye, the AP McCoy Grand Annual Handicap Chase for the Johnny Henderson Challenge Cup. McCoy would trade any win for victory in the big one on Carlingford Lough, and were he to bring Ned Buntline home in the eponymous 5.15pm, the bookies will need counselling.
"However I do at the Festival this year, it will be  better than I do at it next year," McCoy said, making light of the occasion. "I'm going to try to enjoy this one more than ever."
Reuse content