The role of underdog is one that Nigel Twiston-Davies has always relished, on the grounds that it is more exciting to come in under the radar.
The famously self-effacing trainer may make an exception, though, at Cheltenham next week; indeed he may have to, given he is responsible for two of the most exciting talents – one human, one equine – on the racing current scene.
In three days' time Twiston-Davies' son Sam and the bay gelding The New One will combine bang in the glare of the searchlight at the highest level, a centaur partnership that is jostling for favouritism for the Champion Hurdle, the first of five senior titles to be decided over the week's four-day Festival. Should horse and rider prevail, Twiston-Davies would join an elite band of trainers to have saddled the winners of three of the sport's flagship contests, adding the two-mile hurdling crown to a Cheltenham Gold Cup and two Grand Nationals. But this would be a prize with a different dimension.
"I cannot emphasise the family thing enough," he said. "When we've won big races, it's been great, especially when we won the Grand National with Earth Summit and Carl [Llewellyn] riding, he's a great mate and that  was double the fun. But with your son riding, it's more enjoyable."
With the thought of victory on Tuesday came some unaccustomed blinking, although perhaps it was just the bright morning sunlight in his eyes. Twiston-Davies, with his farming background, tends towards down-to-earth pragmatism. "Yes, there is emotion involved," he admitted, "but financially it helps, too; he is part of the business."
The business has been racing for the past 25 years, since the agricultural recession prompted a switch from hobby horses to full-time training at Grange Hill Farm, set in the Cotswolds between the villages of Guiting Power and Naunton, with Cheltenham the local track. Twiston-Davies' 15 Festival winners include most notably Imperial Commander, who upset the much-hyped supposed two-horse race between Kauto Star and Denman in the Gold Cup four years ago.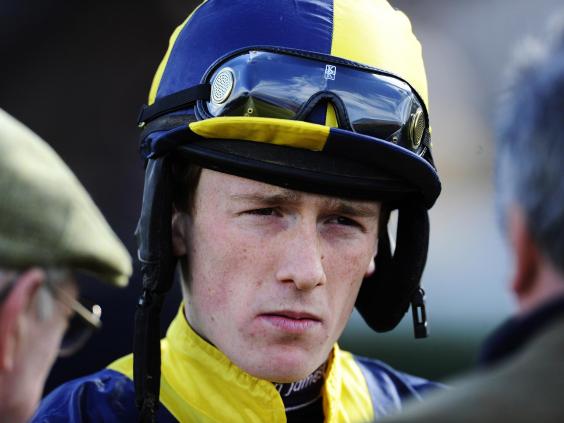 A broader recession is now in play and numbers at Grange Hill have halved to some 60 inmates. But it is a matter of some pride to the naturally modest Twiston-Davies that his team – he is now assisted by Llewellyn – can still tackle the might of the sport's highest rollers, and jostle for a share of prize money of more than £3.8million, with horses bought for what the immaculately-heeled patrons of the yards of Paul Nicholls and Willie Mullins, say, would regard as back-pocket change.
At jump racing's top end these days a recruit from fashionable France can cost half a million. As he watched some of his Cheltenham squad at morning exercise, Twiston-Davies recited their many less thousands purchase prices. "Splash Of Ginge 20, Tour Des Champs 12, Double Ross 25, The New One 25, Kaylif Aramis eight, Same Difference 17, According To Trev 30," he said.
The New One, who carries the colours of Sarah Such, has now repaid Twiston-Davies' judgement more than tenfold. The six-year-old's earnings of £280,000 already include one Festival success, when he lowered the colours of one of the meeting's Irish hotpots in a novices' race 12 months ago, and he now leads the home defence against the raiders, headed by the reigning title holder Hurricane Fly.
After opening his first senior campaign with wide-margin defeats of two solid yardsticks, former champion Rock On Ruby and Zarkandar, The New One went down narrowly, after a last-flight fumble, to another of the upwardly mobile younger brigade, My Tent Or Yours, in the Christmas Hurdle at Kempton.
"His jumping has been superb all along and what happened at Kempton was just one of those things," he said. "I don't think there are many who would disagree with me when I say he'd have won if he had jumped the last properly. At Kempton, if you get the last wrong, there's only a short run-in. At Cheltenham you can make a mistake and you've still got that great big hill up to the finish to try to put it right."
Twiston-Davies does not tempt fate to the extent of being confident that The New One can either reverse placings with My Tent Or Yours or repel the Irish, but he is certainly very hopeful. "He has such a phenomenal turn of foot," he said. "There will certainly be a proper pace in the race, which will be perfect. But even if there was not, others would struggle more than us."
If The New One is something of a special one then so, it can be said, is his young jockey, judged by many a future champion. The son works largely for his father but his talent has lately caught eyes beyond the home fence and on Thursday he will be in the spotlight again, having been entrusted by Nicholls to partner Big Buck's in the legendary long-distance specialist's bid for a fifth World Hurdle.
"One of his greatest attributes is that he doesn't think he is any good, so he is always wanting to learn and improve himself," said Twiston-Davies. "He worries a lot, too, even about things he needn't, he's a perfectionist. He comes over OK on TV, but he's actually quite a shy bloke."
Are there echoes of the man who, in an earlier career incarnation, refused the post-Grand National victory interview with Des Lynam? "He is me," agreed Twiston-Davies, "there's not much of his mum in him."
Sam Twiston-Davies rides  The New One and Big Buck's at Cheltenham next week
Reuse content