Ian Balding scans Epsom Downs, scene of the triumph which stamped his name into Derby immortality. You imagine the emotions it must stir as his mind goes back to that day in 1971 when a crescendo of approval rose from this extraordinary natural sporting theatre as his charge, the revered Mill Reef, accelerated into an unassailable lead.
He recalls other details, too: being caught in traffic, back in the days when the Derby was staged on a Wednesday and seemingly the whole of London vacated the capital for the Downs; how he sprinted the last two miles to the course in his tails and top hat; and after the race, his charge returning to Epsom's curiously small winner's enclosure.
Yet remind him about how Mill Reef secured his place in that sacred circle and the victory itself is almost an afterthought, so emphatic was it. This is one of racing's most severe examinations for three-year-olds, yet here was the majestic colt, "the little horse", a fusion of power and grace as he justified favouritism under jockey Geoff Lewis, clad in the black-and-gold colours of his owner-breeder, the American philanthropist Paul Mellon. "He was always relaxed and settled," Balding says of Mill Reef. "You could pick him out a long way from home. He was only ever going to win the race."
On Saturday, 44 years on, Balding will travel to the Surrey course harbouring a quite different set of emotions. Anxiety will wrestle with expectancy, but above all he will be an intensely proud man. Elm Park, among the fancied runners for the 236th renewal of the Derby, was bred by his wife, Emma, at Kingsclere Stud, adjacent to the training base near Newbury he occupied with distinction for nearly 40 years. What is more, he and Emma also bred the horse's trainer, Andrew, the younger sibling of much-loved broadcaster Clare.
It will be a family affair in the equine sense, too. Elm Park is blessed with a pedigree associated with the Baldings going back five generations.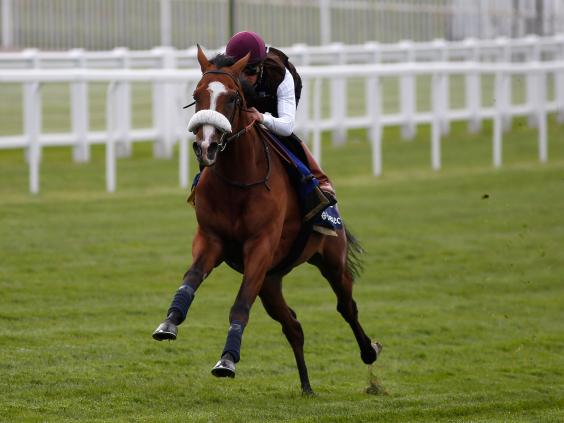 Another Balding victory from the stables is overdue. For all Balding Snr's 2,000-plus winners before he retired in 2002, handing over Kingsclere to his son, they never included another Epsom Derby. Balding Jnr's three Derby runners have not finished closer than sixth. Now Elm Park goes to Epsom with a serious chance – albeit that the colt, one of last season's leading two-year-olds, must renew battle with the Derby favourite, John Gosden's unbeaten Golden Horn, who beat the Balding horse into third in the Dante at York 17 days ago.
Balding Jnr, who attributed defeat that day to the horse being "leg- weary", brought Elm Park to Epsom for a mile work-out last week. It's a pre-Derby ritual that allows intended runners to experience the idiosyncratic terrain of Epsom Downs. The colt didn't handle the contours like a champion fell-runner under his probable big-race partner, Andrea Atzeni, but Balding Snr was pleased enough: "He has a wonderful temperament, which is a great thing for Derby Day. But he never does more than he has to do. He's not the sort of horse that will go away and win four lengths, like Mill Reef. But he did pretty well. He's in terrific shape."
Rather like the training career, it could be added, of Andrew Balding, who has charge of around 180 horses at Park House Stables at Kingsclere, where his father remains involved and still rides out twice a day.
"Andrew was always extremely keen," says his father, a Cambridge rugby blue and successful amateur jockey, who was only 64 when he passed on his training licence to his son. He couldn't wait to kick me out really. No, I'm not surprised by how well he's done. I think he's a much better trainer than I was ."
He adds: "The only time, selfishly, I half regretted it [retiring] was when Casual Look, who I'd trained as a two-year-old, won the Oaks the very next year [2003]. I thought, 'You bloody fool'. I'd never won the Oaks and I could have done it!"
Balding Snr insists he never interferes, but "will ask a pertinent question, maybe, like, 'Are you going to go to Epsom [to work the horse]?' I don't think Andrew was inclined to. Luckily, the owner decided that he should come."
The owner now is Sheikh Fahad Al Thani, who heads Qatar Racing. Elm Park was originally owned by Kingsclere Racing Club, but was sold on to Qatar Racing late last year.
If Balding Snr has one regret it is that Elm Park's jockey will not negotiate the course in the Mill Reef colours of gold cross on black bequeathed to Balding Snr by Paul Mellon and which he has lent to the Kingsclere Racing Club. "Obviously, we're in the business of racehorses and you can't afford not to sell at the right time," he says, but adds: "If he happens to win the Derby, there's a little contingency there."
Racing certainty: Majestic Mill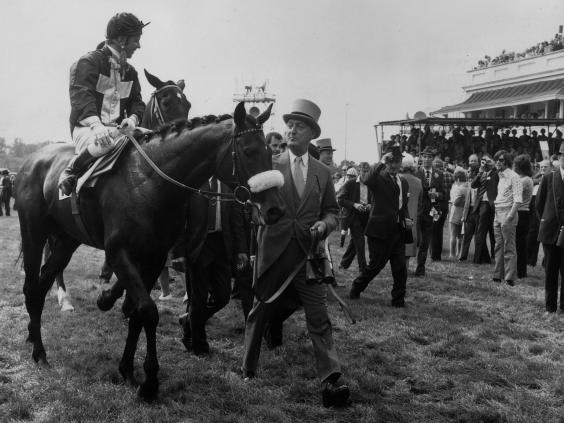 The American-bred Mill Reef arrived at Ian Balding's Park House Stables in Kingsclere late in 1969. He was named after the luxury club next door to his owner Paul Mellon's winter home in Antigua.
Balding, previously assistant to Peter Hastings-Bass, had taken over the historic stables, which date to the 1860s, on the death of the latter in 1964. Only 26, he inherited owners including the Queen. Balding married Hastings-Bass's daughter Emma, who still runs the Kingsclere Stud, in 1969.
Mill Reef proved an exceptional juvenile, and was named champion two-year-old in 1970. Though defeated by Brigadier Gerard in the 2,000 Guineas the following season, Mill Reef proceeded to Derby glory.
Balding was aged 32, in the relatively early stages of his training career. He conceded that his main sensation, following Mill Reef's Derby triumph, was one of intense relief: "I was thanking God that between us, we had managed not to screw up!" He also claimed that Mill Reef was not at his best on Derby Day. The horse went on to claim victories in the Eclipse, the King George & Queen Elizabeth Stakes and the Prix de l'Arc de Triomphe to become champion racehorse of 1971, while Balding lifted the trainers' championship.
Mill Reef stayed in training as a four-year-old and had won two major contests when he fractured a foreleg on the gallops at Kingsclere. A 10-hour operation to insert screws into his leg saved his life and enabled him to retire to The National Stud in Newmarket, where he became a hugely influential sire. His progeny included Shirley Heights, who went on to win the Epsom Derby in 1978. Mill Reef died in 1986.
The Investec Derby on Saturday is part of the QIPCO British Champions Series. For tickets go to: britishchampionsseries.com
Reuse content