Was he happy? Was he hell. Right-fist clenched approaching the finish line, a look of astonishment after it as the realisation of what he had achieved hit him hard, Frankie Dettori was in the mood to embrace everyone and everything in his path as he returned Golden Horn to Epsom's tiny winner's enclosure, a second Derby victory secure. First to get a smacker was the winning trainer John Gosden, the man to whom the Italian was stable jockey in the 1990s, and who he regards as a "father figure and a friend"; then owner Anthony Oppenheimer, a member of the De Beers diamond family; the 44-year-old even puckered up to a television camera lens.
After his trademark flying dismount from the unbeaten 13-8 favourite, who finished in 2min 32.32sec, the third-fastest time in the 236 renewals of the race, and was the first British-bred winner since Workforce in 2010, Dettori said: "I knew this was a good horse. It was up to me to mess it up. I was just a passenger." He added: "I was about to say this is better than sex, but my wife won't like it. But it's just as good."
You don't imagine that Catherine Dettori will be too enamoured by that, either. But she will understand her husband's sense of utter relief after claiming a second Derby eight years after his first on Authorized at the 20th time of trying.
Before the jockeys mounted their horses, Lester Piggott, who would still be riding Derby winners to add to his record nine, given half the chance, handed out commemorative caps to all the jockeys. "The reassurance I got just before the race was from Lester, who said: 'I wish I was on your horse'. I thought, if he says that, I am on the right lines."
In Flat racing, it is wealth and purchasing power which invariably brings home the glory, the prizemoney – a touch over £813,000 to the winner here – and more pertinently a probable future value as a stallion of in excess of £20 million. Ironically, the winner was once offered for sale by owner-breeder Oppenheimer at auction, but he failed to find a buyer. But that is a rare occurrence.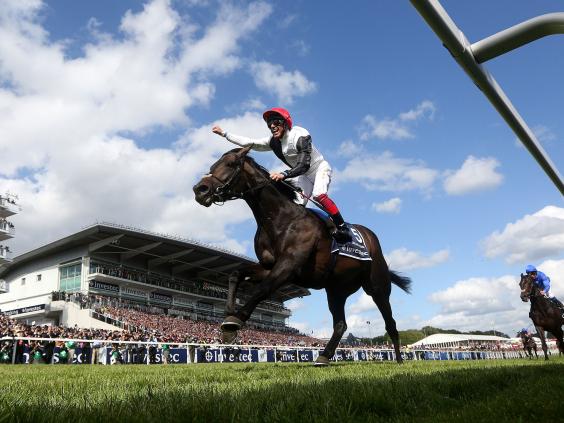 The runner-up Jack Hobbs, also trained by Gosden who finally prised the Aidan O'Brien stranglehold from his hold on first prize after the Co. Tipperary man's three successive Derby victories, had been recently purchased by Sheik Mohammed's Godolphin operation. Godolphin had bought 4-1 second favourite Jack Hobbs – who ran a splendid race to finish well clear of the third, William Haggas's 16-1 shot Storm The Stars – from Gosden's wife Rachel Hood and two of her university friends. 
But this triumph transcended such monetary considerations. This represented a renaissance for Dettori who has been quiet in recent years. This was his first Derby ride since 2011. He has savoured only one victory in an elite Group I race in the last two years, but here seemingly everyone on Epsom Downs bar the bookmakers was swept up by Frankie fever. "The public love Frankie and we'll be counting the cost of Dettori's Derby for some time," a William Hill representative reflected mournfully.
Dettori has a magnetic pull for the racing public. He is exuberant, garrulous, flawed, and blessed – this was the man who survived a plane crash 15 years ago – and though he remains the ultimate showman, he retains all his horsemanship.
Most of the portents pointed to a Golden Horn victory. He had the most experienced jockey – by far. The Italian knows the terrain of this idiosyncratic course that includes a punishing uphill first five furlongs and a steep descent to Tattenham corner so well, he could map it for the Ordnance Survey. But there was just a scintilla of doubt that Golden Horn, winner of the Dante Stakes at York, might not stay the 12 furlongs and one of Aidan O'Brien's trio could pounce.
O'Brien's Ballydoyle Stables in Co. Tipperary is a vast equine munitions dump and, having won the Oaks on Friday with 50-1 shot Qualify, there was support for his entries Giovanni Canaletto, Hans Holbein and Kilimanjaro. The first-named was the best-placed of the O'Brien runners, finishing fourth.
Dettori was content for his horse to run well in the slipstream of the early pace-setters Hans Holbein and Andrew Balding's Elm Park before committing him in the straight. "Everything went according to plan," recalled Dettori. "John's last words were 'be cool, take your time'."
He laughed: "At one stage, I thought I may have overdone it a bit. But when I gave him a crack he just took off. When I got alongside Jack Hobbs, I knew I had it won. In the last hundred yards, it was shock and disbelief."
He added: "I've had a colourful life and I'm not finished yet."