Goodwood already held a special place in Ed Dunlop's heart, but a win for Red Avenger in a typically exhilarating Betfred Mile yesterday sealed that love with another kiss. This has not been the best of years for the Newmarket trainer and this victory in such a valuable and prestigious handicap was much appreciated.
The son of former champion trainer John, who was based just 15 miles away at Arundel, Dunlop has been training in his own right for 20 years and made his name with top-class, globetrotting money-spinners such as Snow Fairy, Red Cadeaux and Ouija Board, who won today's Group One, the Nassau Stakes, in 2006. Court Masterpiece won the Sussex Stakes the same year.
From the outside, Red Avenger did not seem an obvious candidate to bring more Goodwood joy for Dunlop following two recent inauspicious efforts; the Betfred Mile is one of the most competitive handicaps in the calendar and you would not expect a horse not at the top of its game to win it.
But, as is so often is the case when horses suddenly recapture their sparkle, first-time blinkers did the trick.
Dunlop explained: "I have noticed that Aidan O'Brien puts blinkers on a lot of his sons of War Front, so I thought I would do the same and they worked. But he needed a great ride from Jimmy [Fortune]."
The stewards were not as impressed with the rider (also successful later aboard J Wonder) and slapped him hard with a nine-day ban and a £2,300 fine for striking Red Avenger with "excessive frequency."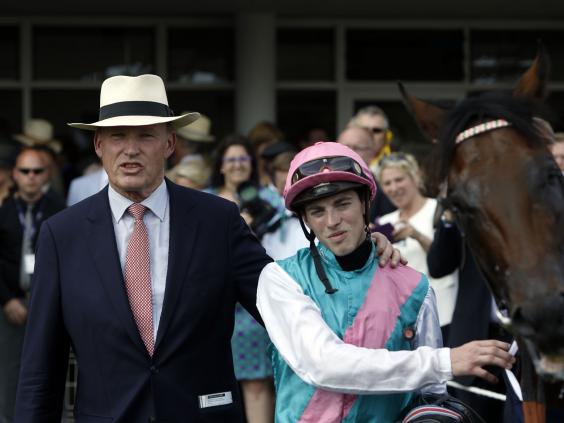 Several seemed to be travelling better than Red Avenger as the race hotted up, but the colt responded to every urging from the saddle to battle into contention inside the last furlong before sticking his head out on the line to deny Heavy Metal, successful in last Saturday's even more valuable International at Ascot, a famous quick double.
This race is renowned for hard-luck stories, but although the result might have been different if one or two had negotiated clear passages, including the fast-finishing third, Magic City, and fifth, Belgian Bill, this was nothing like the usual roughhouse.
Blinkers are quite likely to be tried on Pether's Moon next time after an unconvincing win in the Glorious Stakes, a third win of the week for trainer Richard Hannon and rider Richard Hughes.
"He's not ungenuine, just lazy, you think you're going better than you are," said the jockey. "I think he needs something on his head."
Encke, banned from racing for six months as one of the 22 horses involved in the Mahmood al-Zarooni steroids scandal and having his first run since winning the St Leger 685 days previously, finished a highly creditable second and remains on track for the Irish version next month.
John Gosden was getting very excited after Wannabe Yours beat Hors De Combat to complete his hat-trick in the Group Three Thoroughbred Stakes, despite being forced to switch round rivals to launch his challenge and jockey William Buick then dropping his whip.
"I would have been very disappointed if he hadn't won, quite frankly" said the trainer, who can do little wrong this summer. "He's much improved and will go on to better things. The Celebration Mile back here would be an obvious target. Then who knows? He might be back here next year for the Sussex Stakes."
With Kingman possibly remaining in training next year, Gosden was perhaps being mischievous, but there is no doubt that this is a young horse going places.
Following the sterling exploits of the stayers Cavalryman and Missunited on Thursday, it was the turn of another old-timer, the seven-year-old sprinter Take Cover, to show the youngsters a thing or two in the King George Stakes.
A first Group winner for trainer David Griffiths, Take Cover possesses blistering early speed and he had enough in reserve to hold off the strong finishers Extortionist and Moviesta.
The first three will now probably head to York later this month for the Group One Nunthorpe Stakes, where some very speedy juveniles await, as well, of course, as another sprightly seven-year-old, the Irish-trained Sole Power.
Trainer John Gosden plans to bring Wannabe Yours back to Goodwood for the Celebration Mile
Here's a quote and here it'll stay. Here's a quote and here it'll stay. stay.
Red Avenger (right) responds to Jimmy Fortune's urgings to land the Betfred Mile from Heavy Metal at Goodwood yesterday getty