Tony McCoy finished fifth on Shutthefrontdoor in his last Grand National, so the show goes on, another fortnight of AP tributes and goodbyes before the final, final farewell at Sandown's traditional end-of-season fixture.
For more than just a moment, it looked like the perfect conclusion to a wonderful career was unfolding as the champion, ideally positioned from the off, tracked Many Clouds into the home straight and down to the second last fence, seemingly ready to pounce.
But appearances were deceptive. McCoy already knew the game was up; there would be no fairytale ending as Shutthefrontdoor's stamina ran out.
Grand National 2015 in pictures
Grand National 2015 in pictures
1/8 Grand National 2015

AP McCoy congratulates Leighton Aspell on his Grand National victory

Getty Images

2/8 Grand National 2015

Many Clouds and Leighton Aspell win the Grand National

Getty Images

3/8 Grand National 2015

Leighton Aspell urges Many Clouds on as the field comes to the final stretch

Getty Images

4/8 Grand National 2015

Eventual winner Many Clouds leaps over the Water Jump

Getty Images

5/8 Grand National 2015

Chance Du Roy was in early contention

Getty Images

6/8 Grand National 2015

Many Clouds leads Shutthefrontdoor and Soll

Getty Images

7/8 Grand National 2015

Oscar Time jumps over the Open Ditch

Getty Images

8/8 Grand National 2015

Dolatulo jumps over a fence during the Grand National

Getty Images
"I was happy going round and I really thought for a long way he could win. His jumping was fantastic," he said. "But I know what a dour stayer Many Clouds is and I knew he would be tough to pass after jumping four out. And from the third last I was running on empty.
"But he gave me a great ride, one of the best I have had in the National. I just wish I could do it all again next year."
Although sent off the 6/1 favourite, the great nationwide gamble on Shutthefrontdoor never quite materialised as head ruled heart and strong support came instead for leading form candidate Rocky Creek.
Not that any of this was on McCoy's mind as he strived to get his head round this strangest of days, a day when he would be busting a gut to ride the winner that would bring to a close a career he has never wanted to end.
McCoy has been signing autographs, posing for selfies, attending presentations and agreeing to countless interviews, along with a thousand and one other public and media obligations, from the moment he shocked the racing world by announcing his imminent retirement at Newbury in February right up until the late morning of what would be his final Grand National, maybe his last ride full stop.
But by midday, it was all getting a bit much. "He's gone into the weighing room to hide," said his good friend, former jockey and now Channel 4 presenter Mick Fitzgerald. "I think he's had enough."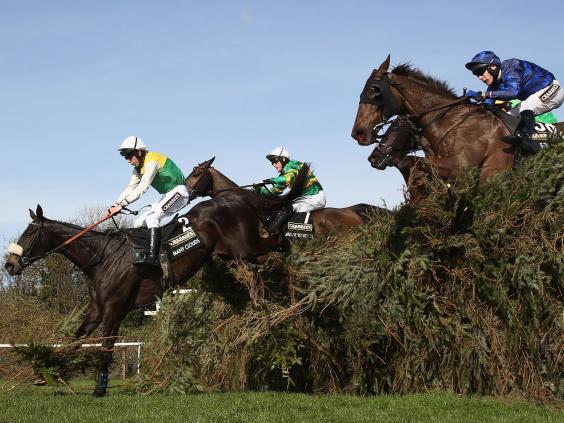 Enough of the razzmatazz that is, not the riding. Parlour Games was his only other booking of the day in the opener, seemingly a tip in itself, but he had to play second fiddle to his old adversary, Ruby Walsh, aboard the favourite Nichols Canyon. Never mind, AP was back safe and sound and ready to star in the big show. That was the main thing.
It was perhaps fitting that the balmy conditions enjoyed on the first two days of the meeting gave way to a plummet in temperatures, accompanied by a bitter wind.
McCoy has endured far worse than this most days over the past 20-odd years, raw mornings on the gallops, followed by shivering afternoons at Fakenham or Sedgefield. A strong tailwind down to Becher's Brook, but back into the teeth of it on the long run to the home straight was just something else to think about. McCoy's sole Grand National win was at his 15th attempt in 2010 when Don't Push It finally filled the one glaring gap on his CV, a triumph that made the Ulsterman famous beyond racing's boundaries; later that year he became the only racing figure to be voted BBC Sports Personality of the Year.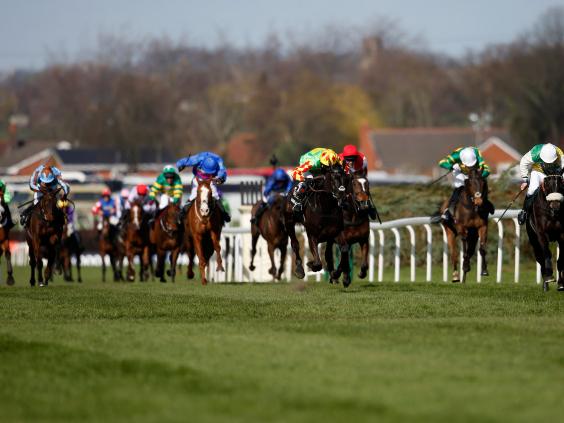 One winner from a record 20 National rides can be viewed as a meagre return, but counting wins in a race so dependent on the rub of the green as a measure of a jump jockey's worth is as sensible as counting up a pro golfer's holes-in-one.
The debate can rage on as to where McCoy stands in the pantheon of all-time great jump jockeys, but one thing is certain: nobody has ever been tougher or more determined, no sportsman has ever got more out of himself.
But, in the end, old bones and a young family have told him to stop. Most in his position might have decided to simply take the foot off the gas for the last few years and coast. Who else will care, or think any the less of him, that he didn't bow out as champion jockey, that it didn't all end with his 20th title? Stop chasing titles, eat a bit more, choose your rides, still be around for the buzz of the festivals. But that's the point. We are not in his position. McCoy's position has always been all or nothing, all of the time.
In a way, yesterday was a win-win situation because now McCoy can enjoy the game he is so loathe to quit for just a bit longer.
He won't be riding again until Cheltenham in midweek, followed by the Scottish National meeting at Ayr before the final countdown to Sandown.
Reuse content