Karen Bowen already had enough to worry about helping her husband, Peter, put the finishing touches to Al Co, their big Welsh fancy in Saturday's Grand National.
But then at Haydock last Saturday her 17-year-old son, Sean, made absolutely sure there would be no peace in her head until it was all over when riding his 10th winner over fences to qualify himself to ride in the world's most famous chase.
And he will not be riding Al Co; he will instead be trying his damnedest to beat the apple of his parents' eye aboard Mon Parrain for his employer, Paul Nicholls.
Until last weekend, all the Grand National talk in the Bowen household was about Al Co and how his preparation, for the most part, had gone to plan.
Peter Bowen has ticked off several of the big handicap chases in the calendar, including today's Topham Chase four times in the last eight years, gaining three of those victories with the remarkable Always Waining.
But Aintree's big one has been the Bowens' dream ever since, in 1995, they began transforming a bungalow and two fields into the 50-horse Yet-Y-Rhug stables in deepest Pembrokeshire.
They are not alone in that obsession, but perhaps they deserve it more than most after their 2007 near miss with Mckelvey, beaten by less than a length by Silver Birch after breaking down with the winning post in sight.
"That was so exciting and then so heartbreaking," Karen recalls with a wince. "He pulled a tendon on the run-in, otherwise you would have to think he would have won."
Al Co could be the perfect remedy for such painful memories. "As soon as he won the Scottish National last year, we started thinking about the Grand National," says the former champion point-to-point rider and integral cog in the Bowen wheel. "He travelled well and stayed well and we knew he was the right type.
"We gave him a look at the big fences in the Becher Chase early on this season and after he had jumped two or three I thought 'oh dear'. But he warmed up and by the end Jamie [Moore, his rider] was telling us he could win a Grand National."
Moore broke a leg in a fall last week, a terrible blow for the jockey and the one headache in the build-up for the Bowens. They thought long and hard about a replacement and were happy to settle on Denis O'Regan, a veteran of eight Nationals, but changing riders so late in the day was hardly ideal.
"Al Co is fairly straightforward, but Jamie knew the horse and they had a rapport. And we feel so sorry for him," Karen says. "But other than that, there have been no hiccups or hold-ups with the horse and we're very hopeful of a big run."
She was thrilled for Sean when he did what was required at the eleventh hour to earn the right to join the party. It was typical of the teenager's skill and determination; if he can actually go on and win the Grand National he will be only the second rider as young as 17 to do so in the race's long history. But whatever happens on Saturday, this is a young man going places, maybe even right to the top.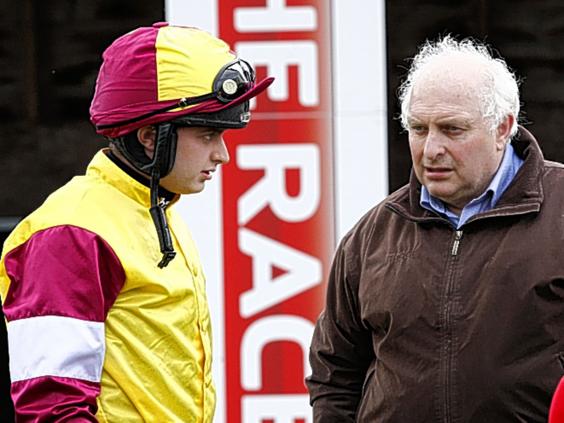 He has some sense of occasion, too. Virak was the vital Haydock winner last Saturday, but the victory was achieved in style, the middle leg of a treble.
And then, being too young to drink, he celebrated in the best way he knows how by riding another three-timer at Chepstow on Monday to keep the pressure on Cheltenham Gold Cup-winning rider Nico de Boinville in their scrap for the conditional jockeys' title.
Not bad for a lad who, as a small child, broke out in sniffles and a rash whenever he went anywhere near a horse.
Karen Bowen confesses to mixed feelings about Saturday, saying: "I was pleased for Sean because he was so desperate to qualify, but I must say that, as a mother, I wasn't so enthusiastic myself. But I'm quite happy he's riding Mon Parrain because he's jumped round safely a couple of times."
And so we come to the slightly uncomfortable but unavoidable question. Al Co and Mon Parrain jump the last fence together and are locked in battle, clear of the rest, rounding the elbow on that final lunge to immortality. Who would Karen be shouting for the loudest?
"I would be shouting just as loud for both," she says after a little thought. "But he's our son. You want the best for your children, don't you? So, as his mother, you know… but it would be absolutely wonderful to be in that position, wouldn't it?"
Reuse content