Millions will tune in this Saturday for the unique spectacle that is the Grand National.
40 horses are expected to line up to jump 30 fences over four and a quarter miles, in what certainly features among the toughest but most rewarding challenges runners, riders and punters can face. With a competitive field of horses, each allotted a certain weight according to their ability, everyone is trying to spot an angle or just some nice silks before having a bet.
Below we give a brief outline to each and every runner, with accompanying prices from 888 Sport. They're offering five places in the race for each-way bets.
Runners and Riders
1.       The Last Samuri 16/1 
Trainer: KC Bailey
Owner: Paul and Clare Rooney
2nd in the race last year bodes very well but has to carry a stone more this time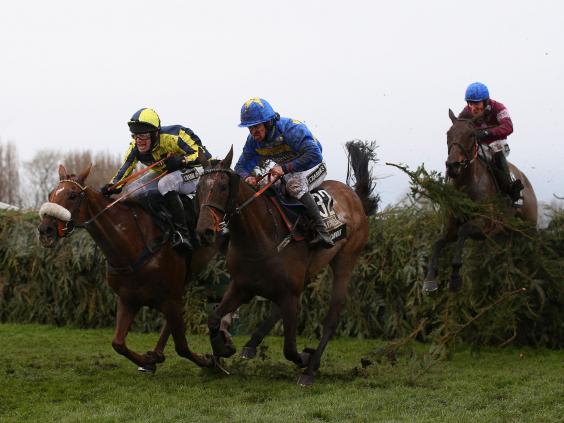 2.       More Of That 14/1
Trainer: Jonjo O'Neill
Owner: John P McManus
Formerly one of the best around but dodgy jumping and inconsistent form significant question marks
3.       Shantou Flyer 66/1 
Trainer: R Curtis
Owner: Carl Hinchy
Others look much better handicapped but longer trip could see great improvement
4.       Perfect Candidate 50/1 
Trainer: F O'Brien
Owner: Isl Recruitment
Led from start to finish last time, could give bold show from the front
5.       Saphir Du Rheu 20/1 
Trainer: PF Nicholls
Owner: The Stewart Family
5th in Cheltenham Gold Cup, hoping that race didn't leave too great a mark. Would like rain
6.       Roi Des Francs 66/1 
Trainer: G Elliott
Owner: Gigginstown House Stud
Up against it with several of these in front of him two starts ago
7.       Wounded Warrior 66/1 
Trainer: N Meade
Owner: Gigginstown House Stud
Appears to have lost his way this season but wouldn't be the first horse this owner has seen rejuvenated at Aintree
8.       Wonderful Charm 50/1 
Trainer: PF Nicholls
Owner: RJH Gefen and Sir John Ritblat
Solid this season in different class but back against the big boys here. Pulled up in this last year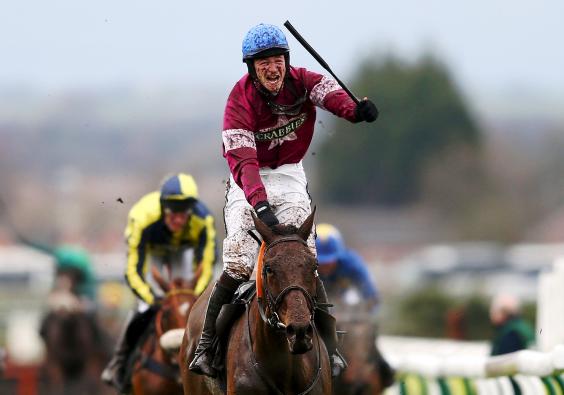 9.       Tenor Nivernais 33/1 
Trainer: V Williams
Owner: Boultbee Brooks Ltd
Prefers soft ground and disappointing last time. Trainer knows how to win this though
10.   Blaklion 14/1 
Trainer: NA Twiston-Davies
Owner: S Such and CG Paletta
Grade 1 winner swerved Cheltenham to be in perfect shape for this. Little horse may struggle with the fences but has surprised before
11.   Drop Out Joe 66/1 
Trainer: CE Longsdon
Owner: The Jesters
Off since last summer and mark this high has proved his undoing before
12.   Le Mercurey 50/1 
Trainer: PF Nicholls
Owner: D Thompson
Bought by new owner just last week who purchased the 1992 winner two days before that year's race
13.   The Young Master 20/1 
Trainer: NP Mulholland
Owner: Dajam and The Old Masters
Fell at the second on his only start over these fences but will be hoping for good spring ground
14.   Cause of Causes 12/1 
Trainer: G Elliott
Owner: John P McManus
Very impressive winner last time over similar fences at Cheltenham. Quiet before then but huge chance now in form
15.   Regal Encore 66/1 
Trainer: AJ Honeyball
Owner: John P McManus
Very difficult to catch right, either winning or (more often) unable to finish
16.   Vieux Lion Rouge 11/1 
Trainer: D Pipe
Owner: Prof Caroline Tisdall and John Gent
Worthy favourite having won two of the main trials this season. Hard to see not running well
17.   Definitly Red 10/1 
Trainer: B Ellison
Owner: PJ Martin
The North's best chance was very impressive last time. Questions over stamina slight concern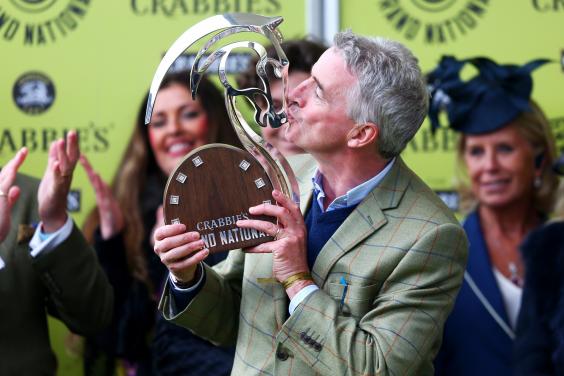 18.   Ucello Conti 20/1 
Trainer: G Elliott
Owner: Simon Munir and Isaac Souede
6th last year and could well run better if jumping holds up
19.   Double Shuffle 33/1 
Trainer: TR George
Owner: Crossed Fingers Partnership
At just seven years old likely to be too young to strike a blow
20.   Houblon Des Obeaux 50/1 
Trainer: V Williams
Owner: Julian Blackwell
Needs rain but has a habit of placing in hot handicaps
21.   Pleasant Company 14/1 
Trainer: WP Mullins
Owner: Malcolm C Denmark
In good form after latest win and lines up as best hope for high class trainer and jockey combination
22.   One For Arthur 14/1 
Trainer: Lucinda V Russell
Owner: Two Golf Widows
Dab hand over long distances. Progressive this season and will be primed for such a test
23.   Ballynagour 66/1 
Trainer: D Pipe
Owner: Allan Stennett
Yet to finish a race this season and unseated in last year's renewal. Serious leap of faith needed
24.   O'Faolains Boy 33/1 
Trainer: R Curtis
Owner: Trembath, Hyde, Outhart and Hill
Very little recent form to speak of but formerly one of the most exciting staying chasers around
25.   Highland Lodge 25/1 
Trainer: James Moffatt
Owner: Bowes Lodge Stables
Could be good value considering short distance behind Vieux Lion Rouge last time but now double his price
26.   Bishops Road 66/1 
Trainer: Kerry Lee
Owner: Alan Halsall
Fell at the first when tackling these fences over shorter distance last year. Progressive before then though
27.   Lord Windermere 50/1 
Trainer: JH Culloty
Owner: Dr R Lambe
Former Gold Cup winner who would be very well handicapped if returning to form
28.   Saint Are 33/1 
Trainer: TR George
Owner: DW Fox
Second two years ago may well have been his best chance to win this
29.   Vicente 25/1 
Trainer: Vaughan Marshall
Owner: Jane Truter and KP Truter
Scottish Grand National winner recently bought by owner with great record in the race
30.   Just A Par 50/1 
Trainer: PF Nicholls
Owner: Paul K Barber and the Late CG Roach
Inconsistent profile and hard to know if he will fire on the day
31.   Measureofmydreams 50/1 
Trainer: N Meade
Owner: Gigginstown House Stud
Found life difficult since good third at Cheltenham last year, including heavy defeat latest
32.   Raz De Maree 40/1
Trainer: GP Cromwell
Owner: James J Swan
Stays well and showed speed during warm up for this. Could run well at big odds
33.   Stellar Notion 66/1
Trainer: H de Bromhead
Owner: RS Brookhouse
Keeps placing in tricky handicaps over in Ireland, always appearing to just run out of steam
34. Rogue Angel 33/1
Trainer: MF Morris
Owner: Gigginstown House Stud
Irish National winner last year has been well beaten on every start since. Trainer won with similar sort last year though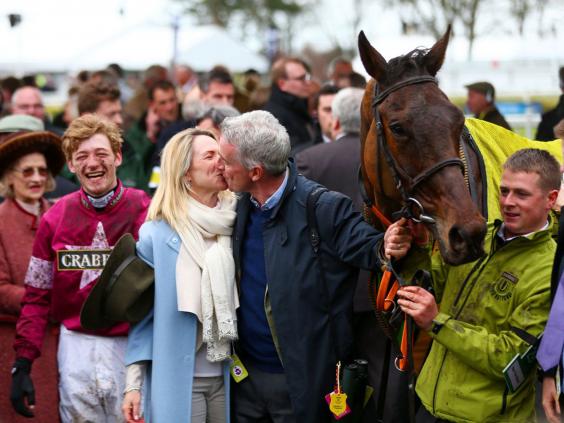 35.   Cocktails At Dawn 66/1
Trainer: NJ Henderson
Owner: RJH Geffen and Sir John Ritblat
Questionable stayer but not short of speed. Trainer yet to have a winner in this
36.   Thunder And Roses 25/1
Trainer: MF Morris
Owner: Gigginstown House Stud
Another Irish National winner who will stay the distance and versatile when it comes to the ground
37.   Gas Line Boy 100/1
Trainer: Ian Williams
Owner: The Three Graces
Frequent attendant of staying handicaps but rarely the winner
38.   Goodtoknow 66/1
Trainer: Kerry Lee
Owner: Burling Daresbury Macechern Nolan Potter
Not short of stamina and in good form before pulling up latest
39.   La Vaticane 100/1
Trainer: D Pipe
Owner: Maria Bukhtoyarova
This mare's only recent wins have only come against much weaker opposition
40.   Doctor Harper 66/1
Trainer: D Pipe
Owner: The Johnson Family
Latest run was another disappointment after lofty reputation he once had
RESERVE
R1.   Bless The Wings 50/1
Trainer: G Elliott
Owner: Adrian Butler and P O'Connor
Has come close in good races down the years and if sneaking in here could go well
R2: Knock House 66/1
Trainer: D McCain Jnr
Owner: T Leslie
R3: Sambremont 100/1
Trainer: W Mullins
Owner: Shanakiel Racing Syndicate
R4: Viva Steve 66/1
Trainer: F O'Brien
Owner: P & C Rooney
Reuse content