Bradley Lowery, the five-year-old who is campaigning to raise funds to fight the rare form of cancer Neuroblastomo, has been awarded an honorary place in this weekend's Grand National.
Lowery has become a popular figure in the world of football after he appeared as a mascot for Sunderland, and struck up a friendship with England striker Jermain Defoe before leading the national team out ahead of their World Cup qualifier against Lithuania last month.
He was first diagnosed with Neuroblastoma at the age of 18 months, but beat the rare illness after two years and went into remission. However, the condition returned in July 2016, and a Just Giving page was set-up in order to fund Lowery's travel abroad for the specialist and progressive treatment required, given it is not available in the United Kingdom.
In a touching gesture by the Jockey Club Racecourses, an additional berth for Saturday's Grand National – the crown jewel in the jumping calendar – has been allocated to the five-year-old in an effort to help generate funds for his treatment.
His colours match his beloved Sunderland side, and a full card has been drawn up to feature the important figures in his life, with father Carl and mother Gemma, both sets of grandparents and brother Kieran all included, along with his 'trainer' in the form of Defoe.
His date of birth – 17 May – and age is used to fill in the weight category, and his form is an unblemished five straight wins to "highlight he is unbeaten at every turn and his five star rating confirms he is very highly regarded".
Lowery's description reads: "Never happier than when playing with friends Bradley loves Sunderland FC and his dogs Effie and Chase. Makes his Aintree debut. Donate to his fight against Neuroblastoma at bradleylowerysfight.org.uk."

"We're thrilled to be coming to Aintree for the first time and really appreciate everything that everyone is doing for Bradley and us," his mother, Gemma, said after being invited as guests of headline sponsor Randox Health. "He is very excited about the big day. It is fantastic so many people will get the chance to learn about Bradley's fight."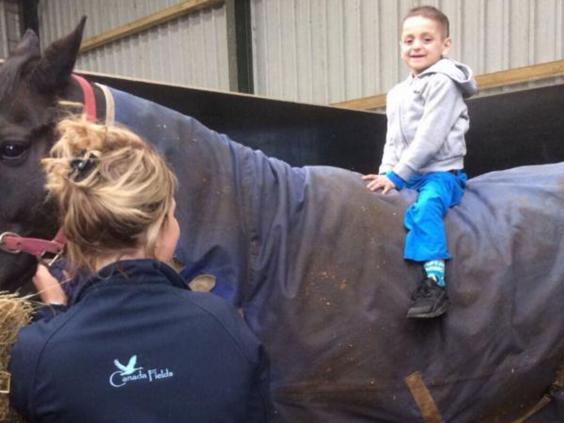 John Baker, North West regional director for the Jockey Club Racecourses who runs Aintree, added: "Bradley Lowery's story is one that has already touched the hearts of millions of people but we need to help him to raise greater awareness and fundraising for the fight against Neuroblastoma. Where better to do that than through the people's race?
"If we can be part of the solution in even a small way that would make me very proud and I'm sure the British public will get behind Bradley's fight. He's a really inspirational little boy who deserves all the help we can give him."
To support Bradley's fight against Neuroblastoma visit bradleylowerysfight.org.uk
Reuse content