From carefree childhood days when she rode bare-back on a pony equipped with just a head-collar and rope for reins, whooping like a cowboy as she helped move her mother's herd of Herefordshires to fresh pastures, Lizzie Kelly has let her imagination – and ambitions – run free.
Even so, competing for the first time as a professional jockey at the Cheltenham Festival, the national- hunt showpiece, could have been considered on the surreal outer limits of career possibilities. For instance, one of her rivals Tony McCoy secured the first of his 19 jockeys' championships when she was aged just two.
Yet the instant you confront this 21 year old, an amalgam of endearing exuberance, the forthright manner of a head girl, and a healthy stamp of realism, you recognise that the prospect doesn't intimidate Kelly as she prepares to partner her Festival mounts, the progressive six-year-olds Aubusson and Tea For Two in Thursday's World Hurdle and probably Friday's Albert Bartlett Novices' Hurdle respectively. Both are trained, according to the racecard, by her stepfather Nick Williams, but it is more his wife and Kelly's mother Jane who has nurtured and planned their development.
The Festival has witnessed less a march to success by female jockeys, and more an occasional raiding party since Gee Armytage became the first professional woman rider to triumph in 1987 with two winners.
Kelly, raised at the Williams' base in Devon, approaches the gender  divide in much the same way that she encourages her mounts to negotiate hurdles and fences: without trepidation. "Personally, I'd much prefer to be taking on the men every time," she declares after a morning's work on the gallops at her guv'nor Neil King's stables near Barbury Castle, the iron-age hill fort on Marlbough Downs. "They do have races for lady jockeys, but I think you get more recognition for winning against men than against females."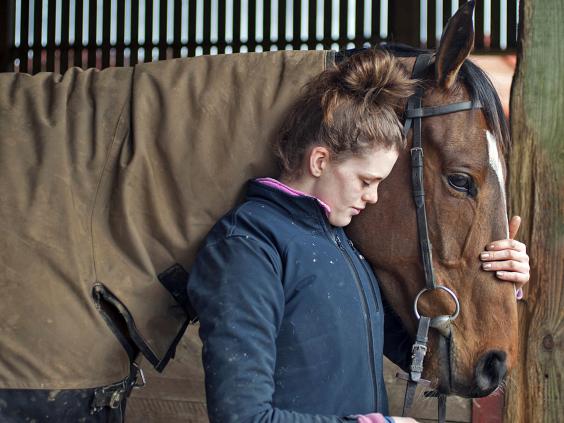 As a conditional rider, Kelly  receives an allowance for her relative race-riding inexperience – a 7lb weight claim, just as her male counterparts do – but none for her gender. This is the only physical sport  where women take on men on  equal terms.
Her move last summer to King's yard from the highly successful Wiliams operation on the edge of Exmoor has been crucial in the pursuit of a professional career. "There's a lot of perceptions in racing, and the 'trainer's daughter' thing is a big stigma," she explains, with people saying these girls only get rides  because of the family connection. "I thought I'd rather nip all that in the bud, and just leave," she adds. "I knew I could get rides off the back of my riding."
She is steeped in experience which began aged 11, riding out and then race-riding as an amateur for  her parents, and has included  the tutelage of such luminaries as Willie Mullins, Henrietta Knight, Alan King and Emma Lavelle during summer work on holiday from university.
Involvement in the family training operation had been just about mandatory. Mostly she revelled in it. "But sometimes you hated it when your friends were going off to the cinema or the local town to wander around the shops and be all girly and drink coffee and I had to say, 'actually I've got to ride out'. But it's all stood me in really good stead. This is my first full-time job in racing and I never struggled, because I'd done it all before."
You suspect Jane Williams is more than a proud parent. Perhaps pushy even? "Yes, she is very pushy, a nightmare in a way," responds a laughing Kelly. She articulates one of Jane Williams' mantras: "You can't ever do anything for fun."
Kelly adds in explanation: "Put it this way, I do a bit of writing myself: weird abstract, poemy, prosey kind of stuff, a bit along the lines of Sylvia Plath. Mum just says, 'why don't you get it published?' That's her mindset. It's the same with the riding. When I told her I was doing Event Management at University, she thought it was like finishing school, and I'd be learning how to arrange dinner parties. When I told her it was an actual degree, she said, 'oh, right. What use is that?' Once she realised what it was, she was OK. My mother is really supportive – always has been –  she's given me the horses and let me ride everything I could  for her."
Kelly goes into the Festival having won major non-Festival events, and seen her idol McCoy finish behind her in the process. The Northern Irishman finished fourth, eight lengths behind her when she prevailed on Aubusson at Cheltenham on New Years' Day 2014. Her go-to jockey for advice, though, is Richard Johnson, the man who has been perpetual runner-up to McCoy. Kelly regards him as both "brave and a gentleman".
She admits, though, that in her early days she felt apprehensive  entering that largely male  domain, the weighing room.
"When I first started, I thought, 'Oh, God, there's all the lads in there – they're going to be thinking I shouldn't be here'," recalls Kelly, who lives with amateur jockey Danny Burton. "But then I thought, 'Actually, so what if they don't think you should be there? It's your career, and it's your dream, and it's your achievements that have got you there'."
She adds: "You should walk into that weighing room with your head held high because, actually, they are a little bit like the Lord of the Flies. If they see someone who they think's weak and vulnerable, they do tend to go for them a little bit – but it's  the same with young lads coming through, having their first ride.  On the whole, though, they're great, everyone's really good. The atmosphere is dead if someone has a  bad fall. They do care about  each other."
When it comes to her own safety, her mother describes her as "unbelievably tough, completely fearless". Kelly reasons: "If you're at the start, thinking 'Oh, God, I'm going to break my neck', you shouldn't really be doing it. You would tend to ride differently, and that millisecond of hesitation going into an obstacle could lead to a bad fall."
Whatever her lack of physique, in comparison to her male peers, Kelly has other means of coaxing the optimum from her mounts. "I would probably be the only person the other jockeys have ever heard chatting away to a horse in a race or at a start. If my horse makes a mistake, I'd say 'Come on, let's try and get this one right'. I like to try and get inside their heads," she says.
Kelly once said that male jump jockeys are better and stronger, which would appear to preclude a long-term career in the game for her. But she argues: "I am very realistic  but also a massive dreamer. As a girl, you have to be realistic about how far you can go. I went to university because the likelihood of me making it as the next AP McCoy is highly unlikely. But I would never say that I don't have the ambition to go all the way, because I do."
She adds defiantly: "I would love, in 20 years' time, to still be riding racehorses every day and have everything that comes with it –  the records, and the winners and the prizes, and all the cups and the bottles of champagne. I want all of it."
Reuse content