The Wigan prop Ben Flower has been handed a six-month ban for what has become the most notorious challenge of the summer rugby era.
Flower was sent off after just two minutes of the Super League Grand Final at Old Trafford on Saturday, when he landed two punches to the face of St Helens' Lance Hohaia, the second of them whilst the half-back was lying knocked out on the ground. 
A four-man panel in Leeds, including former players Neil Turley and Danny Sculthorpe, took just half an hour to decide the 26-year-old Welshman's fate. He had been charged with a Grade F offence, the highest category, which normally carries up to an eight-match ban but which can go higher if the panel believes it to be more serious.
Earlier in the day, Hohaia took the option of an early guilty plea for his part in the incident and was given a one-match suspension by the Rugby Football League.
Flower had no such alternative and will not now be able to play again until the ninth round of Super League. He will also miss any pre-season friendlies, the World Club Series match against Brisbane and the entire pre-season as he is not allowed to train with his club during the ban.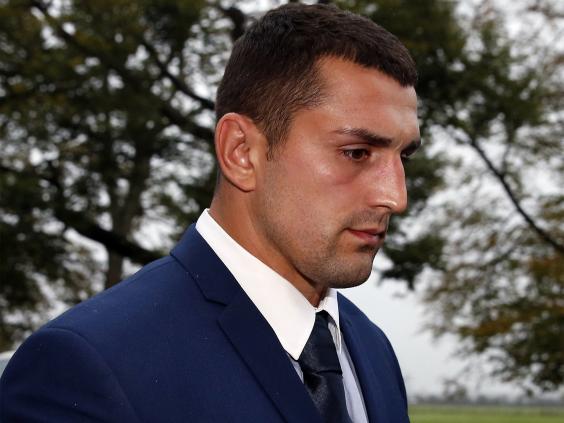 He had already apologised profusely, which had been accepted by Hohaia. Wigan, whilst not condoning his actions, have said they will stand by him. The club's football manager, Kris Radlinski, said the RFL had handled the case with integrity and that they will not appeal.
Saints immediately welcomed the outcome and the fact that it had been achieved without police involvement.
Their chairman, Eamonn McManus, said of Flower: "We must help him in any way we can and accept him back into the sport."
All the same, the ban he will serve will not satisfy those who had called for him to be sidelined for a season – or even permanently. Much of his ban will be served during the close-season, which is something of a hollow gesture.
Flower has made some unwanted history, as the first man to be sent off or even sin-binned in a Grand Final and the recipient of the longest ban in Super League.
The previous heaviest Super League suspension was the 12 matches imposed on Wigan's Terry Newton in 2004 for two high tackles in a match against St Helens, while England Test forward James Graham was banned for 12 matches for biting whilst playing for Canterbury in Australia last year.
Before the Super League era it was not unknown for players to receive lifetime bans, although they were often reduced at a later date. Two suspensions that were served in full were Les Boyd's jaw-breaking tackle on Darryl Brohman in State Of Origin in 1983, for which he was given a 12-month suspension. The following year, he was banned for 15 months for gouging the eyes of an opponent but he rebuilt his career in Britain.
Those punishments were lenient compared with the sentences handed down after an all-in brawl in an under-17s game in the Penrith Junior League on the outskirts of Sydney last year. The worst offender there was banned for 25 years.