If England are to break their long drought by winning an international trophy, they have to do it the hard way. A narrow and undeserved defeat by Australia last weekend means they must beat New Zealand by 10 points in Dunedin on Saturday morning to be sure of making the final a week later.
To do that to the Kiwis on home soil – even if the surroundings will be unfamiliar to them as well – is a formidable task. This, after all, is a New Zealand side which has already beaten Australia in this tournament and which looks stronger for the inclusion of the experienced Thomas Leuluai and Greg Eastwood.
The England coach, Steve McNamara, is likely to stick with an unchanged team, which means a continued role in the centres for his unlikeliest lad, Dan Sarginson.
A year ago, the 21-year-old from Hemel Hempstead was seen by most Wigan supporters as an underwhelming signing when he joined them from the London Broncos.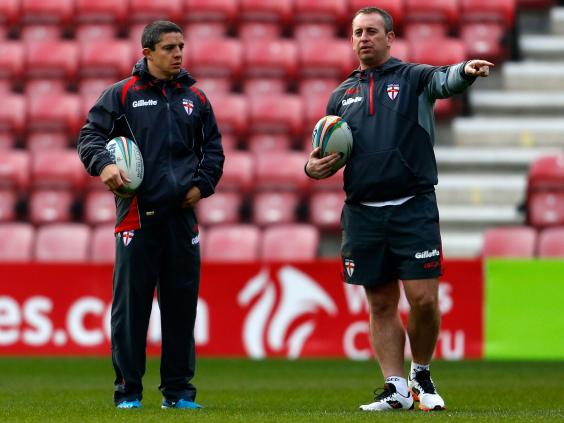 In fact, his new coach, Shaun Wane, had to field complaints from fans who asked: "Why have you signed him?"
Now, 12 months later, they know. Not only was Sarginson a front-runner for the club's player of the year award, he is on the way to establishing himself as a Test regular.
McNamara raised some eyebrows when he brought in Sarginson in place of the defensively tried-and-tested Michael Shenton for last week's match against Australia.
The young player was one of England's notable successes, and the back-handed flick-pass with which he set up a try for Ryan Hall was the most skilful moment of the match.
That and his all-round performance have alerted Australian clubs to his potential, but while he has a long-term ambition to play in the NRL, he is in no hurry.
"I can't see myself moving for a while," he said this week. "You want to come out and challenge yourself against the best, but I'm a Wigan player at the moment."
The situation is different with his Wigan team-mate Joe Burgess, whose spectacular debut season saw him win a place in the Four nations squad, but not, so far, in the team. Burgess is understood to have agreed terms to join Sydney City Roosters after playing next season with Wigan.
His namesake Tom Burgess caused a flutter of concern when he missed training earlier this week, but like the threat of disciplinary action against Liam Farrell and Sean O'Loughlin for tackles in the Australia match, that proved to be a false alarm.
That leaves England with an unusually stable side, which only needs to lift its game slightly to win this tournament. Against Australia, they were the better side for 65 minutes, but contrived to lose it when they conceded the initiative for the other 15.
With the speed of Shaun Johnson, the Kiwis have a sharper cutting edge in midfield than the Aussies and their pack, as ever, is enormous.
England will be reassured to have Phil Bentham, with his familiar interpretations of some grey areas, refereeing.
Ideally, that could help them to win by the requisite 10 points. If not, Australia have the advantage the following day of playing a Samoan team which has been magnificent so far and could have won both its matches, but which must be due to run out of fuel this weekend.
Reuse content