They might be the two most consistent teams in Super League, but both Warrington and Wigan go into this weekend's Grand Final with something to prove. 
They finished first and second in the table after the regular season, but nobody really knows what to expect from them at Old Trafford. 
Warrington have the most talented squad in the competition, but they play a brand of high-risk rugby which, when it breaks down, can be very hard to fix. 
The big risk in the Grand Final is in playing Chris Sandow after a leg injury. The novice Declan Patton has done well in his absence, but all the indications are that his coach, Tony Smith, will opt for experience, which in Sandow's case comes with the bonus of genuine match-winning qualities. To play Sandow and have him break down, however, would throw out the Wolves' interchange strategy, so is not to be done lightly. 
One decision which has already been made is the remarkable rebirth of Tom Lineham. The winger was signed from Hull at the end of last season, but has spent much of this season out of favour and even out on loan at Rochdale Hornets. Since his recall, he has scored three vital tries to get Warrington to Old Trafford. The Wolves will, however, miss their outstanding second-rower, Ben Currie, whose season has been ended by a serious knee injury. 
The broader question is whether Warrington can produce their best on the big stage. They cannot beat Wigan without shedding their reputation as the nearly men of rugby league. 
The charge that has followed the Warriors – sometimes even from their own supporters - all season is that they are boring. It is an accusation which is at best only partially justified. 
They have won more games through grit and grim determination than they have through brilliant rugby. They can be formulaic, but no side which includes the likes of Dan Sarginson, the fast-developing George Williams and the frankly eccentric Anthony Gelling can be labelled as unrewarding to watch. 
The keynote of their season, though, has been the way that other, less regarded players, have risen to the task. Sam Powell, for instance, has played every game of the season at hooker, following the loss of one of the team's keynote players, Michael McIlorum, and has done a sterling job.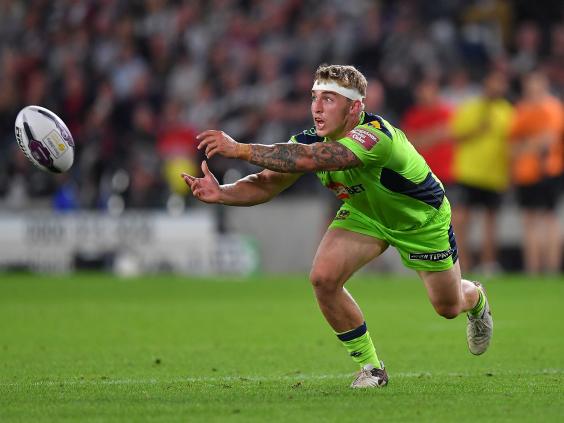 The same could be said of Jason Robinson's son, Lewis Tierney, who has carried that tag manfully and has learned something every time he has played. 
Sarginson and Josh Charnley will be playing rugby union next season, so they will be keen to sign off with strong performances that will help Wigan break their own run of runners-up medals. 
Then there is the question of Ben Flower. In the Grand Final two years ago, his assault on St Helens' Lance Hohaia after just two minutes and subsequent sending-off robbed Wigan of any chance of carrying off the big prize. 
It was an incident that brought him greater notoriety than any player has had to cope with in recent times. His coach, Shaun Wane, has never looked like losing faith in him and, until a couple of weeks ago, seemed to have been rewarded. 
But then Flower was sent off for a high, late tackle on Patton the last time these two clubs met, which suggested that he hadn't entirely learned his lesson. He has completed a two-match suspension, which is a reminder that he plays the game on the edge, as indeed does another Wigan forward, John Bateman. 
The contrast in styles between the two sides promises an absorbing contest. Gates are fractionally down this season, but Old Trafford will be full, or close to full, to see it. 
For those who watch it from home, there is the chance to enjoy – or not – the commentary of the inimitable Mike 'Stevo' Stephenson. His is a voice that has polarised rugby league fans to a greater extent than anyone since Eddie Waring and he is hanging up his microphone after this, his last Grand Final. 
Reuse content