The mighty Tuilagi clan will defend to the death their status as the first family of Samoan rugby – not that Freddie, Henry, Alesana, Manu and the rest are likely to be the ones doing the dying should there be any serious argument.
But they are no longer the unchallengeable rulers of all they survey. If, as seems perfectly possible, three Pisi brothers take the field against England at Twickenham next month, the title will at least be up for discussion.
George Pisi, pound for pound the best outside-centre in England since joining Northampton from the New Zealand provincial side Taranaki in 2011, has played Test rugby with his elder brother, the stand-off Tusi, who currently earns his corn in Japan. He has not, however, featured in the same Samoa side as his younger brother Ken. As Ken also plays for the reigning Premiership champions and is beginning to look every bit as accomplished as George, the chances of a full gathering of the Pisi boys in south-west London on 22 November are growing by the day.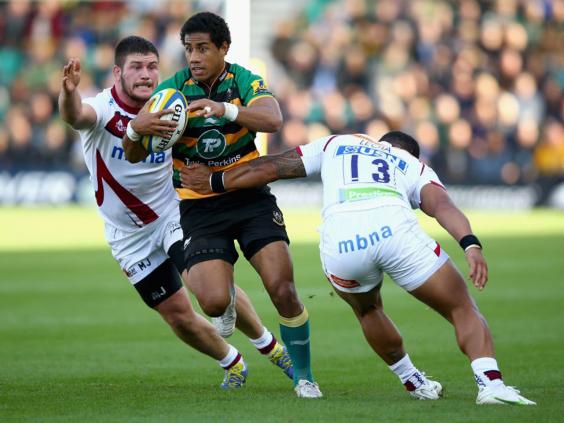 "It would be a dream come true, especially for our parents," says George as Ken, sitting next to him, nods sagely. "I was born in the islands, as was Tusi, while Ken came along after my dad moved us to Auckland in search of a better life for us all. The fact that we're enjoying that life has a lot to do with the opportunities we had growing up in New Zealand, but we're still Samoan.
"While I'd love to think our folks will be there at Twickenham if we're all selected, they're probably looking to make the trip for the World Cup next year. My dad doesn't find flying an easy thing to do. For him, the flight back to Apia is tough – and that's only three and a half hours."
George and Ken spend a lot of their time rubbing shoulders. On the field, the younger brother – "the little one", as he's known – plays on the right wing, next to his sibling. Off the field, they socialise heavily with another of what might be called Northampton's Samoan Sainthood, the scrum-half Kahn Fotuali'i, and two further first-teamers with a South Seas background: the prop Salesi Ma'afu, a Wallaby international of Tongan and Fijian descent, and the fearsome Samu Manoa, born in America to Tongan parents.
Anyone watching the performances of the Pisi brothers as the Midlanders obliterated Sale in a one-sided romp at Franklin's Gardens last weekend – a well-nigh perfect preparation for today's European Champions Cup visit to the Parisian moneybags club Racing Métro – must have been struck by the depth of their mutual understanding. George's try was created by Ken, shortly after Ken had scored an individual gem of his own. "His was a solo score, mine was a combined effort," admits George. "But my dive over the line was better than his."
Brotherly rivalry has always played its part in their relationship. "When Ken was small, Tusi and I used him for tackling practice," says George. "Later, whenever we were on opposite sides in a game, I had this extra- special feeling of just wanting to smash him."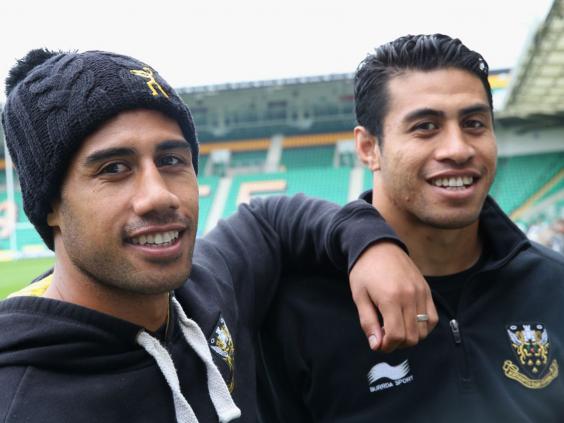 But they much prefer knocking seven bells out of opponents in common cause to tearing each other limb from limb, and there are plenty of major-league opponents on the horizon: a full European tour over the coming weeks, together with – glory be – a landmark meeting with the All Blacks in Apia, the Samoan capital, next July.
To their great shame, the reigning world champions have never played a Test in the Pacific islands, even though modern New Zealand rugby has been defined, at least in part, by Samoans, Tongans and Fijians. The excuses have ranged from the dismissive ("we can't fit them into our terribly busy schedule") to the profoundly arrogant ("we'd only humiliate them, so what's the point?"). Now that they have been shamed into doing the right thing, the Samoan community on both sides of the water is agog with excitement.
"It's going to be the biggest thing – absolutely massive," George says. "The All Blacks are the dream team for us, the players we look up to in rugby, so for our people to see them live in our capital will be something to treasure.
"Even when Sonny Bill Williams [the celebrated New Zealand cross-coder] went to Samoa on his own, the place was in chaos. For the whole team to go there... well, you can imagine. I'm told the flights to Apia around the  date of the game are already full. The place will be at a standstill."
Could Samoa possibly win the game? Both brothers smile at the thought. "When you play rugby in Samoa, anything can happen," says George. "The All Blacks will know they've had a game, for sure.
"I reckon England will also know they've been in a match when we go to Twickenham. There'll be some Northampton boys in their team – people like Dylan Hartley and Courtney Lawes and Tom Wood – so the banter will be good. They'll be shitting themselves at the thought of a few Samoans flying through the air in their direction."
England may not be the only ones given cause for concern between now and the end of the World Cup in a year's time. At the last global gathering in 2011, when George and Tusi teamed up in midfield, Samoa would probably have made the knockout stage at the expense of Wales had they been better organised. Many good judges felt they were talented enough to reach the semi-finals. Was that a high watermark for them, or will they be better still in 2015?
"I think we'll be better," George replies. "Most of the experienced players from 2011 are still around, we've had some strong players break into the squad, we have good coaches with Super Rugby experience and the Test programme leading into the tournament will work wonders for us. If we can stay free of injury, we'll be a threat to people.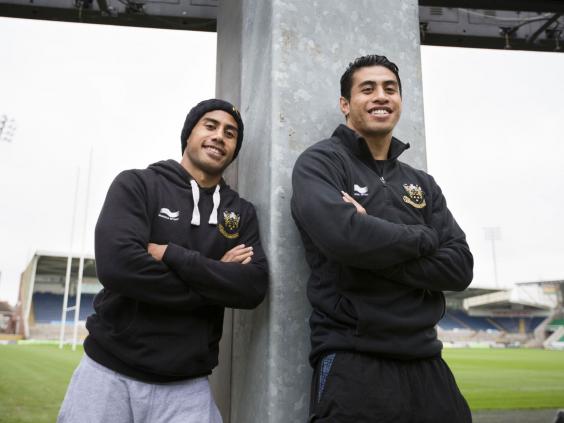 "Of course, we're a work in progress. We haven't always had the benefit of good professional organisation, we don't spend much time together as a squad and we always seem to be making do with the bare minimum compared with other national sides. But back home, we're known as the 'people's team' and that's important to us. We respect those who support us and feel we owe it to them to be the best team it's possible for us to be.  The older people in the squad drive that message very hard, because it's vital that the younger guys understand what it is we're playing for."
George is one of those "older people" now. At 28, he stands alongside Fotuali'i, the wing David Lemi, the lock Daniel Leo and the flanker Maurie Fa'asavalu as one of the go-to figures in a party containing seven uncapped players. If a wing as comfortable with his own game as Ken still looks up to him – and he most certainly does, for all the knockabout fun they have together – we can be sure the rookies will shut up and listen when required to do so.
"I do feel I've grown as a player during my time with Northampton, and that the club has grown too," George says. "There's a greater cameraderie here than when I first arrived, a stronger sense of togetherness. I'm not saying the players didn't enjoy each other's company back then, but I think there's more of a buy-in from everyone involved now that we finally know what we're about.
"I hope that comes through in this European campaign. We wanted to be the best  club in England and we managed it last year. To be the best in Europe would be really something."
--
Beyond the islands - five brotherly clans
The Pisi family are not alone in producing wonderful rugby-playing offspring. Here are some other tribes from around the rugby world:
The ground-breaking Francescatos (Italy)
Four of these six brothers of Sardinian descent played Test rugby: Bruno, Nello and Rino, who all featured against Romania in 1981, and Ivan, the youngest, who scored 16 international tries and went to two World Cups.
The sublime Ella boys  (Australia)
Mark Ella was the presiding genius, an outside-half who changed the way people thought about rugby, but his twin Glen and younger brother Gary  were also touched with something special.
The Du Plessis factor (South Africa)
Like the Francescatos, the Du Plessis brothers from the Western Cape were backs: Michael and Willie operated at centre, Carel on the wing. To have one Springbok in the family is an honour. To have three...
The lionheart Wallaces (Ireland)
They covered the waterfront, those boys from Munster: Richard was a wing, Paul a prop (below) and David a flanker. All three played for Ireland, all three toured with the British & Irish Lions – a unique achievement.
The Skofic supremacy (Slovenia)
Slovenian rugby is some way down the union food chain, but when five brothers play an international, we should take notice. Jack, Max, Archie, George and Frankie (who live in Lancashire) faced Bulgaria in April.
Chris Hewett
Reuse content