Stuart Lancaster, an England head coach fast running out of front-line forwards ahead of the Six Nations opener with Wales in 11 days' time, raised an eyebrow or three when he argued that the national team could play Bath's stellar brand of attacking rugby without the aid of either of the Premiership club's stellar attacking centres. This much is certain, though: the World Cup hosts could pick Fred Flintstone and a pterodactyl in midfield and still produce the kind of stuff that took the West Countrymen into the European quarter-finals on Sunday.
Glasgow played all the rugby – at least, all that was visible to the naked eye, as opposed to the subterranean kind employed by the men at the sharp end of the scrum – and lost. By millimetres.
In a breathless conclusion, the full-back Sean Maitland and the outside-half Finn Russell went within an arm-stretch of the Bath line, and it will forever remain a mystery how they failed to level things up and earn themselves a kick to win both game and pool.
Even so, the lingering memories of a fascinating encounter will be entirely Glaswegian in nature – or at least, Fijian-Glaswegian. Leone Nakarawa, a full-time professional for barely a year but already capped by the South Seas nation, did some astonishing things on the blind-side flank, most of them one-handed, and if the Bath line-out forwards ever see him again it will be many years too soon. By contrast, the West Countrymen are planning to see rather a lot of the scrum-half Niko Matawalu, having signed him for next season, and they now know all about the energy he brings to a contest.
There were two tries apiece: a couple of poetic efforts from the visitors, through the centre Alex Dunbar and No 8 Richie Vernon; a couple of less high-flown ones courtesy of the Bath pack, who claimed penalty tries from a line-out drive and a scrum. But for the home side's complete  command of the darkened recesses – the starting front row of Paul James, Rob Webber and David Wilson established the superiority; the replacement three of Nick Auterac, Ross Batty and Henry Thomas built solidly upon it – they would surely have lost.
It was a far cry from events in Toulouse seven days before, when Kyle Eastmond and Jonathan Joseph tripped the light fantastic against one of the most potent back divisions in northern hemisphere union. If those self-same centres did not trip over and fall flat on their faces against intelligent, quick-witted opponents, they were certainly out-swaggered. Not that Eastmond lasted long enough to play badly: much to his frustration, most of it vented in the direction of the medical staff, he was dragged off the field five minutes in following a muscular burst from the impressive Maitland. Was it his shoulder? His wrist? A Jonny Wilkinson-type "stinger"? No one seemed quite sure, but he looked  anything but comfortable.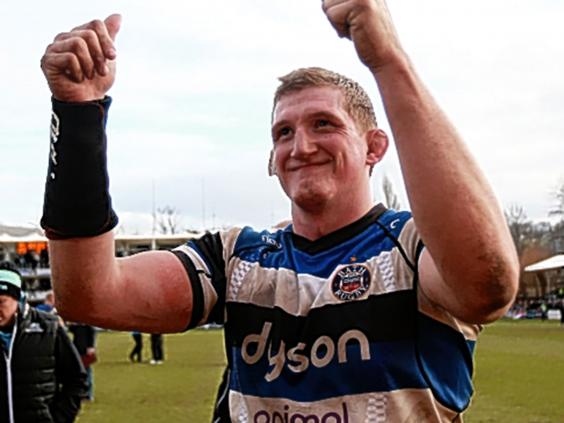 Mike Ford, the Bath head coach, did his best to hide his sheer relief beneath layers of "best of a bad job" positivity. "We're into the knock-out stage as group winners, having lost our opening two games: some achievement, given that it's never been done before," he said. "I'm glad we found a way to win this one because it was so different to Toulouse: last week was the dash, this week was the grunt. But Glasgowwere excellent. Gregor Townsend is a coach who causes problems with his thinking about the game."
Townsend, a button-bright player who brings the same kind of brainpower to his back-room work, is resourceful as well as clever: how else could Glasgow have competed so strongly with so many first-choice forwards – not to  mention such creative spirits as the outside-half Duncan Weir and full-back Stuart Hogg – on an eye-wateringly long casualty list? Running the combative hooker Fraser Brown at open-side flanker was a selectorial masterstroke, while some of the timing of Dunbar, Maitland and Mark Bennett in open field was a model of training-ground precision.
"We were a couple of inches away from winning the game and I'm pretty proud of that," said Townsend. "We showed a lot of character under the  circumstances. We also showed how we aspire to play."
By contrast, Bath, who aspire to something very similar, looked short of ideas and just a little leaden-footed, although both Joseph and Anthony Watson had their moments with ball in hand. Not that Watson, the newcomer on the England wing, currently bears much resemblance to the natural finisher he is widely thought to be. Having failed to ground the ball for a try in Toulouse, he committed the same venal rugby sin yesterday when, freed by Ford and Joseph off a driving line-out, he somehow managed not to claim the five points on offer. But when all was said and done, what the forwards did was enough: narrowly focused and downright ugly, but enough.
"If we'd gone out, there would probably have been some warm-weather training somewhere," said Ford the Elder. "But we want to be in the big games, and now we're in one." As the great Bath sides of old would no doubt have said: "Never in doubt."
Bath: Tries Penalty tries 2; Conversions Ford, Devoto; Penalties Ford 2. Glasgow: Tries Dunbar, Vernon; Conversion Russell; Penalty Russell.
Bath A Watson; H Agulla, J Joseph, K Eastmond (O Devoto, 5; Ford, 71), M Banahan; G Ford (S Burgess, 65), C Cook (P Stringer, 62); P James (N Auterac, 49), R Webber (R Batty, 49), D Wilson (H Thomas, 49), S Hooper (capt), D Day (D Attwood, 55), M Garvey, F Louw, L Houston (C Fearns, 62).
Glasgow S Maitland; T Seymour, M Bennett, A Dunbar (P Horne, 45), D T H Van der Merwe (S Lamont, 62); F Russell, H Pyrgos (N Matawalu, 69); G Reid (J Yanuyanutawa, h-t), P MacArthur, M Cusack (J Welsh, h-t), J Gray, A Kellock (capt, J Eddie, 62), L Nakarawa, F Brown, R Vernon.
Referee J Lacey (Ireland).
Reuse content