The last time Freddie Burns played a serious game of hometown rugby, the experience was entirely foreign to him. "I'd say it was the worst day I've ever had on a rugby field," he mutters, squirming in his chair as he reflects on the 45-0 shellacking he and his new friends from Leicester suffered at the hands of his old mates from Bath on the banks of the River Avon almost exactly eight months ago. "We were as bad as they were brilliant."
Burns, born and raised a couple of miles from the scene of that grisly September massacre, knows everything there is to know about those particular B-words, for they have been at the heart of the outside-half's game since he made an eye-catching debut for England in the record victory over New Zealand at Twickenham in 2012. When, on a good day, he bamboozles the opposition with a conjuror's sleight of hand and the trickery of a master illusionist, he might be a red-rose version of Carlos Spencer, that wondrous All Blacks sorcerer of recent vintage. On a bad day? Try Frank Spencer instead.
One of the drivers behind Burns' decision to abandon the West Country – following a rugby upbringing in the Bath environment, he had first moved to Gloucester in search of Premiership rugby and played some exhilarating stuff there until things turned sour last season – was a growing realisation that if he was to make the best of himself, he needed to start playing on solid foundations rather than shifting sands. Where better than Leicester, a club constructed on fundamentals rather than froth?
The move appears to be working for him, so his performance in Saturday afternoon's Premiership semi-final against Bath at the Recreation Ground could be one of the chief fascinations of this long and compelling domestic campaign. Not least because his direct opponent will be George Ford, the one-time Leicester No 10 whose move in the opposite direction has propelled him into the national team and made him favourite to spearhead the red-rose challenge at the home World Cup this autumn.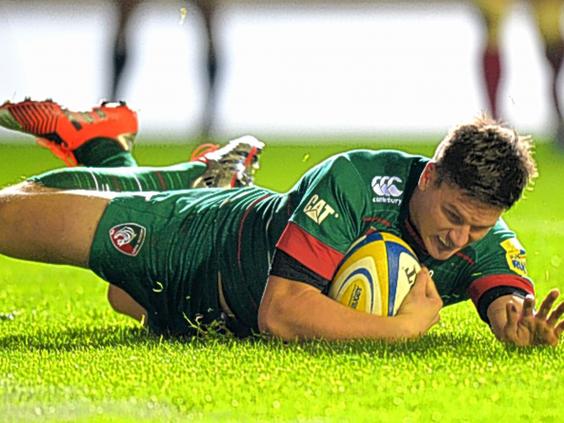 When he opted for a tour of duty in the Midlands, the common assumption was that Burns' career would develop in the following way: he would continue with the Fancy Dan approach until he threw a dodgy pass or kicked away some hard-won possession, at which point he would find himself on the wrong end of an almighty rollicking from his jug-eared forwards and be forced, under pain of death, to change his ways. Did we assume correctly?
"I'm sure there's been a little bit of that going on," admits the 25-year-old, wearing the broadest of grins. "There was a moment against Northampton the other weekend where we were defending in our own half while they were down to 13 men. I found myself tight to the touchline but managed to stay in-field, and chuck it inside. We ended up playing a few phases, then there was a forward pass on our 22 and the forwards gave me the 'just effing kick it' look. Which was fair comment.
"It's good for me to get the stare now and again, because it tells me that I don't have to win the game on my own – that I don't need to do the maverick thing all the time. If the big wide pass or the chip over the top is on, I'll still do it. But I also understand more about getting the balance right. I'm starting to receive some compliments about my game management and my kicking strategy and, at this stage, I find that more satisfying than being congratulated for the other stuff.
"There have been some difficult times here and I could have lost my head – allowed myself to get rattled and thrown my toys out of the pram. Instead, I've learnt that if the forwards want their 10 scrums on the opposition line, that's what they must have. Nowadays, I just stand there, cheering them on." All of which sounds like a Burns sell-out. "Yep," he says, still smiling like a Cheshire cat.
He is very much a Leicester man now, although the Burns family continue to live in Bath, on the eastern outskirts of the city near the old club training ground at Lambridge. "My dad still plays rugby at 56," he says. "Quite often, he can't watch my games because he has a match of his own. The last time he played, he stood on someone and got himself sent off.
"I do enjoy going back to Bath and sometimes I stay down with the family for a couple of days, but this time, I'll be on the coach back to Leicester with the team, whatever happens in the match. I do have this massive focus on not getting wrapped up in the hometown thing although, to be frank, I feel more sentiment playing against Gloucester than I do against Bath. I never played first-team Premiership rugby at the Rec. I played a lot of it at Kingsholm."
All the same, will it not feel strange for a Bath lad, born and bred, to be wearing the Tiger-striped shirt of Leicester on a high-voltage occasion like this one? Burns shrugs his shoulders at the question. "Six months before I signed for Gloucester, I could never have imagined playing for Gloucester," he replies. "Six months before signing for Leicester, I could never have imagined that either."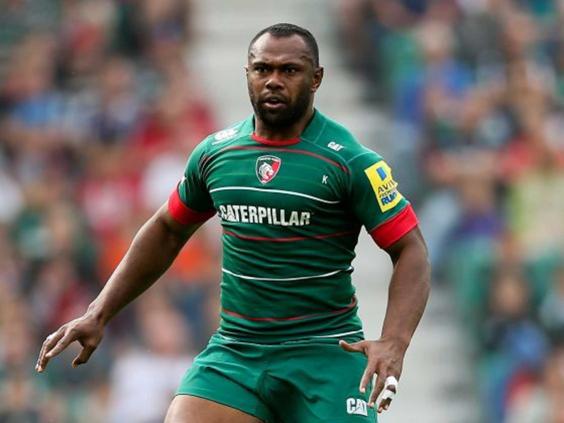 Leicester's approach today will leave nothing to the imagination. Even though they boast such bright attacking sparks as Burns, the scrum-half Ben Youngs, the centre Mathew Tait and the wing Vereniki Goneva, the Tigers have been a blunt instrument with ball in hand: a miserable tally of 37 tries across the 22-game regular season – everyone else in the top half of the table managed at least 70 – tells its own story. Only London Welsh, clueless as well as winless, scored fewer.
Yet they finished third, thanks to their extreme parsimony in defence. Back in the day, Burns would have considered the balance to be completely wrong. Now, he sees some merit in simply slamming the door and turning the key.
"We have not," he readily acknowledges, "played much in the way of champagne rugby, but I came here because the best thing for my career was to have a chance of being in the big games, and when I look for justification, I find it in the fact that our season is still alive. There's been stuff flying around about this team all year: we've been rubbish, apparently. And here we are, in a semi-final. What's more, this is knockout rugby now. It's a different thing to that 45-0 game."
Needless to say, he believes he can make up the ground he has lost to Ford on the international front and can offer some supporting evidence. He has made five Test appearances, three of them against the All Blacks, and was a conspicuous success in four of them. He has the requisite skills, patently. What he does not have is a recent body of work behind him, hence his omission from England's 50-strong World Cup training squad.
"There's a feeling of frustration about England, of course there is," he says. "But it's frustration with myself, because I was the one who let my form slip. I still think I can do a good job in the shirt and I haven't given up on the World Cup, but George deserves to be where he is after the way he's played. He's quality. We went on an England Under-18s tour together when he was about 12! He was always the one with talent to be bumped up through the age levels."
Last season, operating behind a powder-puff Gloucester pack, he outplayed Ford in a league game at the Rec and nearly won the game against all rugby logic. Today's contest has a different feel to it: if Ford seems unlikely to be outplayed by anyone, Leicester will be anything but conciliatory up front.
"We're so excited about this match," says Burns. Seldom has so innocent a remark sounded quite so threatening.
Reuse content