England prospect Henry Slade sashayed his way to 21 points as Exeter won their fourth Premiership match in a row.  Hotly tipped for a Test call-up, Slade remains confined to doing fine things for his club, who have revelled in this Six Nations period while other clubs in the play-off places have lost star players and stuttered.
Meanwhile, who weeps for London Welsh? Their second relegation from the Premiership in three seasons will be confirmed if Newcastle beat Leicester today or draw with a try bonus.
Welsh's horrific campaign - they have played 27 matches in all competitions and lost the lot - is damning of either the current system of promotion and Premiership funding, or of the club's misplaced optimism that they could hold their own with 26 signings made upon promotion last summer, and only three players in yesterday's 23 left from their previous Championship-winning team of three years ago.
The possible scrapping of relegation concurrent with expansion of the Premiership to 14 teams will next be debated at the league's board meeting on Tuesday. If Bristol and Worcester are included, it would be up to London Welsh to make a case to be the 14th, while Yorkshire Carnegie are among a small number with similar claims.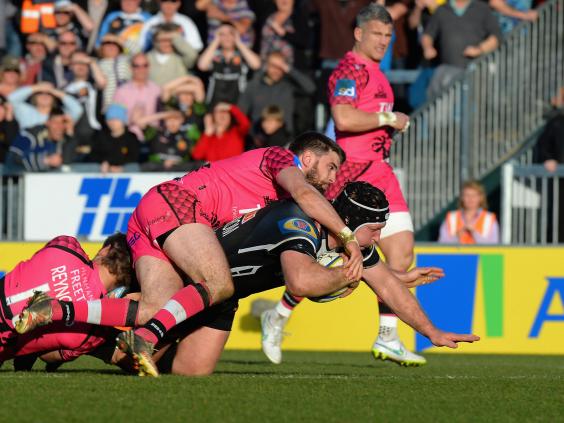 Sandy Park was quietly stunned at the end of the first quarter, when London Welsh led 12-6 with two tries by prop Nathan Trevett and wing Seb Stegmann. There was another try by Stegmann right at the end and Welsh might have doubled their points for the season from one to two if Nic Reynolds had gathered Tristan Roberts's dab behind the posts just before half-time.
Exeter had four tries of their own between the 23rd and 39th minutes by Will Chudley, Tom James, Jack Yeandle and Matt Jess. London Welsh coughed up penalties in the tight like coins from a fruit machine stuck on the jackpot. Exeter were awarded two penalty tries at scrums, with No 8 Thomas Waldrom collected another two to take his league-leading total to 12. Slade and Ian Whitten also crossed to make it 10 Chiefs tries in all.
Teams:
Exeter: P Dollman; M Jess, I Whitten, S Hill, T James; H Slade (G Steenson, 55), W Chudley (D Lewis, 55); C Rimmer (B Sturgess, 58), J Yeandle (L Cowan-Dickie, 52), T Francis (A Brown, 58), D Mumm (capt, M Lees, 55), D Welch, D Ewers (B White, 58), D Armand (B McGuigan, 69), T Waldrom.
London Welsh: E Kear; S Stegmann, N Reynolds, J Tincknell (T May, 60), A Awcock; T Roberts (W Robinson, 41), R Lewis (A Davies, 41); N Trevett (E Aholelei 53), N Morris (R Elloway 53), T Vea (J Gilding, 27), B West (M Corker, 60), J Down, L McCaffrey, R Thorpe (capt), O Fonua (C Hala'ufia, 60).
Referee: RC Maxwell-Keys (Staffs).
Reuse content