Giant but childlike, frighteningly young but full of experience, George North seems to be so many ages at once.
His birth certificate says he is 22, and Welsh. Some other facts are that he already has 42 Wales caps and 20 international tries to his name, and is a conquering Lion. Given such success, he has something to say that might frighten his many opponents, who are already more than a little intimidated by him.
"This is the year that things are going to change," he says. "It is my time to start taking [on] the role of a senior player."
This year starts tomorrow night, when his Northampton Saints team kick off the new Premiership season as champions with a home match against Gloucester. It will roll right through the visits of New Zealand, Australia, South Africa and Fiji to the Millennium Stadium, and then on to a home World Cup, where Australia and England stand between Wales and a place in the knockout stages.
"I still sometimes feel it's weird when I start showing other people how to do stuff on the pitch, because I always think it's not my position to do that, I'm not the senior one here," he says. "But I think now I have done enough to be able to say to someone, 'Actually you've done that wrong'. This is how I'm going to do it. Hopefully, I can impart some wisdom on the younger players, some of whom might be a bit older than me. You've got to look past the age thing."
For most 22-year-olds, it would be the biggest year of their lives by some margin, but North has already done so much – he has played in a World Cup and won a Lions tour to Australia in 2013. It was he who, in picking up Australian winger Israel Folau in a fireman's carry and charging up the pitch with him, gave the tour its defining photograph. But his unrelenting schedule took its toll, to the point where he took his rest extremely seriously.
"I had five weeks completely off this summer. I needed it," he said. "Someone told me I'd played 41 games in 12 months. That is well above average.
"For the first two weeks I actually refused to run. I wouldn't run at all, not one step. Running is part of my job, so I refused to do it. I walked everywhere, and at a slow pace too. I took that seriously. If I'd had to get on a bus, I'd have let it go by. I think it annoyed some people."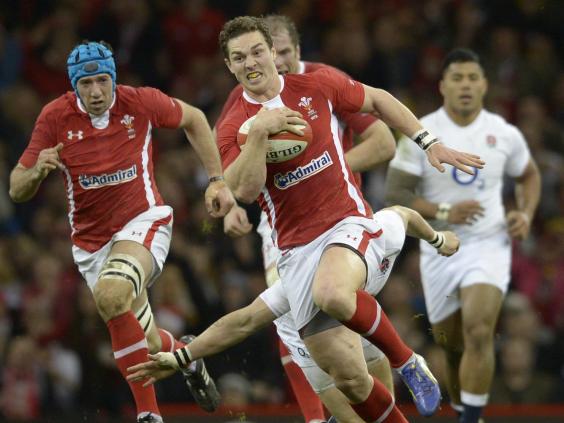 So tired was he by the travel involved in playing rugby, he spent the entire five weeks at home in Wales. "I played a lot of golf. I didn't get very good at it, though. So it wasn't much more than just standing in random fields getting angry.
"The rest of the time, I was just out with my mates, having a few beers, being an absolute prat of a bloke. I've got a good crop of mates around me that do tend to keep me grounded. None of it could go on any sort of social media site, mind."
North, now a BT Sport ambassador, admits the stresses of last season completely drained him. "It's a very stressful environment day in, day out – a lot of testosterone flying around. And then if you don't perform on the weekend, you quickly find people will find you and tell you. People are very open to tell you their views."
This season, after beating Saracens to the championship by winning the Premiership final 24-20, everybody is looking at Northampton as the team to beat. North, for whom last year was his first at the club after he signed from Scarlets, was crucial to that success.
"Once you're at the top of the food chain, everyone wants to catch you. Now we are the champions, it is about how we drive ourselves forward when everyone else wants to see you fail," he says.
"On the outside, people want to see if we can retain the quality of the squad, the individuals that will drive us forward and keep us going. We have to make sure we keep to our own standards, keep our house clean, and make sure everything comes from within. That is the only way you're going to get good results."
It has been a busy summer of transfers between England's rugby clubs. "Leicester have got a lot of new players coming in so it'll be interesting to see how they get on, Saracens are always ones to look at, Harlequins have got a few players. I will be very interested to see the first weekend's games, to see how the coaches are picking their teams. I think probably the same top six will be competing again. But it's going to be a tough old run."
North will only admit to having a distant eye on next year's World Cup. There is the small matter of the autumn internationals first, where Wales will line up against the world's best, and seek to show they can play at their level, a task in which historically they have had only sporadic success.
"We want to win all four [games]. And why not? We want to be one of the best teams in the world," he says. "We want to be up there competing, to go out and win every game. But, obviously, I think if we take three wins out of four, that'd be OK for us. But you don't go in to any game thinking you're going to lose."
He admits it is difficult to work out quite what he wants to achieve, having done so much in his career already, but with his best years seemingly spread out before him there is plenty still to aim for.
"When I was at college, I had this list of things I wanted to achieve, like to play in the Millennium Stadium, to play for Wales, and then I'd pretty much done the lot within six minutes of leaving home," he says. "It was one of those whirlwind things. I got picked up, I played, and there I was.
"I've been so busy since then I haven't had time to sit down and think about what I want to achieve. I just want to find some form, play some games and do the best I can for my club and my country."
On the pitch he is so large and so imposing he can seem inhuman. Yet to talk to, he perhaps seems even younger than his 22 years. "When I phone my mum, she tells me, 'You're tired, go to bed'," he admits.
He is also known to "get in trouble at home for not washing the windows, or seeing my aunties, or cutting the grass".
If his promised, newly found assertiveness in communicating with his team-mates makes its way on to the rugby field and into the domestic sphere, the Norths and all his opponents should perhaps start panicking now.
BT Sport is the exclusive home of Aviva Premiership rugby, broadcasting 69 games this season including the London Double Header, Saturday from 1pm.
Reuse content