Two words printed on a sliver of card, slotted into a small metal frame on a wooden door in a changing room at London Irish Rugby Club, announce the rehabilitation of Harry Allen.
The simple display of his name on the first locker from the left, declaring his inclusion in the squad to take on the Exeter Chiefs at the Madejski Stadium today, confirms his position as an Aviva Premiership player and a professional athlete. Many would covet that status, few have the talent to achieve it. It is just over a year since Allen thought he had thrown it all away.
"It's quite weird to relive now  because you try to bury it," says Allen, as he begins  to tell the tale of his 12-month ban from playing rugby for taking cocaine, and the "second chance" of his recent return to a forgiving rugby fold. "The day I was told about the positive test, I drove home, I told my mum and then waited for my dad to get in from work. My dad's my biggest fan. I won't forget the look on his face when I told him. That's enough for me not to ever do anything that stupid again. To feel as though you've let someone down that much, it's one of the most prominent things. And I broke down a bit. Suddenly when it all falls on top of you, you think, 'Actually, I've potentially ruined my life'."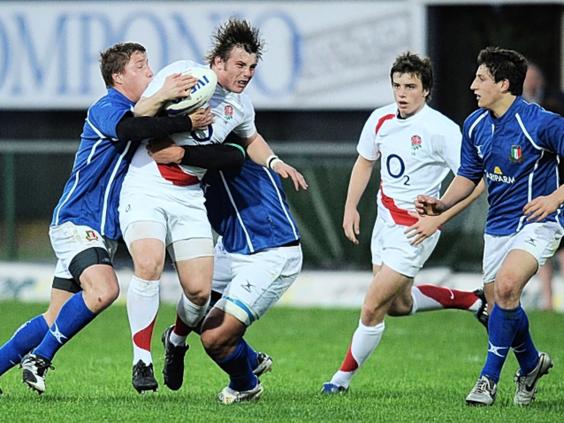 Allen was 21 at the time. In the clinical lingua franca of doping, his sample – he was randomly selected for a test after playing for his former club Harlequins in a second-team match at Northampton in November 2013 – contained benzoylecgonine, a metabolite of cocaine, which is "a non-specified stimulant" on the World Anti-Doping Agency's list of prohibited substances.
Emerging from school in Kent, he had played for England's Under-16 and Under-18 teams captained by Owen Farrell and including George Ford and the Vunipola brothers, Mako and Billy, but whereas these players had kicked on to senior, full-cap status, Allen had gone from Saracens' academy and a salary barely in five figures into the lower pecking order at Harlequins.
He was not the best of the club's four hookers. Still, with injuries hitting the squad that autumn, Allen was good enough to sit on the bench for two important Premiership and European matches in the fortnight following the drugs test – before the results came through. Even as he pulled on the famous Harlequins multi-coloured jersey, the cold certainty that the test would be positive was gripping his heart.
"I realised, I knew, and I played every game as if it were my last," he says now, while not going into detail about his offence. "People make mistakes at the turn of a moment. Before you even know it, you've done something stupid. It wasn't a habit; I made a mistake. I regretted it straight afterwards, I beat myself up about it. There were very personal circumstances which I struggled with. Things I've worked very hard to put to bed and put behind me. That's all I really can say about it."
Quins terminated Allen's contract on his 22nd birthday, 19 December 2013. That Christmas, he recalls, was "really weird and I was a bit void". Yet in his ending there was a beginning. The disciplinary panel cut the mandatory two-year ban in half, indicating they gave credit to Allen's plea of no significant fault or negligence. Consciously taking a cue from Matt Stevens (pictured), the prop who was banned for two years for taking cocaine, but returned to play for Saracens, England and the Lions, Allen kept fit in mixed martial arts. It also satisfied the competitive animal in him.
He reached a light-heavyweight title bout as a semi-pro cage fighter. "It's a completely different feeling to rugby," Allen says. "When you step into the cage, you're on your own and there's a lot more adrenaline. But you still get that buzz from performing in front of people. There's a lot more to it than it just being a man going in and hitting people hard. It's more about how you technically go about it. That was important to me – that I tried to achieve something in that year."
As the footballer Ched Evans has discovered,  different crimes have their own code of opprobrium. Rugby gives first-offender recreational drug users support and education. If Allen's test had been out of competition, it would have been kept confidential. He has no truck with steroids cheats: "Everyone's getting big, everyone's getting stronger, but there are strength and conditioning teams in place to help you achieve what you need to achieve, naturally. The people who maybe do go for that [doping] are people who just want to take short cuts."
Allen rang Harlequins last summer: not to complain or ask for his job back, just to say thank you. Ben McGregor, the Rugby Players' Association rep for Quins and Wasps, had been Allen's "rock", keeping tabs on him and just listening. "I don't think I'd have got through it as well as I did if he hadn't been there," says Allen. His mum and dad, Jane and Harry senior, quickly forgave. They gave their son "every kind of support – financially and emotionally".
And the other key figure was Nick Kennedy, the former England lock and a Harlequins team-mate on that fateful night at Northampton. Now working at London Irish, who had four hookers out injured, Kennedy called Allen last month and offered him a second-team match, against Quins coincidentally, and a week-to-week trial. Allen has since played twice for the first team, including 80 minutes against Saracens  last weekend. There is talk of a contract if he can keep on impressing.
"Everyone was really warm and welcoming after the Saracens game," Allen says. "It was, 'Oh mate, good to see you back, we can see you've been working hard, well done, we're happy to have you back'. And it was a shock because you never know really what sort of reception you're going to get. No-one shunned me."
Mixed martial arts is short and sharp; it gives you singular bumps and bruises. When Harry Allen woke last Sunday, after his Premiership performance of 24 punishing scrums and 10 tackles, 11 line-out throws and running and rucking and mauling, he felt "soreness – just an all-round dull soreness". And he couldn't have been happier.
Reuse content