The battlegrounds of the Heineken Cup are too numerous to mention by name, although the one in the boardroom promises to be the most bloody if the increasingly extreme "off-the-record briefings" are anything to go by.
On the eve of this year's 19th and perhaps final tournament, there were brazen attempts by those supporting the continuation of the current competition to question the viability of the English clubs' broadcasting deal with BT Sport. Damian McBride would have loved it.
There will be more "diplomatic" spirit in the air at Ravenhill this evening, where Leicester, once the undisputed masters of Heineken Cup rugby but a declining force in Europe since their last appearance in the final in 2009, renew their rivalry with the hard men of Ulster.
The Midlanders have endured some horrible nights in Belfast: if they thought their 33-0 defeat in 2003-04 was as bad as it gets, they were disabused of the notion two seasons ago when they went down 41-7. With the home side feeling sufficiently confident to leave their chief playmaker, the Springbok scrum-half Ruan Pienaar, on the bench, the portents are not good.
Yet the real challenges for the Premiership and Pro 12 sides will be in France, where home advantage has been the theme of the campaign to date. Of the 63 matches played over the first nine rounds of the Top 14 competition, only seven have been won by the visiting team – and three of those victories have been in Biarritz, a club in freefall. Of the seven Tricolore sides in the Heineken Cup draw, only Perpignan have let a game slip in front of their own supporters.
Elsewhere, the story is very different. In England, away victories are running at well over 40 per cent and seven of the 12 top-flight teams have been turned over on their own mudheaps, including Exeter, Gloucester and Harlequins – all of whom have qualified for the elite European tournament. In the Pro 12, a third of the matches played so far have gone the way of the travelling side.
If the situation in France is not surprising – the overwhelming dominance of home-town teams is wholly in keeping with the long-cherished tradition of club rugby in that bewitching country, where players still talk of the "shame" of losing on their own soil – it is still alarming for those who must make the trip. Tomorrow's game between Castres, the reigning French champions, and Northampton at Stade Pierre Antoine will be hugely instructive, for if the Saints fail to make a fist of it with England internationals in virtually every department, there will be a possibility of the Premiership contingent drawing a blank.
Of course, Northampton could lose in the Languedoc and still qualify for the knockout stage; indeed, both they and Saracens have legitimate designs on a place in the last four. But the way the runes are reading right now, it is the French who have the winning of the title between them. The holders Toulon, the 2013 runners-up Clermont Auvergne and the four-time champions Toulouse are all perfectly capable of laying hands on the trophy, as are the cash-rich Parisians of Racing Metro, despite their scratchy start to the domestic season.
According to the best coaches, success at this level is down to strength in depth. The top French sides are almost Herculean in this regard. Toulon can pick Jonny Wilkinson, Matt Giteau and Mathieu Bastareaud in midfield and leave players as lethal as Frederic Michalak and Maxime Mermoz on the bench. Clermont's wings are Sitiveni Sivivatu, Napolioni Nalaga, Aurélien Rougerie and Julien Malzieu – any of whom would walk into England's starting line-up. Toulouse? They have Thierry Dusautoir, Yannick Nyanga and Louis Picamoles among their back-rowers, familiar figures who could easily be overshadowed by the enormous 22-year-old newcomer Gillian Galan.
Meanwhile, the committee room drips with bile. Thank heaven for the rugby.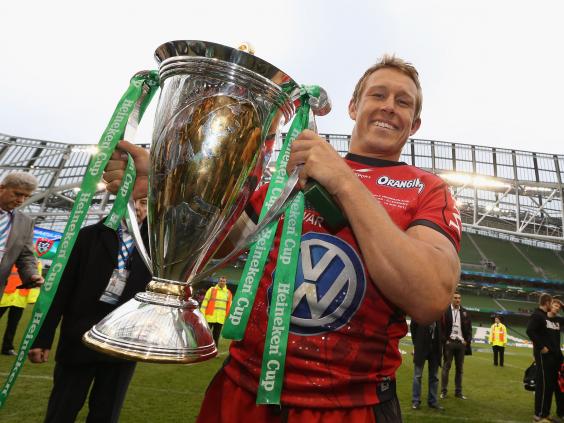 Pool 1: Castres, Leinster, Northampton, Ospreys
If the European ranking system introduced a few years ago was designed to protect the powerful from the powerful in the group stage, it is working about as smoothly as the Government's tender process for the West Coast Main Line. The French champions, the most accomplished side in Ireland and the strongest team in Wales, together with one of the Premiership's big three? Welcome to the pool of not feeling terribly well.
What do we make of it? Until we know what to make of Castres, any prediction is hazardous. Matthias Rolland's side are formidable at home – both Parisian clubs have lost at Stade Pierre Antoine this season, as have Toulon – and in the goal-kicking No 9 Rory Kockott they have a genuine star turn. Yet last weekend they travelled to Brive, a pioneering Heineken Cup side fallen on hard times (only once in the last 13 years have they qualified for the elite tournament), and went down 34-zip.
It may be that this time Castres will not give up the ghost the moment they taste defeat. In which case, we'll have a hell of a scrap on our hands. Leinster are sure to be surging from the emotional charge of Brian O'Driscoll's farewell campaign, while Northampton will be seeking to justify a significant outlay on two of the summer's most prominent Test Lions, the wing George North and the prop Alex Corbisiero. Ospreys, meanwhile, will attempt to demonstrate that the Welsh regions still matter. If not them, who?
Who goes through? Northampton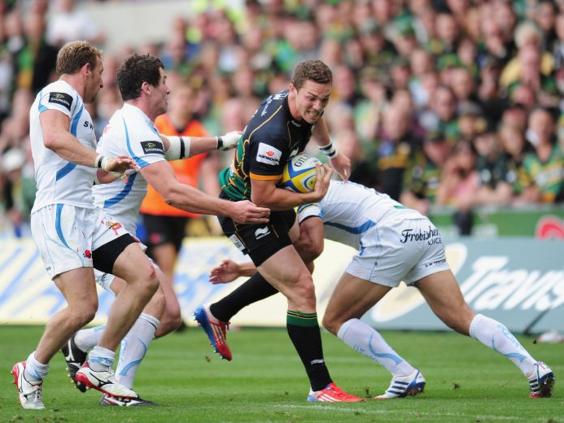 Pool 2: Cardiff Blues, Exeter, Glasgow, Toulon
This pool is tastier than it looks on first viewing, largely because both Exeter and Glasgow are capable of upsetting an applecart or two. It may be difficult to imagine Toulon, who as near as damn it have two full international teams crammed into a single squad, losing a single game, but the champions will not have it all their own way if the Devonians are on their game at Sandy Park and might well find life awkward at Scotstoun, where Gregor Townsend and company are far from generous hosts nowadays.
There are more than 20 Scottish internationals in the Glasgow squad, seasoned with a light sprinkling of Fijians and something just a little heavier in the shape of a magnificently bearded South African back-rower by the name of Josh Strauss. The man from the Western Cape has made a startling impact since switching hemispheres and, on current form, it is a pound to a penny that he will nail at least one man of the match award this tournament. It is also worth mentioning that Glasgow have won all five of their games in the Pro 12 and are two points clear at the top.
Sadly for the game in Wales, struggling in the face of a round-ball onslaught from the direction of the Premier League, the Blues are not in a happy position. But they can throw players as good as Leigh Halfpenny and Sam Warburton at this competition.
All is not lost.
Who goes through? Toulon
Pool 3: Connacht, Saracens, Toulouse, Zebre
There's always one soft-as-putty group somewhere and this little foursome fits so snugly into the category that we are talking purely about a twosome. Saracens and Toulouse should qualify with ease – they will kick themselves to kingdom come if something goes wrong – and both have it in them to win the title in May. The Londoners, unbeaten in the Premiership, have the squad depth to prosper after Christmas and while La Vierge Rouge do not have it all their own way domestically these days, they have enough cutting-edge players to propel them towards the business end of the tournament.
Take Gaël Fickou. The midfielder was one of the standout players at the Junior World Cup in South Africa back in the summer of 2012 and he has been slicing up defences right, left and centre at senior level ever since. If Toulouse play him alongside those spellbinding rugby alchemists Maxime Médard and Vincent Clerc and fortify their back line with a specimen as intimidating as Yoann Huget, they will barely be able to avoid doing something sensational.
Yet Saracens could beat them to the punch, especially as the meeting of the two sides at Wembley a week today comes a little too early for the French club's liking.
At the semi-final stage of last season's competition, Steve Borthwick and company were out-thought by Toulon, a year or so after being out-everything'd by Clermont Auvergne in the last eight. They are overdue a major Gallic scalp, and they know it.
Who goes through? Saracens and Toulouse
Pool 4: Clermont Auvergne, Harlequins, Racing Metro, Scarlets
If the two-horse race doesn't float your boat – even if the "horses" are of Prix de l'Arc de Triomphe standard – then this should do the trick. Clermont haven't lost a game on their own territory since Noah found himself listening to the first weather forecast in recorded history, and they are unlikely to surrender their extraordinary record to any of their pool rivals. Yet away from central France, the going will surely be tougher.
The challenge for the Londoners, the Parisians and the men of Llanelli – not quite a metropolis on the same scale, but a town every bit as rich in rugby heritage – is to find a way of beating Clermont at home and then snaffle a victory on the road elsewhere. On the face of it, Scarlets are the team least likely: their performances in the Pro 12 have been some way short of convincing and, now that George North has crossed the Severn, they are short of a major match-winner. But more often than not they find a decent performance from somewhere.
Quins have not been their old selves since their two most substantial tight forwards, James Johnston and Olly Kohn, moved on – the first to Saracens, the second into premature retirement – but they will still whip up a storm on a big European occasion at the Stoop. Racing Metro are the mysterious ones. Their big-name signings, including Jonny Sexton (below) and Dan Lydiate, have yet to lift them up a level, but when they finally click…
Who goes through? Clermont Auvergne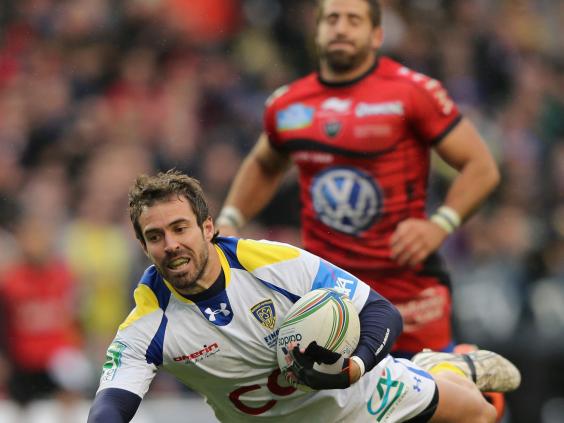 Pool 5: Leicester, Montpellier, Treviso, Ulster
Once again, the question must be asked: to what extent, if any, will the Frenchmen take this seriously? Montpellier are one hell of a side on a good day: they have a terrific rugby director in Fabien Galthie, an iconic forwards coach in the grand old Argentine hooker Mario Ledesma and some special players, including a rejuvenated François Trinh-Duc at outside-half. But this is only their third season in the elite tournament and it may be that Top 14 ambitions trump their European ones.
Much will be revealed this weekend when they travel to Treviso, who have beaten Perpignan, Biarritz and Ospreys in recent competitions. The Italians will not threaten the knockout stage, but they have the capacity to make life horribly difficult for their "superiors": indeed, the aggregate points difference in their two defeats by Leicester last season was no more than nine, and they were desperately unlucky not to beat the Tigers at home.
Ulster, finalists two seasons ago, have lost just a little of their swagger, but Ravenhill remains about as welcoming as the bottom circle of Dante's Inferno. Leicester go there tonight, the poor sods, and they can expect a rare old roughing up. If they come home with a losing bonus point and a clean bill of health on the orthopaedic front, they will consider it a result. Should they draw a blank and pick up another injury or two, their home game with Treviso in a week's time will be just a little uncomfortable.
Who goes through? Ulster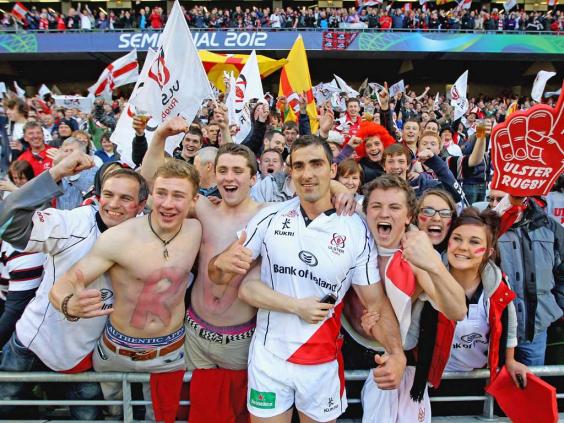 Pool 6: Edinburgh, Gloucester, Munster, Perpignan
One of the very worst ideas in rugby is to take on Munster with a powder-puff pack. Another rubbish plan is to try the same thing against Perpignan. This makes tomorrow's opening fixture at Kingsholm just a little perilous for Gloucester, who were stuffed by the Exeter forwards last weekend and must now be wondering, with considerable trepidation, what they might expect from the visiting Catalans.
Perpignan have made a rich contribution to the Heineken Cup down the years and it's good to see them back in the draw after two barren years in the Challenge Cup. They have an interesting British contingent – Alasdair Strokosch, Richard Haughton and the two Lukes, Charteris and Narraway – and are capable of making all their opponents sweat up front, in time-honoured fashion.
Munster also look handy, despite losing a league game to Treviso last month. Their quarter-final performance at Harlequins last season was exceptional – just how tough is that Peter O'Mahony bloke in the back row? – and they scared the living daylights out of Clermont Auvergne in the last four. On current evidence, it would be something less than astonishing if they played their way deep into the knockout stage once again.
In a perfect world, Perpignan's muscular style and Munster's furious energy would be balanced against the artistry of the Gloucester back division. In reality, Freddie Burns and company will find it devilishly difficult to prosper against opponents who know how to win the ball… and keep it.
Who goes through? Munster and Perpignan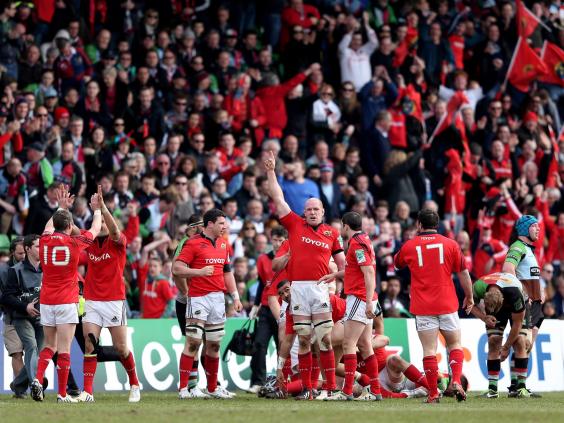 Reuse content