Toulon emulated Leicester and Leinster by retaining the Heineken Cup, and so completed the first half of the departing double sought by their celebrated talisman, Jonny Wilkinson. The final of the French Championship against Castres in Paris next Saturday will be Wilkinson's farewell; yesterday in Cardiff, his starry club were the first from France since Brive in 1997 to beat non-French opposition in landing the European title.
"It's a hell of a feeling," said Wilkinson, who kicked two penalties, two conversions of the quality tries in each half by Matt Giteau and Juan Smith, and a signature drop goal before he was presented with the trophy. "I can't say enough how proud I am to be part of this team, to have been able to play against teams like Saracens. Our season has got one week left but this is something I'll take with me forever. It's up there with anything in my career."
Of the right-footed drop, the No 10 who turns 35 today, said: "Sometimes it's a pot to nothing, thankfully that one went well. I couldn't have asked for more."
This was a meeting of the league leaders in France and England, each chasing a wondrous double with their domestic finals next Saturday, with a veritable rugby Hall of Fame under the closed Millennium Stadium roof led by the starriest from a nostalgic English viewpoint of Toulon's fly-half, captain and folk hero, Jonny Wilkinson.
In what was always destined to be a game of power, Toulon's scrum were twice penalised early on, but Saracens ceded some of the initiative with errors by Alex Goode, missing touch with a penalty, and Schalk Brits and Alistair Hargreaves failing to secure a line-out in a good attacking position. As collision followed collision, Saracens, in their first Heineken final and seeking to be the first English winners since Wasps in 2007, led 3-0 with a third minute penalty by Owen Farrell, the 22-year-old incumbent heir to Wilkinson's England fly-half throne, but Marcelo Bosch and Farrell each missed kicks from beyond the 10-metre line that would have pushed Sarries further ahead.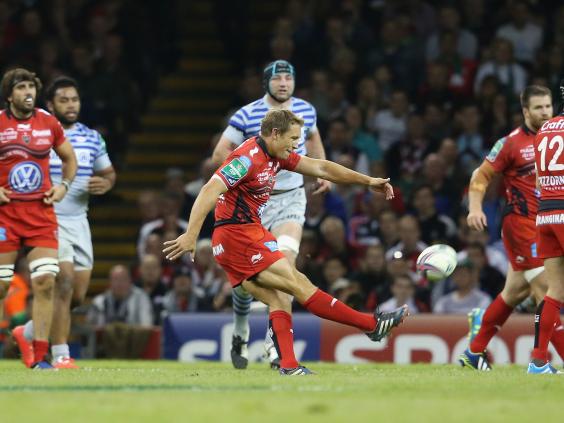 The second came in the 22nd minute after Juan Fernandez Lobbe – one third of a brilliantly varied back row along with Steffon Armitage and Juan Smith – misjudged his jump for the restart after Farrell had been off target with a drop goal attempt, and tugged Hargreaves dangerously in midair. As usual the television match official was employed to check before the yellow card was shown. He was called on again for a much more innocuous challenge by Dave Strettle on Toulon wing Drew Mitchell.
But when the crowd weren't grinding their teeth at those delays, they were cheering two quality moments by Toulon's Anglo-Australian maestros that had the reigning champions 10-3 up at half-time. With his team still down to 14 men, Wilkinson changed direction at a midfield ruck near the Saracens 10-metre line, with a knifing pass to Giteau, who made an ugly-looking chip to the right with his left boot. It proved instead to be a thing of beauty, bobbling and bouncing up perfectly for Mitchell to reach it before Goode could – Strettle had pushed up hard and was out of the picture – and offload inside for Giteau, following up, to score the opening try, holding off Richard Wigglesworth's desperate cover tackle.
Wilkinson converted to extend his amazing record in six knockout matches in the Heineken last year and this to one miss in 27, then pulled out his speciality drop goal off his right foot with 38 minutes gone after Armitage led a powerful Toulon drive.
While a few locals may have recalled wistfully that Toulon's solitary European pool defeat this season was next door against the otherwise humdrum Cardiff Blues, it was obvious from the start that Wilkinson's men were not going to fluff the big occasion. Another scrum infringement gave Farrell his second penalty goal on 45 minutes but within another eight Wilkinson from 40 metres had restored the lead at 13-6 after Billy Vunipola – who with Jacques Burger in Saracens' back row found the Toulonnais nut tougher to crack than anything in the Premiership – was whistled for holding on.
Farrell strained at the leash, making brave breaks. Wilkinson moved more calmly, sharing the strategy with Giteau. Just before the hour, a second Toulon try wounded Sarries badly. Mathieu Bastareaud, the oil tanker of a centre, was freed down the right, and passed to Smith who galloped onwards, and fed Lobbe. The Argentinian could probably have dotted down himself but in a sign of Toulon's confidence, he passed back to Smith to grab the glory. Wilkinson's conversion and another penalty made it 23-6 after Farrell was unable to persuade the referee Alain Rolland that he had accidentally baulked Bryan Habana, who was the fourth player to complete the treble of World Cup, Super Rugby title and Heineken Cup.
Saracens sent Charlie Hodgson on for Farrell, but the tide did not turn. Habana was about a hundredth as influential as the brilliant work at the breakdown by Armitage, who apparently has had the door left open to him by the England head coach Stuart Lancaster to join his national team. Lancaster was here to see many more by this clever Toulon team. "It's just workrate, workrate, workrate," Armitage said, modestly. For Saracens and their own imminent retiree, captain Steve Borthwick, the season must now be retrieved in the Premiership showdown with Northampton at Twickenham.
Line-ups:
Toulon: D Armitage; D Mitchell, M Bastareaud, M Giteau, B Habana; J Wilkinson (capt, M Mermoz 78), S Tillous-Borde (M Claassens 71); X Chiocci (A Menini 46), C Burden (J-C Orioli 41), C Hayman (M Castrogiovanni 56), B Botha (A Williams 53), D Rossouw (J Suta 53), J Smith (V Bruni 72), J Fernandez Lobbe, S Armitage.
Saracens: A Goode; C Ashton, M Bosch, B Barritt, D Strettle (C Wyles 71); O Farrell (C Hodgson 64), R Wigglesworth (N de Kock 52); M Vunipola (R Barrington 64), S Brits (J George 70), M Stevens (J Johnston 53), S Borthwick (capt), A Hargreaves (M Botha 64), K Brown, J Burger (J Wray 61), B Vunipola.
Referee: Alain Rolland (Ireland)
Reuse content